Still reeling from the most DQ-laden meet of all time, the IAAF announced on Sunday that there will be a second World Indoor Championships for athletes who were disqualified from the initial championships in Birmingham, England. The event, tentatively titled the "DQ Games," will be a chance for redemption for the 27 athletes who ended their indoor season on a sour note.
The disqualifications in Birmingham ran the gamut: from false starts and stepping over the curb to cutting in too early at the break line. By the end of the competition, fans grew accustomed to having results overturned several minutes after a race was completed and frequent reshuffling of medals. In one heat of the men's 400m, an entire heat was disqualified—a first in the history of track and field.
"Was it the easiest meet to watch? No, I wouldn't say that," said Dave Quigley, IAAF competitor chairman and founder of the DQ Games. "But we just figured why not take a negative and turn it into a positive. Sure, the World Indoors made you question what you just saw with your eyes, but with the DQ Games, fans will get an extra indoor meet in the spring. Who doesn't want spring indoor track?"
An initial look at the start list shows promising fields. The track world will get another chance to see Paul Chelimo race indoors after his championships came to an abrupt end when he stepped inside the track in the 3000m. Though Chelimo's misstep was innocuous, he nonetheless had to miss the final. In the DQ Games, he will match up with Kemoy Campbell, Youssouf Bachir, Richard Ringer, and Shadrack Kipchirchir. All of those men were disqualified for reasons that nobody has been able to keep track of.
Paul Chelimo reacted to the news on Twitter . . .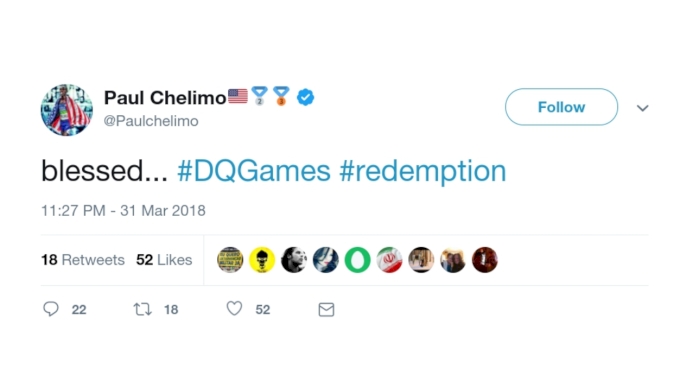 The marquee event, though, may be the men's 400m. The initial gold and silver medals winners, Oscar Husillos and Luguelin Santos, were disqualified as was the pre-meet favorite, Bralon Taplin. Given that level of talent, the DQ Games gold in the 400m might be more prestigious than one from the World Indoor Championships. The Games will also extend invitations to Ayanleh Souleiman, Omar McLeod, and Emmanuel Korir. All three were expected to compete but missed the meet because of visa issues.
The time and date have not yet been announced for the meet.
"We are looking for venues with very wide lanes and very big curbs," Quigley said. "And we will be marking the break line with biggest cones you've ever seen—like the ones they have at airports."
One procedure is known. Results will not be finalized for three hours after the race giving officials ample time to review all video footage. Medals will then be distributed a week later with a "pending any further protests" sticker affixed to the back.
"We don't want anything to taint the DQ Games," Quigley said.