In the fall, Penn State distance runner Jillian Hunsberger told her coaches that this would be her last year in collegiate running. The All-American had the option to use a fifth year of eligibility in indoor and outdoor track but instead decided to move into the "adult world" after this outdoor track season and pursue a career in finance. But before she leaves, Hunsberger has goals on the track. Namely, she wants to improve upon her 10th-place finish at last year's NCAA championships in the 10,000m.
This Saturday, Hunsberger will get in a bit of speed work as she steps down in distance to compete in the 1500m at the Bison Outdoor Classic in Lewisburg, Pennsylvania. Her race is scheduled for 3 PM ET on Saturday.
Before this weekend's race, we caught up with Hunsberger to discuss her recent personal best at the Stanford Invitational, battling with injuries during her Penn State career, advice she gives the younger runners on the team, and why she decided to not a take a fifth year.
Watch The Bison Outdoor Classic Live On FloTrack
Flotrack: You started your season with a personal best in the 5000m at the Stanford Invitational running 15:55. How did that race feel?
Hunsberger: It was pretty evenly split. There was a rabbit in it and I felt really strong. I made one tactical error. I should have surged to get into the front pack, but I didn't. I left feeling like I didn't put it all out there on the track so I felt like I could have either gone longer, which is good for the 10K, or I could have gone a bit faster which is also good looking forward into the season.
Watch Hunsberger's 5000m race at the 2018 Stanford Invitational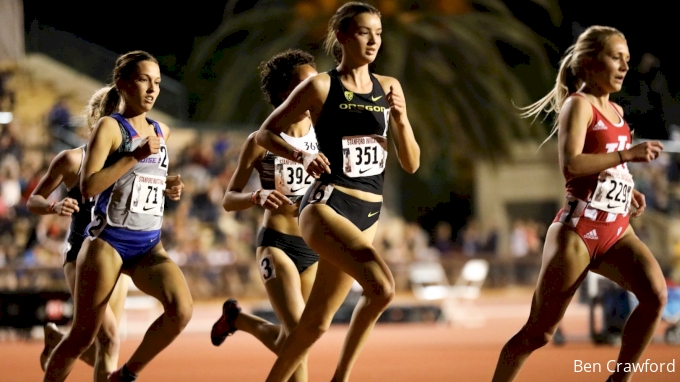 Unlock this video, live events, and more with a subscription!
Get Started
Already a subscriber? Log In
Was your first 10K (at the 2017 Big Ten Outdoor Championships) a brutal experience?
I thought it was going to be a lot worse than it was. I remember getting to the halfway mark and being like, "Oh this isn't so bad." And then afterward it felt like a 5K with a tempo before or something.
When you began your career, did you think eventually you'd turn into a 10K runner?
Definitely, in high school I thought I'd be more of a 5K runner. I was definitely very against the idea of doing the 10K because it felt so long, but now I kind of realize it's kind of nice. I like the distance. I feel like I'm a distance runner where the first couple miles feel like a warmup and by the end, I feel like, "OK, I can start ticking it off now and cutting down the pace." I feel like I can finish better in the 10K. The 5K feels a bit shorter now.
Was your 10th-place finish at the NCAA championships in line with what you thought you could do before the season started?
At the beginning of the year, no. I was planning on running it at Big Tens and seeing where that mark would put me in the region and comparing where I was in the region in the 10K with the 5K and making a decision from there, so that's definitely not where I anticipated myself being at the beginning of the year.
How does it feel to be top 10 in the nation in something?
I guess hungry. Top 10 is great and all, but top eight is even better—that's first-team All-American. It's definitely a good starting point, but it's not where I want to end up.
What's the difference between where you were last year and this year?
Last year I had an injury after cross country that delayed my indoor season so I felt like I was in good shape by the end of the year, but I missed a decent building block of volume training. Whereas this year I'm stronger. Now that I know what I can do I think that I can better anticipate what I should be expecting from races and where I should be planning on positioning myself.
How do you make that decision on where to position yourself?
I think it's my style to focus on the second half of a race. Normally, I see somebody take it out and more times than not, they fall back. I think it's a better strategic choice to see how the race plays out and then make choices from that point on.
What did you learn from the stress fracture that you suffered as a freshman?
I learned that it's important to be honest with how you are feeling. If you are feeling something it's not going to go away. It's like, be smart about this. Take a few days here and there; it's better than a couple of weeks or something.
How did you know you had the injury?
I couldn't walk. It got to the point where I was like, "I'm not going to be able to walk today." I need to reevaluate a few things. That was the first clue.
Was the cause of the injury being exposed to more strenuous workouts?
Part of it had to do with a volume surge. In high school, I ran 25 to 30 miles fairly easy. I didn't have a super sophisticated program like some of these high school students have. When I came to Penn State I was running 55 (miles per week); it was more intense, it was collegiate training.
Since then have you been fine?
I've had a few more injuries. I've had a stress fracture in my foot, my sacrum, and I've had a stress reaction. I haven't had anything too bad (this year).
How do you manage your training now to ensure injuries don't pop up again?
I try to tell people to train smarter, not harder. I like to go hard on my workout days, but I like to have really nice recovery days, focusing on recovery and making sure I stay on top of every little thing.
What advice do you give the younger runners on the team?
The freshmen, I tell them not to jump mileage too high. I'm like, "I know you guys want to, and you want to run with the higher mileage people, but you definitely want to look at it as a four-year plan. You don't want to be a freshman superstar and never be heard of again."
Have you seen that happen in your time there?
I think there have been a few times when people haven't learned from their injuries or learned how to train properly, but that's very few and far between. I wouldn't say a constant problem here.
How has your mileage changed?
I've been at about the same mileage for two years now. I haven't had much of a progression. It's more of a focus on workouts that has changed.
What went into the decision to not take a fifth year?
Honestly, my injuries did play a bit of a role. It's kind of one of those things where I've been fairly good with it this year. But I've seen, not on my team, but I've seen where people take a fifth year and then they get injured again and they were there for a whole other year and ultimately they couldn't even compete. That was one of my worries, that I would not be able to do outdoor and indoor track.
Are you going to continue running after graduating?
I'll be graduating this May and then I'll be going to grad school the following year. I'm not running; I'm just moving on with my life, you could say. Putting a close to a chapter.
Is it difficult to envision a future without competitive running?
I definitely have thought about. I want to stay active and I want to be doing sports. Doing sports and being active and being part of a team has been part of my life for so long now it's really part of who I am. I definitely want to see if I could pick up a different sport or try something different, maybe I'll end up going back to racing. Maybe I'll do road races, but I definitely want to explore a bit.
Who have been your favorite people to race against?
I love racing against the Big 1Tengirls. Whenever it is Big Ten time, that's great. There's a pretty nice pack of us this year and we all race about the same time. It's pretty competitive and I really enjoy it.
Was it a tough conversation to have with your coaches when you told them you wouldn't be taking your fifth year?
Yeah, a little bit. I'm sure on some level they wanted me to take my fifth year. I think a lot of people are kind of confused why I'm not taking my fifth year, but ultimately I'm finished up with my undergraduate degree. I'm only in 13 credits right now. I want to start transitioning into the adult world.
Once you made the decision, how did it impact your running? Did it increase the pressure? Was it liberating?
It was more like, to appreciate the race. Sometimes we go into these smaller meets and we're like there's not that much competition or it's like a smaller race, it doesn't matter that much. But in total, you are only doing like 15 races by the end of the year and that's really not that much. It's definitely just appreciating the small things and I'm not going to have this team aspect next year at a high level so I should really take advantage of it.
Would you change anything about your career?
No. Maybe I would have been more preventative with injuries but I think most of the time they came on randomly. I wouldn't really change anything.
Is the goal for this year then to get in the top eight and make first team All-American?
Yeah, that's definitely the goal. I really want to see what I can do and I'm giving myself the opportunity to see what I can achieve.