2018 Flo Golden South
The Top Athletes To Watch At Flo Golden South
The Top Athletes To Watch At Flo Golden South
As one of the nation's longest operating and most prestigious postseason track and field meets, the Flo Golden South Classic is sure to be special in 2018.
May 17, 2018
by Jennifer Zahn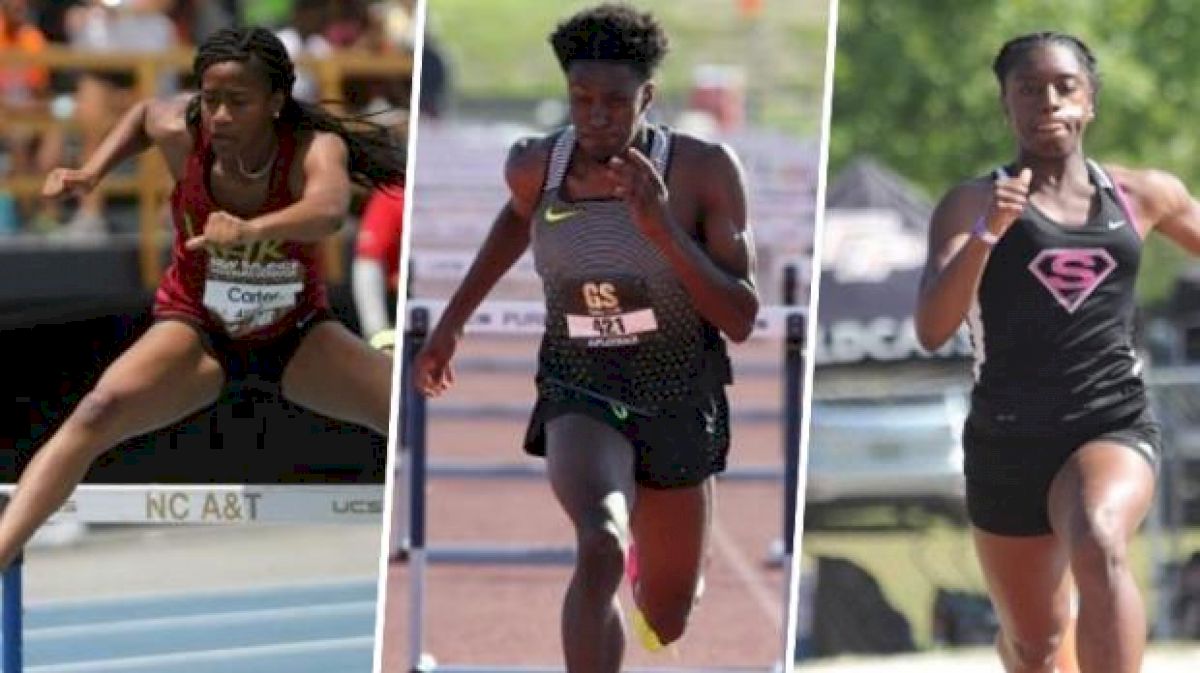 By Cory Mull, MileSplit
---
As one of the longest operating and most prestigious postseason track and field meets in the South, the Flo Golden South Classic is sure to be special in 2018.
That comes with the territory after four decades of history.
But there's no doubt the event has hosted some elite talent over the years. Alums such as Herschel Walker, Tyreek Hill, Trayvon Bromell, Sanya Richards-Ross and Jenny Simpson have all competed over its illustrious history. Many more produced unbelievable moments.
Time will only tell if a future Olympian is within the ranks this year, but in 2018 we have a handful of state champions, future collegiate athletes and a host of great matchups set for First Academy in Orlando.
Watch the 2018 Flo Golden South Classic LIVE on FloTrack this Saturday, May 19!
Girls Classic 100
Athlete: Tamari Davis
Breakdown: All eyes will be on the Gainesville (FL) freshman, who will be competing for the first time since the Florida High School Athletic Association Class 3A Championships, where she set a world age group record for 15-year-olds in the 200m in a time of 22.48 (+1.9) seconds. Davis, however, will not be running in the 200m. The freshman phenom will hope to lower her wind-legal 100m best of 11.29 (+0.5) from April at the Pepsi Florida Relays. Recently, Davis ran her third fastest time of the season at the state championships, finishing second to Briana Williams in 11.36 (-0.9) seconds. For reference, the freshman class record in the 100m is 11.24 seconds, last achieved by Angela Williams in 1995. The world age group record for 15-year-olds is 11.13 (+1.7), which was last set by Briana Williams this season. Can Davis approach either record?
Classic Girls 200
Athletes: Zahria Allers, Trinity Price, Jayla Hollis, Britton Wilson, Zatoria Thompson, Kori Carter
Breakdown: This race is absolutely loaded, with talent from Florida, Georgia, Texas and Virginia. The top seed is Allers (23.58), but Price may be the favorite here, having just won a 200m title in Georgia for Buford High School. Just a freshman, Price went 23.58 (-0.7) in the semifinals of her eventual win at state, posting a career best. She's capable of much more. Wilson and Carter, meanwhile, are two of the top sprint powers in Virginia and will offer plenty of competition. Hollis, a sophomore with DeSoto (TX), did not run at the UIL Championships this past weekend and is looking to strike a big time. The Classic final is sure to be full of fireworks.
Classic Girls 400
Athletes: Kayla Davis, Jan'Taijah Ford, Britton Wilson, Trinity Price
Breakdown: Ford is just a few weeks off her third straight 400m title in Florida and enters as the top seed. But will she run up to expectations? In February, she set her career best at the distance in 52.82 seconds, but found it harder to replicate over the weeks. Competition was a major reason why, said Damion Thomas, Ford's coach at Northeast (FL) High School, but states offered a great glimpse of Ford's ability. Now the junior is hoping to use Flo Golden South as a springboard toward her aspirations this postseason. With a bid to Brooks PR setting up in June and a possible U20 qualifier in the picture, Ford will hope to run under 53 seconds. Price finished second in Georgia in the 400m in 53.95 and Wilson has split 53.63 in an open 400m from 2017.
Classic Girls 800
Athlete: Jatana Folston
Breakdown: The junior at Cocoa (FL) won her first Class 2A championship two weeks ago in the 400m, where she ran a career best of 53.42 seconds. At Flo Golden South, however, Folston -- whose father, James, played in the NFL for six years -- will look to throw down a wicked fast time in the half mile. Her career best came as a freshman, when she ran 2:11.81 at the Regional Championships, though she's made steady improvements as a junior, posting a season best of 2:12.11. The field isn't as strong here, and Folston will have to do all the work, but don't be surprised if she chips a second or two off that time.
Classic Girls 100mH
Athletes: Kori Carter, Jayla Hollis
Breakdown: Here we have Carter again, and the Team WAR hurdler could have a busy day in a number of events. It remains to see what distance Carter will actually compete in, but expect the Nansemond River (VA) junior to go after a time under 14 seconds in the 100mH. She's competed at the distance just once this season at the Beach Run Invitational, winning in a season best time of 14.18 (+1.0), though she connected on a career best effort of 13.56 (+1.9) at New Balance Nationals Outdoor last year. Hollis, the sophomore from DeSoto (TX), will give her a run for her money. Her career best is 13.68 and she split an all conditions 14.07 in February at the Bob Alpert Relays.
Classic Boys 110mH
Athletes: Wavell Hinds, Josh Brockman
Breakdown: This will prove to be an interesting battle. Hinds, who transferred to Oakland Park Northeast (FL) as a senior from Coral Springs, has been markedly better year-over-year from 2017. He dropped a career best, all conditions 13.90 (+2.4) 110mH effort at the Class 3A championships, producing in his first state title, and generally has been near the top of Florida for much of the spring. He dropped under 14 for the first time at regions (13.91), and then, honestly, didn't look back. Comparatively, for example, his top time from 2017 was 14.89 (+3.1).
So what's this matchup look like? Hinds will go up against one of North Carolina's top hurdlers, Brockman, who posted a best of 13.96 (-0.2) in 2017. Brockman, though, like Hinds, is hoping to cut time late in the season. He's run an all conditions 14.12 in 2018 thus far.
Both of these guys are ready to go. And there's little doubt either will leave anything on the track other than their best. Ultimately, it could be Hind's race to lose, as he has the best form to do, but the Ardrey Kell (NC) junior is a quality opponent with the ability to go under 14. So watch it. This one will be good.
Girls Classic Triple Jump
Athlete: Alonie Sutton
Breakdown: No doubt one of the best jumpers in the country, the Smith Station (AL) senior and Tennessee recruit will be one of the top athletes at Flo Golden South in 2018. She earned two state titles in Alabama on May 5 in the long jump (19-9.5) and triple jump (42-5), and likely will be looking to execute on a major jump here. What's possible for Sutton? She's cleared 40 feet in every single attempt in 2018, though her state winning jump was the first time she was over 42 feet. No other athlete in the country has gone farther than her outside of Jasmine Moore, who's coming off an all conditions 45-4.75 effort.
Girls Classic Mile
Athletes: Alyssa Hendrix, Mackenzie Czurak
Breakdown: Hendrix, a Foot Locker Nationals finisher in the fall, ran her career and season best in February at the Wharton Wildcat Invitational in 4:53.51. But the Riverview (FL) sophomore, who finished second in this race last year in 5:04.87, hasn't seen much competition since, and likely ran below expectations at state, where she was third in Class 4A in 5:00.16. Hendrix will have an opportunity to race fast here, with two other girls seeded under 5 minutes, though she'll likely be the favorite and will need to set the pace. Czurak finished sixth in the 1600m in April at the Pepsi Florida Relays in 4:56.88. The winning time from 2017 was Bailey Hertenstein, who went 4:59.37.