By Lincoln Shryack
---
The 2018 DI NCAA East Preliminary Round is this Thursday through Saturday, May 24-26 in Tampa, Florida, LIVE on FloTrack. Fields of 48 in the individual events (and 24 in the relays) will be trimmed down to 12 by weekend's end to qualify for nationals in Eugene, Oregon, meaning the intensity will be sky high over the three days in South Florida.
While much attention will be given to the top 12 and those on the bubble heading into the prelim round, here we're highlighting the 10 biggest names competing this weekend in Tampa. All of these athletes will likely be contenders for NCAA titles in two weeks' time, and so we'll be keeping a close eye on how they look heading into the big meet.
1. Sydney McLaughlin | Kentucky | 400mH, 4x100m, 4x400m
In a freshman season that has already been one of the best in NCAA history, Kentucky phenom Sydney McLaughlin seems like she's saving the best for last heading into the 2018 NCAA Outdoor Championships. After breaking the 400m hurdle collegiate and U20 records at SECs with her stunning 52.75—a time that would rank top 20 in the East 400m—the East preliminary in Tampa will serve as McLaughlin's final opportunity before Eugene to assert her dominance in her specialty.
Sydney McLaughlin's 5️⃣2️⃣.7️⃣5️⃣ in the 400H...

COLLEGIATE RECORD ✅
WORLD U20 RECORD ✅
NO. 13 ON THE ALL-TIME 🌎 LIST ✅pic.twitter.com/JR3u9gj7xy

— NCAA Track & Field (@NCAATrackField) May 14, 2018
With more than three seconds between her and the next-fastest 400m hurdler, McLaughlin's toughest opponent in her lone individual event will likely be the clock. Her huge PR at the conference championships put Lashinda Demus' 52.47 American record just 0.28 second away, a time that seems within reach for McLaughlin given the huge improvements she's shown week-to-week this season. And just to put it out there, the world record is only 0.41 seconds faster than McLaughlin at 52.34. Jot that one down as you watch her compete this weekend. There's no pressure to lower her PR at prelims with nationals looming, but when everything is clicking like it is for the freshman right now, why waste an opportunity to run fast?
Of course, McLaughlin will compete on Kentucky's nation-leading 4x400m team in Tampa as well, and might also run on the 4x100m if needed, so no one will blame the freshman if she simply cruises her way to Eugene.
2. Grant Holloway | Florida | 110mH, Long Jump, 4x100m, 4x400m
Like McLaughlin, Florida point machine Grant Holloway will enter East prelims on a high after a breathtaking performance at the SEC Championships. There, the sophomore lowered his 110m hurdle PR to 13.15—NCAA No. 2 all-time and world leader in 2018—while also leaping an astronomical, albeit not wind-legal, 8.32m in the long jump. Both marks are easily tops in the East.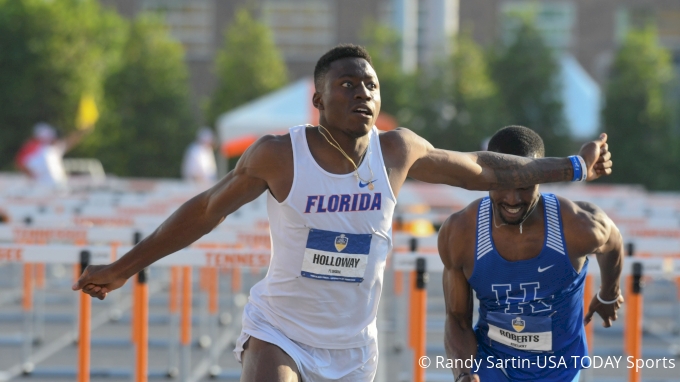 A superstar of his magnitude won't have to work too hard to advance to Eugene in both events, but the versatile Holloway is one of the most intriguing track and field athletes in the world no matter the scenario. Given his added presence on each of Florida's top-notch relays, Holloway is the biggest piece of Florida's NCAA title defense and a can't-miss attraction.
3. Lynna Irby | Georgia | 200m, 400m
Georgia freshman Lynna Irby turned heads when the East prelim entries were released, as it showed that she intended to go for the 400m-200m double at NCAAs. As the top-ranked athlete in the 200m (22.25) and fifth-ranked in the 400m (50.95), she is certainly talented enough to compete in both, but with just 40 minutes between the finals in Eugene, it's going to be a grueling final day at NCAAs for Irby should she make it there.
Of course, Georgia will need all the points they can get to fend off Kentucky and Co. at NCAAs, so this decision makes sense seen through that lens. Irby shouldn't have a problem getting to Eugene in her two events, and she's already shown she can perform well in the 400/200 double by finishing third in both at NCAA indoors. But, given the quick turnaround, the ante will certainly be upped at outdoor nationals.
4. Isaiah Harris | Penn State | 800m, 4x400m
You would be hard-pressed to find a more accomplished NCAA athlete still searching for his first NCAA title than Penn State junior Isaiah Harris. The 1:44 man has never lost a Big Ten 800 final—he's 6-for-6—and he's already made a world championship team, but Harris has been denied NCAA gold by one place in his last two championships by UTEP studs Emmanuel Korir and Michael Saruni, respectively. With Saruni running 1:43.25 to establish the new collegiate record in April, Harris once again will be fighting an uphill battle in Eugene assuming he qualifies out of the East prelim.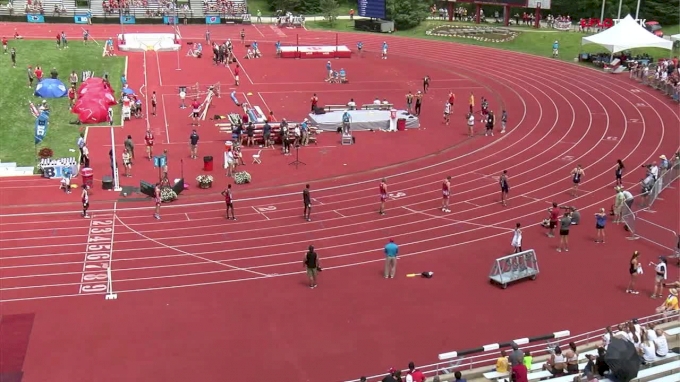 Harris is the only man in the East to have run 1:45 this season, so he should have no trouble working through the rounds in Tampa to secure a top-12 spot. The harder task for Harris may be helping to get the Nittany Lion 4x400m team through to nationals, as Penn State's 3:05.13 is ranked just ninth in the East.
5. Jasmine Camacho-Quinn | Kentucky | 100mH, 200m, 4x100m, 4x400m
The 2016 NCAA 100m hurdle champion from Kentucky may have been overshadowed by her teammate's stunning 400m hurdle display at SECs, but Jasmine Camacho-Quinn also put a dent in the record book with her blistering 12.40 100m hurdle PR (NCAA No. 2 all-time) in the SEC final. The junior Olympian now trails only collegiate record holder Brianna Rollins-McNeal (12.39) on the all-time list heading into the most important two weeks of the season.
If everything goes according to plan this weekend for Kentucky, the second-ranked Wildcats will have an excellent shot to win the team title in Eugene. A big part of that is Camacho-Quinn, who will also compete in the 200m and both relays in Tampa. With her and McLaughlin holding down the hurdles, and both relays at or near the nation's best, Kentucky should leave East prelims with enough point-scoring opportunities at nationals to contend for their first-ever NCAA outdoor crown.
6. Aleia Hobbs | LSU | 100m, 4x100m
LSU's Mikiah Brisco is the defending 100m NCAA champion, but it's her fellow Tiger Aleia Hobbs who has emerged this season as the favorite for the crown in 2018. That's because Hobbs hasn't lost a 100m race all season, and she will enter East prelims after a dominant win at SECs in 10.92. Having already won an NCAA title indoors this season in the 60m, Hobbs has maintained her momentum by crushing everyone outdoors.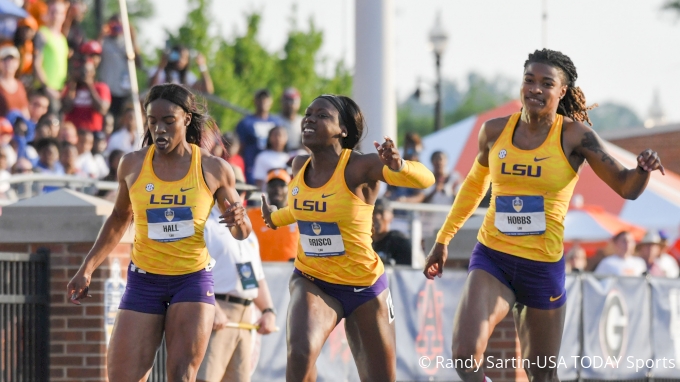 The LSU 4x100m featuring Hobbs and Brisco broke the collegiate record at SECs in 42.05, and could go faster this weekend in Florida if the weather holds. With Hobbs on the anchor, the Tigers are going to be very tough to beat at nationals.
7. Nathon Allen | Auburn | 400m, 4x400m
Until he ran his incredible 44.28 to win the lightning-quick SEC final, Auburn sophomore Nathon Allen was seemingly drudging his way through a so-so second season in the NCAA. After all, Allen was just fifth at NCAA indoors in March after placing fifth in the World final last summer, and his only outdoor 400m before SECs was a lackluster 45.92 in April. But the Jamaican—whose 44.19 PR is second-best in Jamaican history—ended his slump in thrilling fashion, running the No. 6 all-time collegiate 400m performance to put himself back in the NCAA title discussion.
While Allen likely won't be going full-bore in Tampa, these East prelims will give us another opportunity to gauge his fitness for NCAAs. If he's running sub-45 with ease at prelims like he did last year, watch out.
8. Justyn Knight | Syracuse | 5,000m
The two-time NCAA champion from Syracuse has one glaring hole on his resume: an NCAA outdoor title. With a 5,000m win at NCAA indoors and a new sparkling 1500 PR (3:36), Knight is clearly very fit and should enter Eugene as the 5K favorite. A victory there would be the cherry on top for the Canadian in a brilliant college career.
THIS IS WHAT WE DO!!!! Knight takes a title, Bennie, Aouani, Tooker (1-4) and Affolder (6) Germano (7) finish right behind!

Six of the top-seven!!! pic.twitter.com/0b3vKFmMlW

— Syracuse XC/Track (@CuseXCTF) May 13, 2018
Needing only to finish in the top 12 in a region where the 12th-fastest time is 13:50, the top-seeded Knight won't have any trouble advancing. The harder task will be helping his Syracuse teammate Philo Germano get to nationals, as Knight's fellow senior comes in ranked 11th (13:50.48) and is squarely on the bubble. It will be interesting to see how the 'Cuse game plan unfolds with that in mind.
9. Keturah Orji | Georgia | Triple Jump, Long Jump
Georgia senior Keturah Orji has been so good for so long in the jumps that it's easy to overlook her greatness. But don't make that mistake. The six-time NCAA triple jump champion reset her collegiate record at SECs (14.62) and she owns the top five outdoor marks in that discipline in NCAA history. It's that plus her stellar long jump performance at SECs (6.81m PR) that shows she might just score 20 points at NCAAs; Orji leads the nation in both events heading into East prelims. A sweep of those in Eugene would put No. 1-ranked Georgia in the driver's seat for a title and would make Orji's Bowerman case awfully strong.
10. Gabrielle Thomas | Harvard | 100m, 200m
Gabrielle Thomas was thrust into superstardom when she shockingly broke the indoor 200m collegiate record (22.38) to win the NCAA title in March. While that moment wasn't exactly expected, the truth is Thomas had been rising to the NCAA's elite since her freshman year. She was third in the outdoor 200m back in 2016, and with her fitness elevated significantly since then, Thomas will have a great shot at the indoor/outdoor sweep in 2018.
Gabby Thomas splits 49.44 😱 to anchor Harvard & win the 4x4 at #IvyHepspic.twitter.com/oN42mGX94M

— FloTrack (@FloTrack) May 6, 2018
Don't forget you can catch all the action this week LIVE on FloTrack.