The Portland Track Festival always helps us ease the post-championship hangover on the Saturday and Sunday after NCAAs. Read up on the top entrants below and join the fun by catching the live stream beginning at 9 PM PT on Saturday, June 9.
Watch the Portland Track Festival LIVE on FloTrack this Saturday and Sunday!
Women's 800m: Kate Grace Looks To Defend Title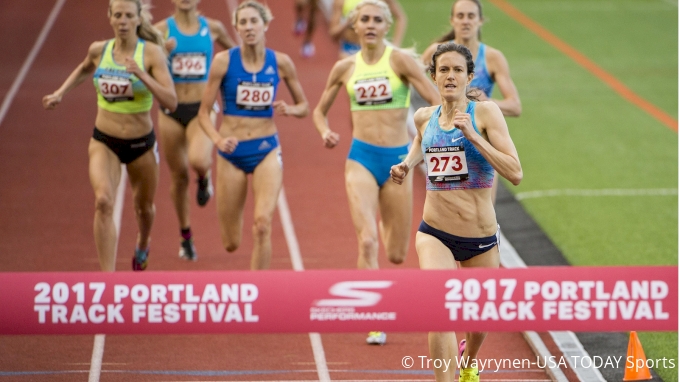 © Troy Wayrynen-USA TODAY Sports
Time: Section 1 | Sunday, June 10 | 6:25 PM PT
Key Athletes: Kate Grace, Alexa Efraimson, Justine Fedronic, Georgia Griffith, Jenna Westaway, Annie LeBlanc, Savannah Colón, Baylee Mires, Kendra Chambers, Rachel Pocratsky, Emily Lipari, Sara Vaughn
Analysis: Kate Grace of the Bowerman Track Club will make her season debut in the event that took her to the Olympics in 2016, the 800m. She will be looking to redeem herself after what she admitted was a less-than-ideal run of 4:07 for 11th place in the Prefontaine Classic 1500m. The Portland Track Festival has served her well in prior years, as she won the 1500m in 2016 and 800m last year in 1:59.
Her PB is 1:58.23 (2016). The only other athlete in the field with a career-best under two minutes is French Olympian Justine Fedronic, who has raced just 2:11 this season.
Other top competitors include 1500m specialists Alexa Efraimson, Sara Vaughn, and Emily Lipari.
Virginia Tech's Rachel Pocratsky will aim to improve her PB of 2:02.67. She is the top-ranked collegiate woman this season in the 1500m (4:10.03) and will race for an NCAA title in that event this week.
Men's 800m: Berian, Windle, Jock vs. USA's Top Milers
Time: Section 1 | Sunday, June 10 | 6:30 PM PT
Key Athletes: Boris Berian, Drew Windle, Charles Jock, Craig Engels, Matthew Centrowitz, Drew Hunter, Robert Heppenstall, Abraham Alvarado, Brannon Kidder
Analysis: World indoor 800m medalists Boris Berian and Drew Windle meet for the first time this season in Portland. Windle, the 2018 world indoor silver medalist, hasn't raced since placing 10th in 1:47.77 at the Diamond League meeting in Shanghai, while Berian, the '16 world indoor champ, is looking for his first sub-1:50 clocking of the year.
NOP 1500m specialist Craig Engels won his only 800m race of the year, a 1:47.4 effort at the USATF Distance Classic. Fellow milers Matthew Centrowitz and Drew Hunter are also entered; all three are also listed to compete in the 1500m later in the evening.
Collegians Robert Heppenstall of Wake Forest and Abraham Alvarado of BYU are also entered. Heppenstall is one of the top seeds heading into the NCAA Championships this week while Alvarado missed qualification by two spots. They were third and fifth, respectively, at the NCAA Indoor finals.
Women's 1500: Collegian Dani Jones Takes On The Pros Again
Time: Section 1 | Sunday, June 10 | 7:15 PM PT
Key Athletes: Linden Hall, Sara Vaughn, Amanda Eccleston, Rachel Schneider, Katie Mackey, Emily Lipari, Stephanie Brown, Dani Jones, Sara Southerland
Analysis: University of Colorado junior Dani Jones is redshirting this outdoor season, so it was somewhat of a surprise to see her cruise to victory in the Friday night section of the Prefontaine Classic 1500m with a slight PB of 4:07.74. A collision early in that race knocked out a few top contenders, so she'll have a shot here to further improve her PB and take a few more scalps in what is hopefully a clean race. Jones is also entered in the 800m, so she may be pacing one race.
Watch our post-race interview with Dani Jones after she won the Friday night section of the 1500m at the Prefontaine Classic: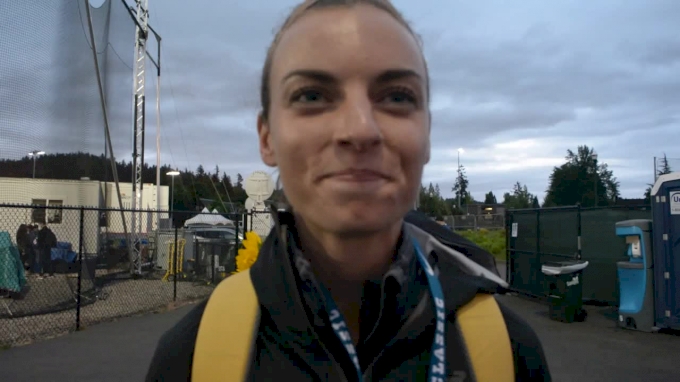 Sara Vaughn of the U.S. was one of the casualties of the Prefontaine collision, and she'll race here in hopes of improving her season's best of 4:11.7 from Payton Jordan. The 2017 world qualifier is also entered in the 800m.
The top entrant is Australia's Linden Hall, who set a national record in the Saturday section of the Prefontaine Classic with a 4:00.86, sixth-place performance.
Men's 1500m: Nike Oregon Project, NCAA Studs, Prep Brodey Hasty Chases History
Time: Section 1 | Sunday, June 10 | 7:25 PM PT
Key Athletes: Matthew Centrowitz, Lopez Lomong, Eric Jenkins, Craig Engels, Clayton Murphy, Eric Avila, Drew Hunter, Grant Fisher, Brodey Hasty
Analysis: Olympic champion Matthew Centrowitz is scheduled to double back from the 800m to headline the fastest section of the 1500m vs Nike Oregon Project teammates Clayton Murphy, who will be fresh; Craig Engels, who is also doubling in the 800m; and Eric Jenkins, the reigning Portland Track Festival champion over 1500m who is scheduled to double in the 5K.
This race could end up being pretty fast as the last time Murphy and Centrowitz raced each other, they ran 3:53.4 and 3:53.61 for fifth and sixth place, respectively, at the Prefontaine Classic.
Interesting collegiate entrants include Grant Fisher and Sean McGorty of Stanford, both of whom will race the 5K at the NCAA Championships this week; Vincent Ciattei of Virginia Tech, the NCAA indoor runner-up in the mile who will race in the 1500m this week; and Jack Bruce of Arkansas, runner-up in the 5K at NCAA Outdoors last year who missed qualifying this year.
There's also Brodey Hasty, the University of Oregon-bound high school senior who recently ran the third-fastest prep 3K of all time in 8:00.92 at the Music City Distance Carnival. Hasty's 1500m PB is 3:43.74, run en route to a 4:00.05 clocking at the Millrose Games in February; that mark is currently the No. 10 time ever for a high school boy.
Watch Brodey Hasty run No. 3 all-time, 8:00.92 for 3K, at the Music City Distance Carnival:
Unlock this video, live events, and more with a subscription!
Get Started
Already a subscriber? Log In
Women's 5K: Olympians Kim Conley, Marielle Hall Headline
Time: Section 1 | Saturday, June 9 | 8:15 PM PT
Key Athletes: Kim Conley, Marielle Hall, Molly Seidel, Linden Hall, Jessica O'Connell, Nicole Sifuentes, Riko Matsuzaki, Rachel Cliff, Sasha Gollish
Analysis: Two-time Olympian Kim Conley is on the comeback trail after injury derailed her in late 2017. Her first race back was a 4:30 runner-up finish at the downhill State Street Mile in Santa Barbara to Tracee van der Wyk, a nice warmup for what should be a very competitive 5K on Saturday night.
Fellow U.S. Olympian Marielle Hall of the Bowerman Track Club is racing for just the second time this outdoor season; she previously won the Bryan Clay Invitational 5K with a 15:39 effort. She and Jessica O'Connell of Canada own the fastest PBs in the field at 15:06.
Three-time NCAA champion Molly Seidel will race on the track for the first time this season; she most recently set a 5K road PB of 15:33 to place fifth in the B.A.A. 5K.
Fiona O'Keeffe of Stanford will also look for a nice PB here after missing NCAA qualification by an excruciating one spot. She was fifth in the NCAA 5K last year, 13th at NCAA XC and owns a PB of 15:38.82.
Men's 5K: Eric Jenkins vs. Kirubel Erassa
Time: Section 1 | Saturday, June 9 | 8:35 PM PT
Key Athletes: Eric Jenkins, Marc Scott, Kirubel Erassa, Emmanuel Bor, Hiroki Matuseda, Sam Parsons, Andrew Jordan
Analysis: The elite section of the men's 5K yielded one of the most exciting race finishes at the 2017 Portland Track Festival, as Kirubel Erassa out-leaned Morgan McDonald of Wisconsin, who would later go on to represent Australia at the World Championships that summer.
Watch Kirubel Erassa and Morgan McDonald battle in the 2017 Portland Track Festival 5K: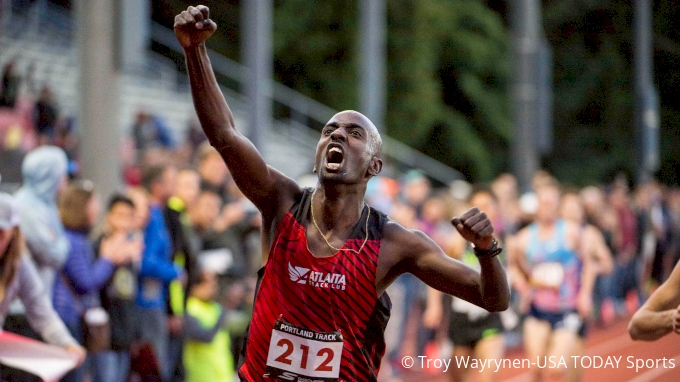 Erassa is back to defend his title in what will be his outdoor season debut. Top competition includes Eric Jenkins of the Nike Oregon Project, who is also entered in the 1500m.
Marc Scott of the Bowerman Track Club, the 2017 NCAA 10K champion, will race for the first time since last summer's World Championships.