2018 DI NCAA Outdoor Championships
Rai Benjamin Is Now A Nike Athlete
Rai Benjamin Is Now A Nike Athlete
Fresh off two Diamond League appearances, USC junior Rai Benjamin announced he has gone pro with Nike.
Jun 14, 2018
by Kevin Sully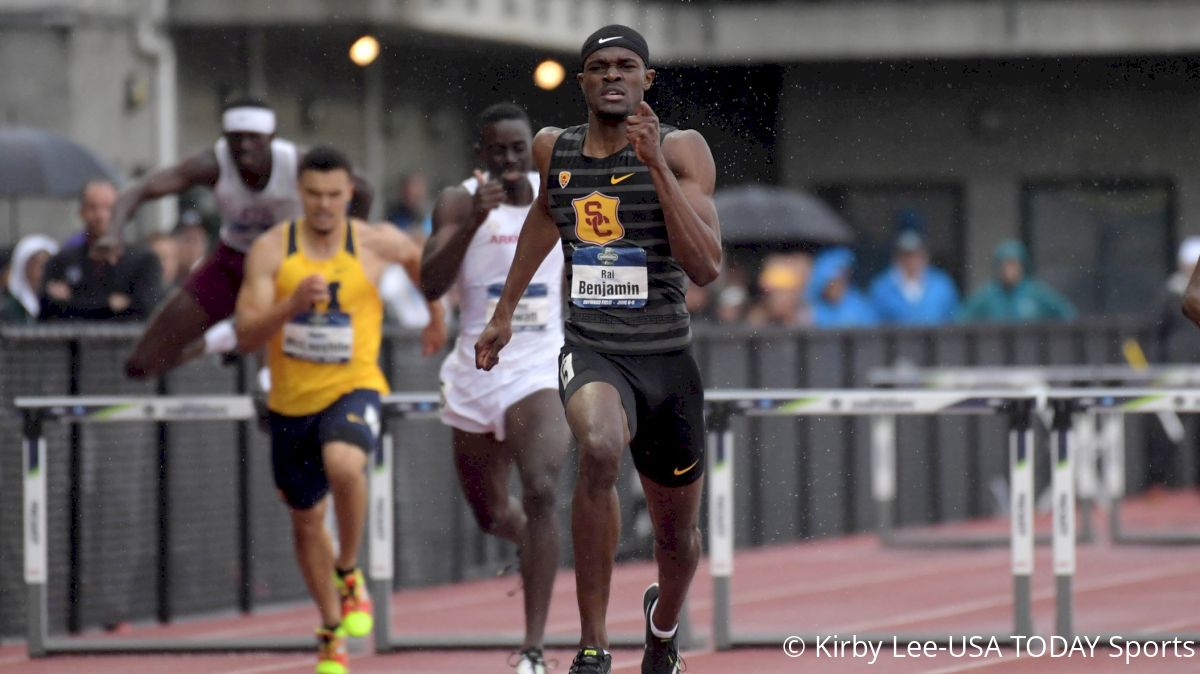 Almost exactly a month after revealing his intent to go pro, USC superstar and third-fastest 400m hurdler of all time Rai Benjamin announced he has partnered with Nike as his official sponsor.
Although Benjamin hasn't raced his marquee event since his jaw-dropping 47.02 run in the 2018 NCAA Outdoor Championships 400m hurdles final, he did compete twice on the Diamond League circuit in the 200m—in Paris, where he finished runner-up to former teammate Michael Norman in 19.99, and in Lausanne's Norman vs. Lyles 200m showdown, where he finished fourth in 20.16. For both occasions, he raced in his USC kit.
We can only imagine Norman's pro sponsor announcement will be hot on his heels—after all, they're kind of known for being in sync.
Mesmerizing to watch... @USC_Track_Field's @Mike_Norman22 and @_Kingben_ always in sync... pic.twitter.com/uIN44TADX6

— FloTrack (@FloTrack) July 5, 2018
Kevin Sully's original article from June 14, 2018, appears below:
Another Trojan is turning professional.
The Journal News reported on Wednesday that USC junior Rai Benjamin will not use his final season of collegiate eligibility and instead will begin his professional career this summer.
Benjamin turned in one of the top performances of the NCAA Championships when he ran 47.02 in the 400m hurdles last Friday. The time smashed the collegiate record and tied him for the second fastest mark all-time in the event. (Update: Since Abderrahman Samba's 46.98 performance on June 30, Benjamin's mark now ranks third all-time).
Later in the meet, Benjamin ran a leg on USC's 4x400m relay that also broke the collegiate record. Michael Norman, who ran the fourth leg on that relay, announced on Saturday that he was turning professional after his sophomore season.
After transferring from UCLA last year, Benjamin entered this track season and one of the favorites in the event. Yet he still surpassed expectations.
Indoors, he ran the fastest split (44.35) of the entire meet in a historically deep 4x400m relay. His USC team won the race and was one of three teams in the race that ran faster than the existing world record.
Outdoors, he broke 48 seconds for the first time at the West Preliminary meet, running an effortless 47.98. After the race, Benjamin said he had his eyes on sub 47-seconds.
He almost pulled it off.
In Eugene, Benjamin tore away from the field and won the race by over a second, running a mark that tied him with Edwin Moses for the second best time ever. It also put him in range of Kevin Young's world record of 46.78—long considered one of the toughest men's world records on the books.
?status. pic.twitter.com/HllqurowuF

— FloTrack (@FloTrack) June 9, 2018
According to the Journal News, Benjamin will still take classes at USC and will be coached by the USC staff. He has not announced a sponsor.
Despite his place among the all-time greats, his prospects for competing internationally are a bit complicated—at least for the time being. Though he is an American citizen, Benjamin competed for Antigua and Barbuda in international competition as a teenager. When the IAAF announced their freeze on transfers of allegiance, Benjamin was unable to complete the process to compete for the United States.
After the West Preliminary meet, Benjamin said he was considering legal options in order become eligible for international competitions. He is entered in the 200m for next week's USA Championships.