Maurica & Andy Powell To Leave Oregon For University of Washington
Maurica & Andy Powell To Leave Oregon For University of Washington
Maurica & Andy Powell To Leave Oregon For Washington
Jun 18, 2018
by Gordon Mack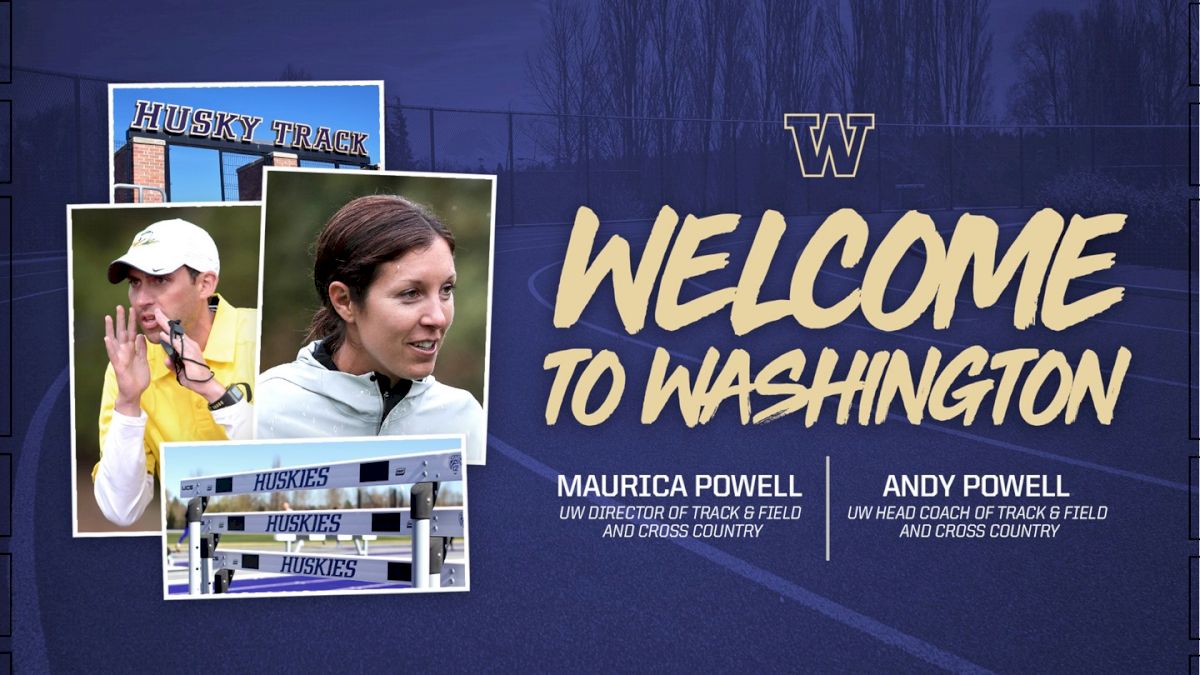 The University of Washington announced today that Maurica Powell and Andy Powell are joining the staff after 13 years at the University of Oregon.
Maurica is the program's first-ever Director of Track & Field and Cross Country and will coach the women's distance runners. Andy will serve as the Head Coach of Track & Field and Cross Country while "focusing on daily operations."
From the UW press release:

"We're overwhelmed with gratitude to both Jen Cohen and Erin O'Connell for the incredible opportunity to lead the Husky Track & Field and Cross Country Programs," said Maurica and Andy Powell. "As a world-renowned academic institution with a dynamic athletic department and outstanding facilities, the University of Washington is truly a premier destination for student-athletes across the U.S. and abroad, and we couldn't be more excited to execute a long-term vision for success at UW over the coming years."

The Powells were both standout runners at Stanford and headed to Eugene to start their coaching careers in 2005, working with their former Cardinal coach Vin Lananna. Maurica Powell began as a volunteer before becoming a full-time assistant coach, while Andy Powell was named Associate Head Coach for Men's and Women's Track & Field and Cross Country in 2012.

"We are thankful to Vin Lananna and the University of Oregon staff for a great thirteen years in Eugene, and we are honored and humbled by the chance to build the next chapter of success on Montlake," said the Powells.

After leading the Oregon women to a second NCAA title in five years, Maurica Powell was named the 2016 Women's Cross Country National Coach of the Year by the USTFCCCA, while Andy Powell is a four-time National Assistant Coach of the Year four from the same organization.

Maurica Powell came to Oregon in 2005 at a point where the Ducks had not qualified for the NCAA Women's Cross Country Championships since 2000 and had not finished higher than fifth at the Pac-10 Championships since 1997. By 2007, in just Powell's third year on staff, the Ducks were the NCAA and Pac-12 runners-up, setting off a tremendous decade to come.

The Ducks would soon reach the top of the podium under Powell. Oregon captured the 2012 NCAA Cross Country Championship and then scored a stunning one-point upset victory in 2016, kicking off the NCAA's first ever "triple crown" as Oregon would go on to win NCAA Indoor and NCAA Outdoor team titles in track that same academic year.

Andy Powell's men's distance runners were no less prolific in cross country and on the track. He coached Edward Cheserek to a record-breaking 17 NCAA titles, making him the winningest male athlete in Division-I athletics. Multiple-time NCAA Champions Galen Rupp, Andrew Wheating, and Matthew Centrowitz would all go on to international success, with Rupp and Centrowitz medaling at the Olympic Games, ending long American medal droughts in their events.

"Andy and Maurica Powell are phenomenal coaches and incredible people," said Centrowitz, the 2016 Olympic 1,500m Gold Medalist who ran at Oregon from 2007-11. "They will work tirelessly to foster an exciting culture and develop high level student-athletes at the University of Washington.

"I cannot say enough about the impact they've had on me as an athlete, and as a man. Andy and Maurica both display the highest level of integrity in their relationships with each and every individual they coach, and will expect nothing less from everyone on their team. Andy Powell has been a huge influence in my life since I was 17 years old and the time and attention he paid to me as a college athlete truly shaped my athletic career."

The Ducks won the USTFCCCA Program of the Year title (given to the program with the highest average finish at the three NCAA meets) nine times on the women's side and five times on the men's side with the Powells on staff.

Oregon had a historically dominant run of Pac-12 team titles as well. It had been seventeen years since the Oregon women had won the Pac-12 team title, but UO broke through in 2009 and that sparked a run of nine straight championships. The men are still riding a 12-year streak of Pac-12 team titles, evidence of the standard of excellence the Powells helped build and maintain. Their distance runners have won 28 Pac-12 track titles and nine individual Pac-12 cross country wins.

Both Maurica and Andy are natives of Massachusetts. Maurica was a two-time All-American at Stanford, highlighted by a fifth-place finish in the 1,500-meters at the 2002 NCAA Championships. Andy was one of the Pac-10's top middle distance runners as well, contributing to Stanford national championships on the track in 2000 and in cross country in 2002.

The Powells have two sons, Owen and Jake.