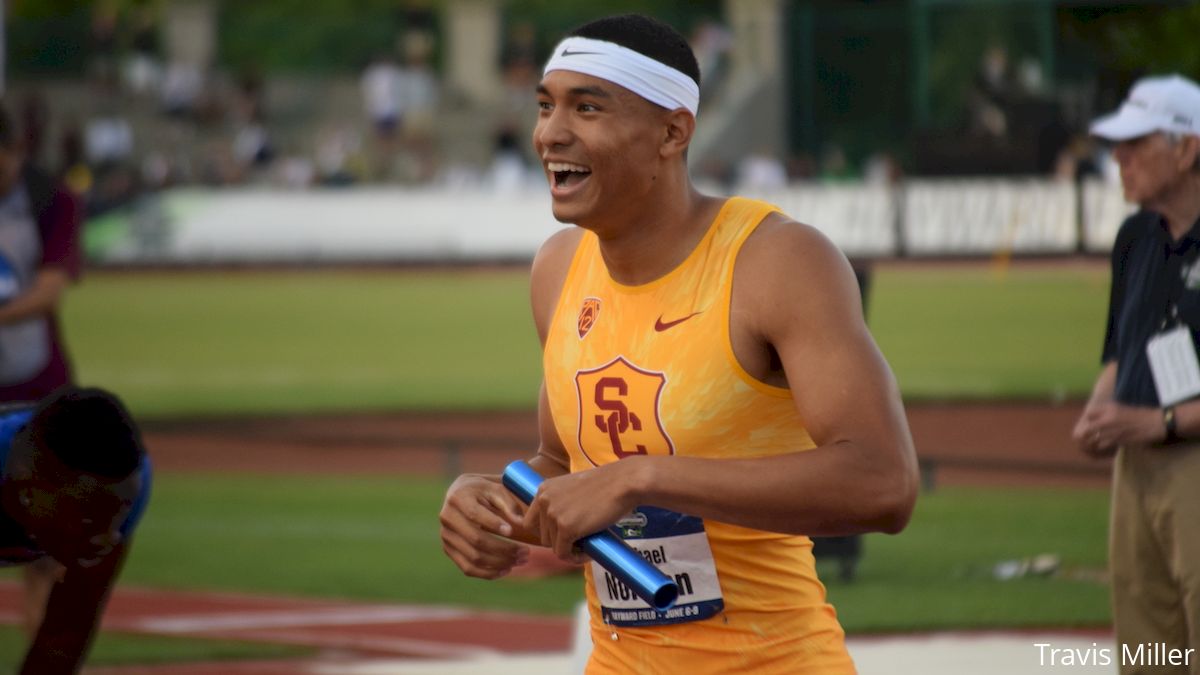 Update: The Bowerman finalists have been announced. Keturah Orji, Maggie Ewen, Sydney McLaughlin, Michael Norman, Rai Benjamin and Grant Holloway.
-----
20 NCAA athletes are in the running for The Bowerman. Below is a chart to compare the 2017-18 stats of each athlete against each other. Who do you think deserves The Bowerman?
NCAA Pts Scored = Total points scored indoor/outdoor combined
NCAA Win % = W/L record in NCAA Championship finals
Important Note: Relay performances were ignored from everyone's resume to make it a level playing field for field event athletes and for athletes with less talented relay members.
Interesting Tidbits:
- Keturah Orji scored the most pts with 38.
- Aleia Hobbs, Michael Norman, Tim Duckworth, Anderson Peters were undefeated in NCAA finals.
- Maggie Ewen had the most top-10 NCAA performances all-time with 13.
- Michael Norman and Sydney McLaughlin had the most top-25 world performances all-time with 3.
| | | | | | | |
| --- | --- | --- | --- | --- | --- | --- |
| Athlete | YR | School | NCAA Pts Scored | NCAA Win % | # of Top 10 NCAA Indoor/Outdoor Performances All-Time | # of Top 25 World Indoor/Outdoor Performances All-Time |
| Orji, Keturah | SR | Georgia | 38.0 | 0.750 | 8 | 0 |
| Schweizer, Karissa | SR | Missouri | 36.0 | 0.750 | 6 | 0 |
| Ewen, Maggie | SR | Arizona State | 35.0 | 0.600 | 13 | 0 |
| Irby, Lynna | FR | Georgia | 28.0 | 0.250 | 4 | 0 |
| McLaughlin, Sydney | FR | Kentucky | 23.0 | 0.330 | 8 | 3 |
| Hobbs, Aleia | SR | LSU | 20.0 | 1.000 | 5 | 0 |
| Ellis, Kendall | SR | USC | 18.0 | 0.500 | 3 | 1 |
| Camacho-Quinn, Jasmine | JR | Kentucky | 18.0 | 0.250 | 3 | 0 |
| Thomas, Gabrielle | JR | Harvard | 18.0 | 0.250 | 1 | 1 |
| Gruver, Olivia | JR | Kentucky | 16.0 | 0.333 | 2 | 0 |
| Athlete | YR | School | NCAA Pts Scored | NCAA Win % | # of Top 10 NCAA Indoor/Outdoor Performances All-Time | # of Top 25 World Indoor/Outdoor Performances All-Time |
| Comenentia, Denzel | JR | Georgia | 31.0 | 0.500 | 0 | 0 |
| Holloway, Grant | SO | Florida | 28.0 | 0.500 | 5 | 0 |
| Hall, Elijah | SR | Houston | 28.0 | 0.500 | 2 | 2 |
| Norman, Michael | SO | USC | 20.0 | 1.000 | 3 | 3 |
| Duckworth, Tim | SR | Kentucky | 20.0 | 1.000 | 1 | 0 |
| Nilsen, Chris | SO | South Dakota | 18.0 | 0.500 | 3 | 0 |
| Saruni, Michael | SO | UTEP | 16.0 | 0.500 | 4 | 1 |
| Benjamin, Rai | JR | USC | 16.0 | 0.500 | 2 | 1 |
| Kerr, Josh | SO | New Mexico | 16.0 | 0.500 | 2 | 0 |
| Peters, Anderson | FR | Miss State | 10.0 | 1.000 | 1 | 0 |