2018 USATF Outdoor Championships
USATF Men's Sprint Preview: Michael Norman's Encore
USATF Men's Sprint Preview: Michael Norman's Encore
Two weeks ago, Michael Norman broke the collegiate record in the 400m. In his first race as a professional, what can he do in the 200m?
Jun 20, 2018
by Kevin Sully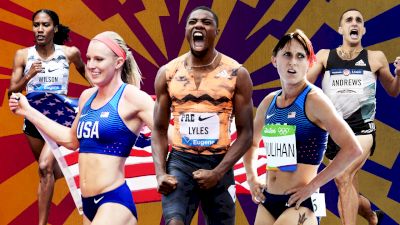 The USATF Outdoor Championships kick off on Thursday from Des Moines, Iowa. This is the fourth in a series of previews outlining the biggest names and storylines to watch.
Here's what to watch for in the men's sprints and hurdles races.
Men's 100m: A Clear Path For Ronnie Baker
First Round: Thursday, 6:10 PM CT
Semifinals: Friday, 5:50 PM CT
Final: Friday, 7:30 PM CT
Key Athletes: Ronnie Baker, Noah Lyles, Isiah Young, Cameron Burrell, Kendal Williams, Jaylen Bacon
Even without the high-profile withdrawals of Justin Gatlin and Christian Coleman, Ronnie Baker was the favorite to win this event. But now that the top two finishers from last year's World Championships are not competing in Des Moines, Baker's march to a national title becomes that much more navigable. His two Diamond League wins on the year indicate that he's entered the highest tier of men's sprinting.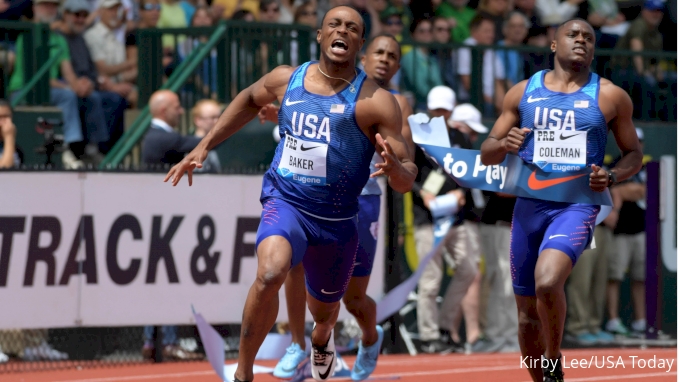 Kirby Lee/USA Today
Lyles, though mostly known for his work in the 200m, has the ability to challenge Baker in the 100m. He's coming off a personal best of 9.93 earlier in the month in Kingston and has put up a wind-aided 9.86 in addition to his 19.69 200m at the Prefontaine Classic.
Baker starts well and should have an advantage over Lyles in this shorter distance. But Lyles is enough of a threat that Baker can't have a major misstep and emerge the winner.
Isiah Young is a stalwart at these championships and has run 9.92 and 9.96 this year. Cameron Burrell is fresh off his first individual NCAA title. He doesn't have a flashy season best (yet), but he has experience in the rounds that exceeds his age.
There are two other men who ran at the NCAA Championships who could factor into this event. Kendal Williams and Jaylen Bacon both broke 10 seconds this season—and both men weren't able to make the NCAA final. For them, these championships can serve as redemption (although Williams was able to make the 200m final) and a chance to pick off some professional runners who aren't as race-ready as they are.
Men's 200m: Norman Shows His Range
First Round: Saturday, 1:10 PM CT
Semifinals: Sunday, 2 PM CT
Final: Sunday, 4:10 PM CT
Key Athletes: Michael Norman, Isiah Young, Ameer Webb, Kendal Williams
With Lyles opting to focus on the 100m, this field really feels the effects of the non-championship year. Instead of Norman vs Lyles vs Gatlin vs Coleman vs Merritt, we just have Norman.
And after the 20-year-old ran 43.61 at the NCAA Championships, that might be enough.
This is not to overlook Young and Webb, both of whom are established pros who have made teams and could take this race.
Win or lose, though, the story is Norman. He's at the stage of his career where we are still trying to figure out his limits. He's already in the top 10 all-time in the 400m, but we have no idea what he is capable of. Virtually every appearance he's made this year has given permission for our curiosity to run rampant—indoor world record in the 400m, 43.06 relay leg, 43.61 in Eugene.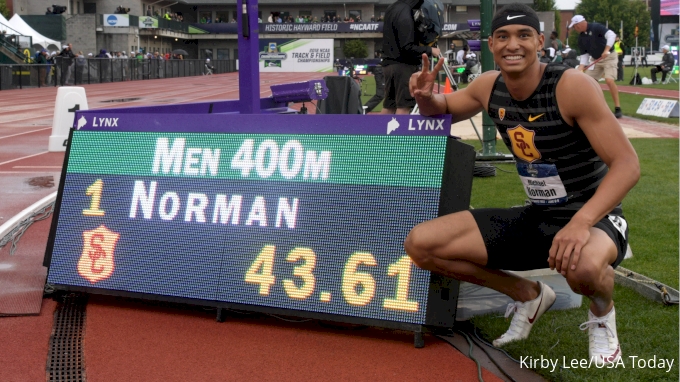 Kirby Lee/USA Today
This curiosity is particularly vivid in the 200m. Norman's run fast times (20.06 into a headwind and 19.84 wind-aided), but hasn't put the same emphasis on the distance as he has in the 400m.
If the weather cooperates, a personal best seems inevitable. Can he break 19.9?...19.8? LaShawn Merritt, whose 400m personal best is a tick slower that Norman's has run 19.74. Merritt admittedly was no expert in the 200m and raced it sparingly. In that regard, Norman running a time under 19.74 isn't any more unbelievable than his 43.61.
Men's 400m: A Quarter Mile Of Mystery
First Round: Thursday, 5:05 PM CT
Semifinals: Friday, 6:20 PM CT
Final: Saturday, 4:30 PM CT
Key Athletes: Gil Roberts, Nathan Strother, Wil London III, Vernon Norwood, Michael Cherry, Paul Dedewo, Christian Taylor
This is probably the most unpredictable race out of all of the men's running events. Not only is the winner a toss-up, but forecasting who will be in the top eight is incredibly difficult.
Gil Roberts has the fastest entry mark: a 44.22 from the U.S. Championships last year. That time was the best of his career and placed him second in the race.
Because of his championship and Diamond League experience, he's probably the most reliable entrant in the field. But he doesn't have the fastest season best. In fact, 10 men in this field have run faster than Roberts' 45.22 this year.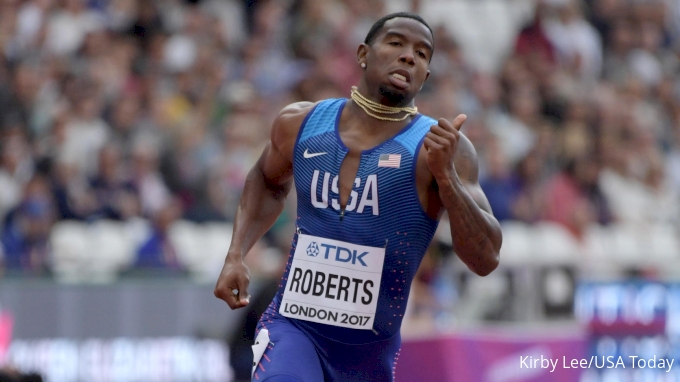 Kirby Lee/USA Today
At the top of the list is Nathan Strother, who ran 44.34 at the SEC Championships. Fellow NCAA standouts Wil London III, Kahmari Montgomery, Obi Igbokwe, Tyrell Richard, and Mar'Yea Harris have also run under 45 seconds.
The most consistent 400m runner entered in the field is Paul Dedewo. He's broken 44.80 five different times in 2018.
This race will also host a display of Christian Taylor's ridiculous athleticism. The triple jumper has run several 400m races this year and will try to improve on his 45.07 lifetime best.
Men's 110m Hurdles: Holloway Takes A Shot At The Veterans
First Round: Saturday, 2:35 PM CT
Semifinals: Sunday, 2:30 PM CT
Final: Sunday, 4:52 PM CT
Key Athletes: Aries Merritt, Devon Allen, Grant Holloway, Jarret Eaton, David Kendziera, Aleec Harris
Four-time NCAA champion is two weeks off his latest title and is more than capable of hanging with Merritt and Allen. Holloway's victory in Eugene was more dramatic than we've grown accustomed to in his races. His margin of victory was just 0.01 seconds over Kendziera, 13.42 to 13.43.
His marks from earlier in the season, 13.15 and 13.16, are more in line with Holloway's true potential. Perhaps the two weeks of recovery, better weather and a lighter workload (no 4x400m or long jump this weekend), will put him back under 13.20.
Devon Allen has his breakout season four years ago and has run a wind-aided 13.13 to his name in 2018. He's also been involved in several close races with Merritt this year. Merritt, the world record holder, made the U.S. team indoors. His fastest time outdoors this season is a wind-aided 13.27.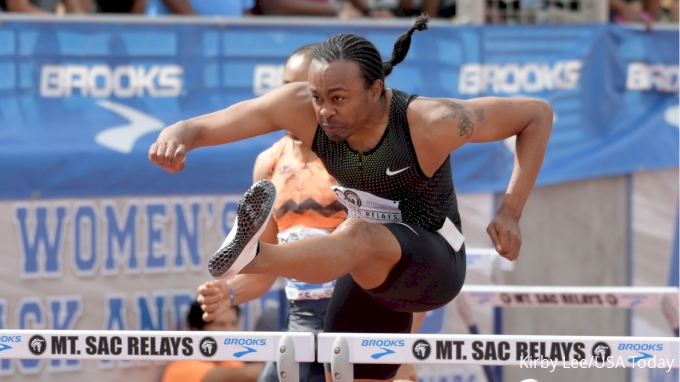 Kirby Lee/USA Today
Beyond those three, Kendziera, Aleec Harris, and Jarret Eaton have the best chance to get into the top three. If this were a championship year, a top three prediction would rely on plenty of guesswork.
Men's 400m Hurdles: Breakouts And Comebacks
First Round: Thursday, 3:05 PM CT
Semifinals: Friday, 5:10 PM CT
Final: Saturday, 3:36 PM CT
Key Athletes: Kenny Selmon, Michael Stigler, David Kendziera, Bershawn Jackson, TJ Holmes
Selmon and Kendziera are fresh off the NCAA Championships and both have a good chance of placing higher here than they did in Eugene two weeks ago. Collegiate record-holder Rai Benjamin isn't entered in the meet, clearing the field of a hurdler who looks unbeatable at the moment.
Selmon finished second in that Hayward Field final in 48.12—a great time, but over a second behind Benjamin's 47.02. Kendziera ran a personal best of 48.42 for third place. Those two marks are the two best American times of the year.
Whether or not that makes them favorites to finish top two depends largely on how much they have left after their NCAA season. Kendziera, in particular, has carried a heavy load. He was the only man to qualify for both hurdle finals at the NCAA meet and will be racing both hurdle events in Des Moines.
TJ Holmes won in Kingston and has run under 49 seconds on two occasions and has two top-four finishes in the Diamond League.
Bershawn Jackson came out of retirement this year and has looked like he can still be a factor. He ran 49.08 to finish second at the Doha Diamond League. Nobody has the experience of Jackson and if the younger runners expend too much energy in the early rounds, perhaps he can work his way into one more U.S. title.