2018 USATF Outdoor Championships
Tori Franklin & Oiselle's Contract Dispute Is More Complex Than You Think
Tori Franklin & Oiselle's Contract Dispute Is More Complex Than You Think
Tori Franklin broke her contract with Oiselle to accept a more lucrative offer from Nike. The small women's brand isn't happy about it.
Jun 23, 2018
by Johanna Gretschel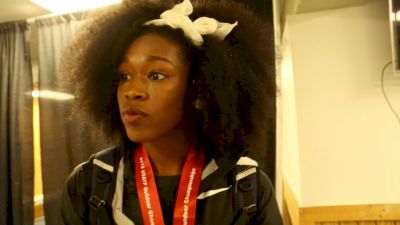 A thrilling women's triple jump battle at the USATF Outdoor Championships yesterday in Des Moines between American record holder Tori Franklin and reigning U.S. champion Keturah Orji was marred by a viral blog post from Franklin's former sponsor, Oiselle, that revealed she broke her contract to wear Nike while competing at the national championship.
The small women's athletic-wear company signed Franklin last fall to a "basic gear and travel contract" after she placed 13th at the IAAF World Championships. Though she took runner-up honors at USAs, the triple jump isn't an event that garners much attention from potential sponsors, and Franklin was still a free agent.
"When we sign athletes to a basic gear and travel contract, we never structure the period to be more than one year," Oiselle CEO Sally Bergesen wrote in the post, which was co-authored by Sarah Lesko. "We want every athlete to have the chance to have a breakthrough, and potentially sign that larger contract with a big company that will give them the security to train and focus on the next set of World Championships and Olympic Games."
The most well-known beneficiary of Oiselle's elite program is Kate Grace, who, in her breakout year, won the 2016 Olympic Trials, placed eighth in the Rio Olympic 800m final and ran what is still her personal best of 1:58.28. When Grace's Oiselle contract expired in January the following year, she signed with Nike.
No one could have foreseen that a breakthrough of that magnitude would happen so quickly for Franklin, who in 2018 won the USATF indoor title, placed eighth at Worlds, and broke the American record outdoors with a huge personal best of 14.83m—a massive improvement from her 2017 best of 14.03m.
The American record performance understandably drew the attention of other, bigger sponsors—including the biggest one of them all, Nike.
Most professional athletes have a clause written into their contract allowing for a significant payout if they break an American record. Oiselle did not have any such stipulations for Franklin, but they "scraped together a meaningful bonus that wasn't in her contract."
"For a small, high-growth company like Oiselle, this is money that is meaningful to us—but Tori had a performance that was just exceptional," Bergesen and Lesko wrote.
Nike thought so, too.
The global brand, which literally sponsors USA Track & Field, offered Franklin "a greater offer" (terms were not disclosed) to wear their logo at this week's USATF Outdoor Championships, though her contract wasn't up until August.
"We offered to split the difference," Bergesen and Lesko wrote, "that we needed her to honor the contract she signed with us and compete in our uniform for the US Championships, but then we would let her out of the remainder of her contract so she could compete the rest of the summer for the new sponsor—effective July 1."
But Franklin decided to take the money instead, and claimed runner-up honors behind eight-time NCAA champion Orji yesterday while wearing Nike's new green-and-black mesh aesthetic kit.
When we asked her in the mixed zone after the competition about her decision to switch to Nike, she said only "you'll find out when everyone else finds out."
Today, she broke her silence via Instagram to say she will return all of the $3,500 that Oiselle gave her during their brief business relationship—money that was reimbursed for funds she spent herself on medical expenses, travel and shoes.
She will keep the bonus she received for breaking the American record, though she did not disclose the dollar amount.
Franklin's decision to make (what is hopefully) a living wage from the sport is certainly understandable and even commendable.
There aren't many sponsorship opportunities for track and field athletes, and even fewer for triple jumpers—especially those who graduated from college more than three years ago, and especially when your main competition for the foreseeable future is a prodigal talent like Orji, who owns a record of seven NCAA titles.
Bergesen and Lesko spilling their own tea on the Oiselle blog feels a little icky due to the obvious financial constraints on an athlete like Franklin, who is clearly supremely talented but, at 25, in the middle-age of her peak athletic years.
How can a woman-centric organization hold anything against an athlete who simply wants what she is worth?
Yet, it's a business—on both ends. As the authors point out in the post, there's not much measurable benefit in an apparel company sinking funds into athlete sponsorships "unless an athlete has a significant following."
This is true even of the big brand names like Nike and adidas, and especially true for a smaller brand like Oiselle.
"How can we justify helping post-graduate athletes who need some time to develop, if the ones who do break through break contracts and give the initial benefit to a competitor? We can't."
Perhaps exposing the situation behind Franklin's Nike kit will prevent shady business dealings in the future. Bergesen and Lesko allege that if Franklin's agent, Lamont Dagen of Take Notice Sports Management, advised his athlete to break her contract, it was against the law.
"These types of unethical business dealings have happened in the sport many times behind closed doors," the Oiselle blog reads, "but we hope that by shining a light on the situation, people realize what damage is done. It is unethical to break a contract, and it is illegal for a company or agent to induce someone to break their contract."
And, Bergesen and Lesko write in closing, they will likely not put themselves or their company in this situation again.
"There will be one or two more blank jerseys competing in non-marquee events at USAs from now on, and you can draw that directly back to today."