Get ready for an epic event this week in Orlando, Florida.
This year's AAU Club Nationals, scheduled to be held at the ESPN Wide World of Sports complex, has surefire talent and enough star power to make it one of the best summer competitions in recent memory.
From varsity studs to up-and-coming youth athletes, club nationals will bring out the best in youth track and field. Make sure to stream it live on FloTrack from July 8-14.
You can find entries here.
9-Year-Old Female
Athlete: Juliah Bolden
Skinny: Do not sleep on Bolden. While still young, the Wichita, Kansas, native is learning quickly what it takes to earn national respect. She's coming off a year in which she won AAU national titles in the 8 & under 100m (13.86) and 200m (29.03). But she's still climbing higher. Bolden recently qualified for the 100m, 200m and 400m at her AAU Region 16 qualifier and will be the class of the 9-year-old division.
13-Year-Old Female
Athlete: Cha'iel Johnson
Skinny: Johnson is headed into the eighth grade next year, but she's already got varsity times. The daughter of former NFL grade Chad 'Ocho Cinco' Johnson has been lighting up the track for Miami Gardens Xpress for some time. A year ago, she tussled with another national-caliber 12-year-old athlete, Krianne McBride, in the final stretches of the 1500m and won in the last moments.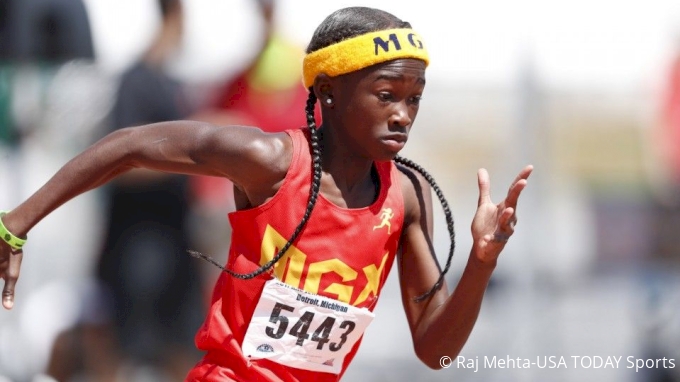 This year, Johnson continues to excel, having qualified for the 200m, 400m and the 800m at her AAU Region 10 Qualifier. While that means we won't see her in the 1500m, her coach, Darius Lawshea, will likely continue to train her with the possibility of adding it down the line. So far, she's run it three times in 2018, with a best of 4:46.32 from May at the Florida Middle School Championships. Johnson has run a best of 25.92, 56.15 and 2:15.01 in the 200/400/800 in 2018.
14-Year-Old Female
Athlete: Teoana Banton
Skinny: You may not know Banton now, but the rising ninth-grader will be an athlete to watch out for in 2019. Banton is the only athlete in her age bracket to have crossed the 12-second threshold in the 100m, and could be primed for a championship here. A year ago, she ran a heavily wind-aided 11.96 (+6.1) at Florida's state championships. Banton will likely try to throw down a mark like that again. She's also competing in the 200m and has a best of 24.28 (+4.6).
15-16 Female
Athlete: Tia Taylor, India Turk, Athing Mu
Skinny: Mu is already a star in her own right, having thrown down a 2:04.51 at New Balance Nationals in the 800m, a US No. 1 for sophomores. And consider the history behind that. That time is faster than Caitlin Collier's best sophomore effort in 2016--the Stanford recruit ran 2:04.89 as a sophomore--and is a little less than a second away from Sammy Watson's 2:03.54 from her own sophomore campaign--though that time came at the IAAF World Youth Championships. Mu is an elite athlete who could cut even more time at Club Nationals, not to mention at the AAU Junior Olympics. And guess what? She could potentially drop a sub-54 time in the 400m as well. Her PR is 54.12 seconds.
In the sprints, Taylor is looking to perform up to her expectations as well. The Saint Basil Academy (PA) sophomore has PRs of 14.48 in the 100mH and 18-8 in the long jump. Turk, meanwhile, registered the fifth-best sophomore triple jump in 2018, scoring a mark of 40-feet. She's marked a wind-legal 40-1 (+0.9) from the Georgia state championships in May, and also owns a best of 41-0.75 from a meet in March. No other athlete in her age bracket has managed a jump over 40 feet.
17-18 Female
Athletes: Alexis Brown, Semira Killebrew, Hope Igbinoghene, Dajour Miles, Sierra Leonard, Lauryn Harris, Jatana Folston
Skinny: This division is absolutely loaded but the sprints, in particular, should be game-changers and could go in any direction. While Brown, a Texas native, owns the best 100m of the bunch in 11.42 seconds, Killebrew is one of Indiana's fastest risers and owns a 11.55. Alabama product Igbinoghene, meanwhile, has a legit pedigree--her brother, Noah, was a national-caliber triple jumper--and comes in with a 11.7.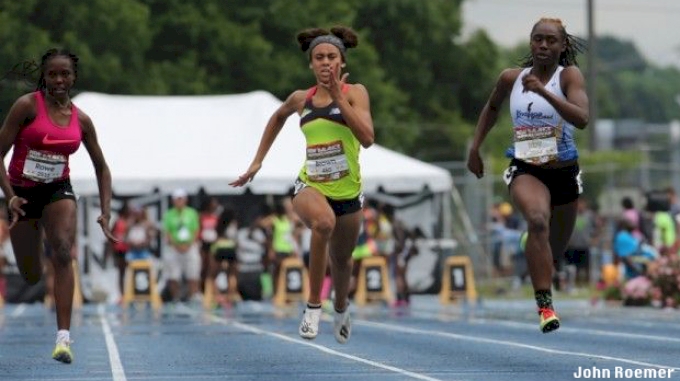 In the 200, all three athletes will hope to qualify for the finals, though they'll have some added company. That includes Miles, one of Illinois' best sprinters, and Folston--the daughter of former NFL linebacker James Folston--who is one of Florida's top up-and-comers. In the 400m, Miles will battle it out with Leonard, who could form a case for being of one Bullis School's stars of 2019. Harris will likely unload a major time in the 100mH and compete for a title in the long jump along with her teammate.
12-Year-Old Male
Athlete: Na'Seir Samuel
Skinny: If you missed it last year, Samuel won national titles in the 100m (12.41) and 200m (25.30) as an 11-year-old. He later said he wants to follow in the footsteps of Usain Bolt.
He's already split 12.11 in the 100m from the AAU Region 10 Qualifier and went 24.55 at another meet in June. Samuel has a couple big weeks ahead of him with Club Nationals and the AAU Junior Olympics.
13-Year-Old Male
Athlete: Mekhi Gammons, Dominick Grullon, Julian Sandoval
Skinny: Miami Gardens Xpress has done wonders developing athletes in the sprints, with successful studs in various age groups dominating in the 100m, 200m and 400m. Grullon and Gammons, however, could be the next in line to become stars within the program. Gammons will compete in the 400m and 800m at Club Nationals, while Grullon will feature in the 400m exclusively. Both will add to MGX's 4x400 squad and could put that team in elite company.
15-16 Male
Athletes: Montana Welch, Ashton Allen
Skinny: Allen could follow in his brother Eric's footsteps and become an elite sprinter in the coming years. An incoming junior at Bullis School (MD), Allen will compete in the 100 (10.96), 200m (21.77) and 400m (48.4). While the quarter seems to be his best event, Allen is one of the program's most versatile athletes and has a potential to excel at any distance. Welch, meanwhile, will feature in the pole vault, where he will look to sky above his 15-foot PR.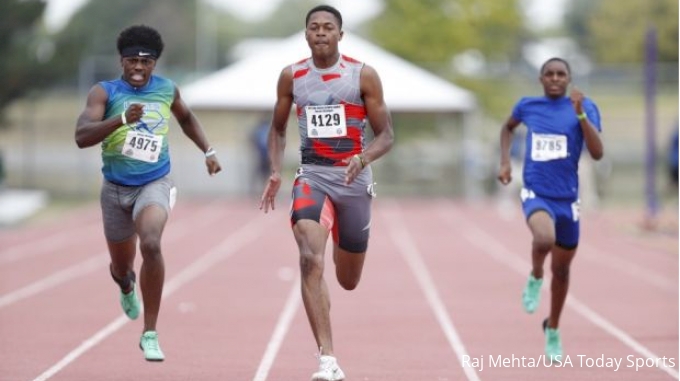 17-18 Male
Athletes: Tyrese Cooper, Malual Mu, Alfred Chawonza
Skinny: The return of Cooper will yield an entertaining few events. He is entered in the 100m, 200m and 400m and has a chance to get back on track after an injury-plagued spring. Don't miss any of Cooper's races--he split sub-21 in the 200m and sub-46 in the 400m routinely a year ago. Mu and Chawonza, meanwhile, will have an epic battle in the 800m. Both athletes can split in the 1:51 range.