'Year Of The Bison': R.J. McNichols Follows Nick Symmonds' Final Season
'Year Of The Bison': R.J. McNichols Follows Nick Symmonds' Final Season
R.J. McNichols' new documentary 'Year of the Bison' follows Nick Symmonds' final track season.
Jul 10, 2018
by Johanna Gretschel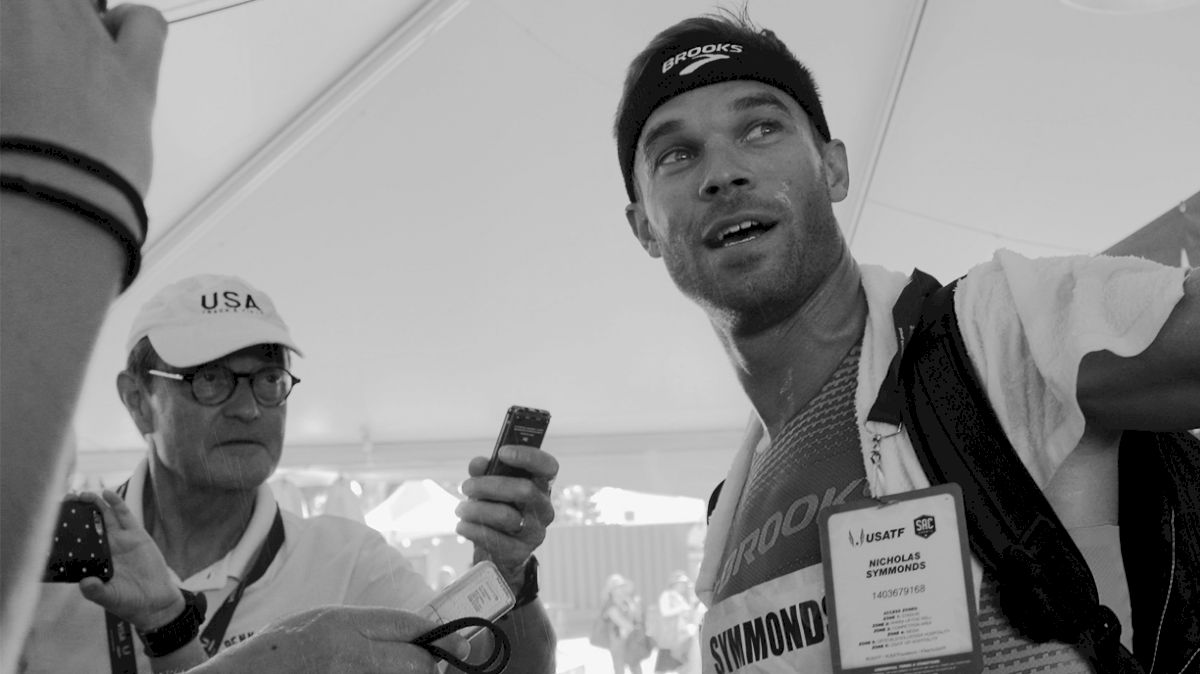 Between Clayton Murphy and Donavan Brazier, Drew Windle and Isaiah Harris, Erik Sowinski and Boris Berian, the United States is rich in men's 800-meter runners. But there's still no easy replacement for the charmingly candid, chronic pot-stirrer that is Nick Symmonds, who has now enjoyed a full year of retirement from track and field.
"Year of the Bison," a new documentary film from long-time FloTrack contributor R.J. McNichols, explores what would be Symmonds' ill-fated 2017 season, as the 2013 world silver medalist attempted to make one last world team for the U.S. We spoke to McNichols this week about the film, "burrito therapy" and the magic of the 2008 Olympic Trials 800m final.
You can rent or download "Year of the Bison" on Vimeo for 20 percent off using the promo code RJLikesFLO through the end of July.
FloTrack: When did you come up with the idea for the project and when did you start shooting?
R.J. McNichols: Every January, I usually drum up a list of ideas for projects I want to pursue.
Sports Illustrated came out with an article in January 2017 on Nick [Symmonds] and Ashton [Eaton]'s retirement. Ashton had announced his retirement and it was going to be effective immediately. He wasn't going to compete for another season. Nick, on the other hand, was going to go through another season despite having announced retirement.
And I thought, what would it be like for an athlete to announce their retirement and go through another season? Because not a whole lot of athletes do that. I don't think I can name more than four off the top of my head that announced their retirement and were still gonna go through a season, or even half a season.
I sent an email to Nick's agent at the end of February in 2017. I had a 10-minute phone meeting with Nick at the beginning of March discussing the project. An hour later, I sent him the proposal and two hours later, he said yeah. He was totally interested and totally down.
Two weeks later, middle of March, I drove from L.A. to Albuquerque in my Toyota Corolla to start filming.
For the most part, there was heavy filming from March 2017 to June 2017 and then the final scene in the documentary was shot in the middle of October.
Where does the name of the project come from? "Year of the Bison"?
I originally was going to call this project "Bell Lap" but Nick started hash tagging #YearOfTheBison, which he basically took as his nickname ("The Bison") from one of Tim Layden's articles. [Layden] talks about David Rudisha's stride as this beautiful, water flowing out of a pitcher, and then, well, Nick, you know, his stride isn't effortless-looking. He looks like how anybody else would run an 800m, kind of like a bison. Bisons can get up to 40 miles an hour, be very fast but you can see the entire effort of a bison trying to get up to that speed.
Prior to this project, how much time had you spent working with Nick?
I shot a Workout Wednesday episode with him in 2015 and met him a few times offhand, the 2012 Olympic Trials in passing and the other time, I believe, was the 2012 Kansas Relays. I was putting together the reel for the Adidas Golden Stripes tour and it was at an after party function that I met Nick, Will Leer, AJ Acosta and a few other people. Those are brief passing encounters but the Workout Wednesday episode I did in 2015, that's when I knew Nick and actually spent some time with him.
Nick is a really fascinating athlete to interview because he's so quick-witted and sharp. Is he like that all the time? Is he always "on"?
He has that "on camera" personality at track meets and media events that is larger than life. But when the cameras aren't on him, that switch is off. He's pretty mellow outside of the track.
And I asked him, is that something that just came natural to you? He said one of the things that USATF does with higher profile athletes is a media training day, which I found fascinating. They'll train U.S. athletes on how to carry yourself in an interview and how to approach an interview.
What's one scene you wish had made the final cut?
For the most part, what ended up in the film was what I wanted.
Nick's coach, Danny Mackey, was very open about the way he felt about Nick's performance after his final race. [Mackey calls the entire season "disappointing" and wonders if Symmonds was unwilling or unable to give 100 percent.]
I think the one thing, if there was one question I didn't ask, it's in that last scene where I asked Nick, 'you said that you wanted this to be the going out on top tour, did you go out on top?' and what I probably should have asked instead was, 'did you give it your all to set yourself up for a great last season?'
But the thing with interviews is you want to stay engaged with the subject and make sure you carry a conversation rather than just reading off a list of questions.
At the end of the documentary, Nick's coach and friends reflect on his final season and ultimately the prevailing sentiment was that they found it really sad. What did you think?
It was a very bizarre experience the whole time for me because Nick is the kind of guy that, up until race day, he keeps his cards close to the chest. I think at times he downplays himself and then he outdoes expectations.
When I shot the Workout Wednesday with Nick for Flotrack in 2015, he was in his prime but also coming back from an injury. He was pretty motivated and pretty hungry. You could tell he was really enjoying training. Doing the little things. Very focused on what is going to make him strong at USAs. He wasn't quite like that in 2017. It was bizarre in a sense. 2015 Nick and 2017 Nick were pretty different despite being just two years apart.
Based on what he said to me going into USAs, I didn't think he would make the final but I also didn't think he would get out in the first round. Because Nick is a pretty competitive guy.
But I think looking back on it, Nick said in his final interview that he had been mentally out of the sport since 2013 when he won his medal.
To me, you can be fit as hell but if you don't have the right mental state, you're not going to perform well no matter what. If the mental side of it isn't there, you can't pull off a successful performance, period.
When I think of Nick Symmonds, I think of the 2008 Olympic Trials race, because it was the three guys from Oregon who went 1-2-3 [Symmonds, Andrew Wheating, Christian Smith] and people made a big deal about that. Even though he ended up winning a number of other U.S. titles and a world medal, that's the race that I think about. When you think of Nick Symmonds, what's the first race that you think of?
I think it probably would have to be the 2008 Trials. The 2008 Trials was insane to me. That was right around the time that I got really hooked into track and field.
It was the summer going into my sophomore year at North Central College. I remember my friends and I, we did a workout and then went back to my friends' place and watched the Trials and a bunch of my teammates were like, 'that's Nick Symmonds, he ran DIII, he graduated in '06 or whatever, he's in the 800 meter final.'
We were watching it and seeing Christian Smith like dive across the line for third and Nick just confidently racing. To see a guy who came up from the DIII ranks and then make it as a pro and then just dominate the field, you know, DIII guys aren't supposed to do that!
Did you approach this project differently than other film projects, given you weren't sure what the final outcome of his season would be?
I think the crazy thing was, Nick always talks about his ankle being part of the situation, he was really afraid of injuring it. Every week it was like, well, this project could get shut down because if Nick breaks his ankle, I don't have a movie.
I think I almost kind of liked it in a way because it felt more like a gamble and I knew if I just followed him around for a few months, I was pretty convinced I could get a story, good or bad. Best case scenario, I get the Rocky Balboa story where he makes another team or just barely misses it. But even if he just made it to USAs and then took dead last—like he did—there was still going to be a good story.
I don't think I approached it any other different way.
How many other films have you done that are similar to this project?
Shorts and Shades, Running Away to Flagstaff and 16 2 1 and Beyond are similar—but those three all had an ending. I knew how the ending was going to be before I even shot one portion of the film.
I think I knew what the ending was going to be for Year of the Bison but I didn't know what between 20 minutes and 60 minutes were going to be like. I had things I knew I wanted to capture but for the most part, I came up with a lot of it in the edit and tried to piece it together to make a condensed short story.
I'm curious what your process is like. Every time you shoot something, do you sift through and find the best pieces and edit it together? Some of it must not come together until the end. Did you storyboard the whole thing out from the beginning?
I don't necessarily storyboard but I do outline, in the way that English teachers tell you to outline before you start going crazy and writing a ten-page paper. That's how I go about preparing. It's actually before and after [I shoot]. I have something before, and then after, sometimes it won't go according to plan but at the same time I at least got something so I'll sift through everything I've got, look back at the old plan and come up with a new plan based on what I got.
Danny Mackey and Nick make a really big deal about him needing to get back to racing weight. The scene where his girlfriend calls him out about eating Taco Bell is funny. There's no scenes of him eating in the documentary but did you try to get footage of what he ate, since they made such a big deal about his diet?
I feel kind of weird about filming food eating scenes, as like a general rule. But you know, it was pretty funny, when we were in Albuquerque—this what he calls "burrito therapy"—me, Katie Mackey, Danny Mackey and Nick, we all went out for a run and then Nick and I afterwards went to go grab breakfast and did "burrito therapy" and these burritos were gigantic, like dinner plate sized huge. This was not the best meal for Nick to have if he wanted to cut 14 to 18 pounds.
This was towards the beginning and it was really funny. And they'd be like, 'he's 14 pounds over his race weight,' 'he's 18 pounds over his race weight,' '17 pounds over his race weight.' I had to kind of pick a clip like, what was the average of all these quotes, so to speak.
What did he get on his burrito? Was he ordering like, extra guac?
This burrito was maybe slightly smaller than my head. I always look at eating proportions like, if it's bigger than your stomach, chances are it's probably going to cause you to gain a few pounds. And I'm pretty sure we both finished our burritos.
What's interesting is that Nick and I are the same exact height [5'10"]. We have slightly different builds. I remember him telling me his ideal race weight and I was like a couple pounds skinnier than that and I'm exactly 22 pounds over my college racing weight. I tried to imagine myself 17 pounds more and I don't think I could because that's a lot of weight to be carrying around.
So when Tim Layden compared him to a bison, you could really imagine what that feels like.
Yes.
Have Nick and Danny watched it yet? Have you gotten feedback from them?
They both felt like it was accurate. I went for a run with Danny back at the beginning of June with him, Fenton and Alex and I got to pick his brain a little bit more on the fly. One of the things he said was, 'I was kind of nervous that you were gonna put everything in but I'm kind of glad that you did put everything in.'
He's very honest in it. ["The race he had in Portland and here, it's just disappointing," Mackey says of Symmonds' final two races].
Nick thought it was good, it was accurate. I'm sure he probably has mixed feelings because it's not necessarily the best season captured, I'm sure he would have been more hyped about it had it been the 2008 or 2012 or even the 2015 season that I followed him for. He's been really supportive and retweeted it out a few times. Nick and I are supposed to be on Andrew Wheating's Tracklandia show at the end of August, actually.
In 2015, he didn't go to worlds in protest of USATF. Do you think he had any regret about that since it would have been his last team?
No. He never spoke with regret about it and I don't think he would ever regret that necessarily. I felt like for him, it was a scenario where it's like, 'I got a medal.' You think about Michael Phelps and he's just accruing medals, in some ways, just to win medals.
I feel like he thought one medal was enough and he could take that stand and if that meant him losing a spot on the team then so what? At least he got the word out about the injustice of what USATF, IOC, IAAF are doing to the athletes.
I don't think he ever regretted that. I asked him a couple questions about hindsight and he's like, hindsight is always 20/20 but whatever decision he made at that moment, it was the best one at the time or the best he could make at the time.
What do you hope a viewer takes away from this documentary?
There's a Wall Street Journal article that came out just recently about Ben True and athletes figuring out the next chapter in their life after their pro careers.
I think with Nick, you can see that whatever days you may have had as an athlete, they are great ones, but there's still plenty of other great days to be had, there's still other areas of interest you can go after and aspire to be. There are still things of value to experience. I think he does a pretty good job of being balanced. Despite his best competition days being behind him, he still had all these other life goals that he is just as excited about—if not more excited.
I think a lot of people have a hard time figuring out when they're actually done with something, done with a chapter, done with a project or a portion of their life.
I'm always interested in what people take away, or what stood out to them in the documentary because I've heard at least 10 different comments and they're all so different.
I showed a friend an earlier cut and it's the scene where Nick finishes up his final race and he's just really, I don't want to say overwhelmed with happiness, but he just doesn't allow himself to be sad even if things didn't go the way everyone had hoped for. I think that stood out to some people but I didn't necessarily realize that off the top of my head because at that point, I could almost anticipate any emotion that Nick had because I had been with him every step of the way.
The only time I was surprised throughout filming was when he rattled off his times of that first mile repeat workout.
I liked that scene. It made you realize just how far away he was from his peak. [In the scene, Symmonds' first workout back from injury is four mile repeats at 6:15, 6:25, 6:25, 6:00. A split screen shows he did five mile repeats in his prime in 2012 in 5:13, 5:07, 5:00, 5:00 and 4:54].
What's so crazy to me is the fact that he went from that workout to running 1:49 in a matter of months. That's pretty amazing. If his leg was healthy, man, I wonder how much quicker he probably could have gotten.
What's your next project?
In terms of running projects, there is one idea—it's funny, Kevin Sully talked to me about this idea, I want to say seven years ago—potentially doing a short documentary on Steve Prefontaine and the Oregon State Penitentiary Running Club because he started up that running club and it still goes on today.
This interview has been edited and condensed for clarity.
You can rent or download "Year of the Bison" on Vimeo for 20 percent off using the promo code RJLikesFLO through the end of July.