2018 AAU Junior Olympic Games
The 2018 AAU Junior Olympic Games Sprint Preview
The 2018 AAU Junior Olympic Games Sprint Preview
The heart of the AAU Junior Olympics can always be found in the sprints.
Jul 27, 2018
by Cory Mull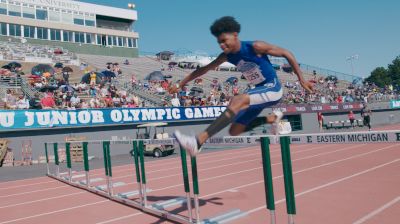 The heart of the AAU Junior Olympics can always be found in the sprints.
And this year will feature some exhilarating talents, from the historic resume of Tyrese Cooper, to the newfound stardom of Athing Mu, Grace Stark and Justin Robinson, all the way over to up-and-comers like Grant Reynolds, Jonathan Simms, Ramiah Elliott, Avery Lewis and Juliah Bolden.
This year will be special in that it will be the final send-off for MGX anchor Cooper, who's won seven AAU Junior Olympic titles and set two 15-16-year-old national records over his tenure. The Miami Norland High School athlete won two golds a year ago in the 200m and 400m, though he comes back in 2018 vying for three medals in the 100m, 200m and 400m. Cooper owns career marks of 10.34, 20.46 and 45.23.
VIEW: AAU JUNIOR OLYMPIC GAMES COVERAGE
Robinson, meanwhile, is coming off a silver medal performance for Team USA in the 4x400 at the U20 Championships, where the Missouri native almost single-handedly brought the Americans back into contention for silver--and an alleged 44.7 split in the third leg. Robinson, the top seed in the 400m in the 15-16 boys division, is competing in his first Games.
Stark, a rising senior for White Lake Lakeland (MI) High School who's fast becoming a can't-miss talent in the hurdles, won her first AAU Junior Olympic gold in the 100mH in 2017 and ultimately boosted that performance into a nearly impeccable junior season that included two state titles and her first national outdoor title at New Balance Nationals Outdoor in the short hurdles. She's split a wind-legal career best of 13.16 seconds in the event.
VIEW: AAU JUNIOR OLYMPIC GAME ENTRIES
Mu, on the other hand, catapulted her career to near stratospheric levels as a sophomore at New Balance Nationals Outdoor, winning an 800m title in a U18 No. 15 worldwide time of 2:04.51. On tap for the Trenton Club Track Club star at the Junior Olympics is what seems like an impossible task: Four gold medals in the 200m, 400m, 800m and 1500m. If anyone can do it, though, it's likely Mu.
The sprints are heavy on athletes looking to double, and in some cases, triple. That includes rising freshman Ramiah Elliott, who runs for Indiana Storm. The young sprinter is the top seed in the 14-year-old girls 100m, 200m and 400m.
A fast-blooming prodigy from Miami, 13-year-old Cha'iel Johnson, will try her hand at the 400m, and if she wins it would be her third title in four years. The 11-year-old Jonathan Simms, meanwhile, hasn't lost since he started competing at the AAU Junior Olympics three years ago. He's got six national titles and now has three more to maintain in 2018 in the 200m, 400m and 800m.
Don't miss a minute of the AAU Junior Olympic Games.
Related Links:
- - -
Top Sprint Seeds
Girls 100m
8 & Under: Kharisma Watkins, MGX, 14.34
9yo: Juliah Bolden, WTC, 13.42
10yo: Mekenzie Rogers, St. Louis Express, 13.06
11yo: Aaliyah Barnes, Primetime Runner, 12.79
12yo: Aniyah Brown, Blues Track, 12.31
13yo: Cynteria James, Down South Xtreme, 12.33
14yo: Ramiah Elliott, Indiana Storm, 12.08
15-16yo: Alicia Burnett, Ultimate Speed Academy, 11.61
17-18yo: Tnia Riley, Track Minnesota, 11.66
Girls 200m
8 & Under: Kharisma Watkins, MGX, 28.84
9yo: Juliah Bolden, WTC, 28.04
10yo: Kaila Speight, Pure Acceleration, 27.27
11yo: Skyler Franklin, Five Star General, 25.33
12yo: Aniyah Brown, Blues Track, 25.01
13yo: Avery Lewis, Infinity Track, 24.78
14yo: Ramiah Elliott, Indiana Storm, 24.61
15-16yo: Athing Mu, Trenton Track, 23.84
17-18yo: Reilly Hall, Eagle River, 13.50
Girls 400m
8 & Under: Kharisma Watkins, MGX, 1:05.57
9yo: Jordan Johnson, Pahokee Elite, 1:02.87
10yo: Julia Grant, Jeuness, 1:02.51
11yo: Adilia Trim, Jeuness, 1:00.49
12yo: Jazmyn Singh, Randolph Road Runners, 57.70
13yo: Cha'iel Johnson, MGX, 56.19
14yo: Ramiah Elliott, Indiana Storm, 55.18
15-16yo: Athing Mu, Trenton Track, 52.45
17-18yo: Jatana Folston, E.O.T.O. Elite, 53.67
Girls 80m Hurdles
11yo: Shakayla Lavender, Virginia Elite, 12.94
12yo: Jaida Williams-Goins, Take Flight, 12.61
Girls 100m Hurdles
13yo: Anna Jennings, Plyometric Fusion, 15.30
14yo: Peyton Rollins, Cambridge Jets, 14.35
15-16yo: Aasia Laurencin, Motor City, 13.80
17-18yo: Grace Stark, Elite Performance, 13.63
Girls 200m Hurdles
13yo: Skyye Lee, Blues Track, 28.36
14yo: Peyton Rollins, Cambridge Jets, 27.53
Girls 400m Hurdles
15-16yo: Jaden Wiley, Jefferson County, 1:01.91
17-18yo: Abigail Bendle, Great Esteem, 1:01.91
- - -
Boys 100m
8 & Under: Khalil Hurd, Desoto Swift, 14.22
9yo: Amir Woodward, Neptune Jersey, 13.62
10yo: Zacchaeus Brocks, Motor City, 12.70
11yo: Jacob Stanley, Ohio Heat, 12.78
12yo: Durian Moss, Down South, 12.01
13yo: Wesley Noble, Metro Eagles, 11.47
14yo: Devon Jackson, Nebraska Jaguars, 11.36
15-16yo: Jaleel Scott, LC Express, 11.01
17-18yo: Tyrese Cooper, MGX, 10.64
Boys 200m
8 & Under: Princeton Clack, All About Speed, 29.50
9yo: Braylon Perkins, Living Word, 28.07
10yo: Cameron Wade, Trial By Fire, 26.46
11yo: Jonathan Simms, Impact, 25.62
12yo: Durian Moss, Down South Xtreme, 23.65
13yo: Wesley Noble, Metro Eagles, 23.09
14yo: Shamali Whittle, Trenton Track, 22.73
15-16yo: Dylan Brown, TLU Detroit, 22.07
17-18yo: Tyrese Cooper, MGX, 20.94
Boys 400m
8 & Under: Robert Eddings, Full Stride, 1:05.79
9yo: Grant Reynolds, Mark Trail, 1:00.83
10yo: Zaccheus Brocks, Motor City, 58.96
11yo: Jonathan Simms, Impact, 55.20
12yo: Durian Moss, Down South Xtreme, 53.45
13yo: Jaren Hamilton, Peak Performance, 50.50
14yo: Onyekachi Nzeh, High Level Track, 50.80
15-16yo: Justin Robinson, Gateway City, 47.41
17-18yo: Tyrese Cooper, MGX, 46.95
Boys 80m Hurdles
11yo: Zackary Martin, MGX, 13.30
12yo: La'Rico Tezeno, Flying Jaguars, 12.71
Boys 100m Hurdles
13yo: Justus Hadnot, Unattached, 14.83
14yo: Shamali White, Trenton Track, 13.30
Boys 110m Hurdles
15-16yo: Tyler Drew, Fast Lane, 14.41
17-18yo: Andre Turay, Virginia Elite, 13.83
Boys 200m Hurdles
13yo: Braylon James, Thunderboltz, 27.58
14yo: Shamali Whittle, Str8 Smokin, 25.98
Boys 400m Hurdles
15-16yo: D'Carlo Calderon, BC Elite, 55.80
17-18yo: Evan Matthews, Ohio Heat, 53.45