Michael Norman Signs Professional Deal With Nike
Michael Norman Signs Professional Deal With Nike
Michael Norman has signed with Nike, the sprint star's agency HSI announced on Friday.
Aug 3, 2018
by Kevin Sully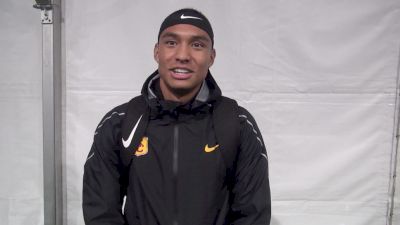 Michael Norman has signed with Nike, the sprint star announced on Friday.
Norman was undefeated against college competition during 2018, a season that was highlighted by a world record and three collegiate records for the sophomore.
After a high school career that was punctuated by a fifth-place finish in the 200m at the 2016 Olympic Trials, expectations were high as Norman enrolled at USC. But his freshman year got off to a slow start after he struggled to stay healthy.
I can't wait to begin the next chapter of my career representing... pic.twitter.com/E7zDniR7C8

— Like Mike (@Mike_Norman22) August 3, 2018
His second year with the Trojans, had no such problems. Indoors, Norman ran 44.52 to win his first NCAA title and break the world record. He also anchored USC to a victory in the 4x400m in 3:00.77, the fastest time ever recorded in the event.
Outdoors, he ran in the 44-second range with regularity before unleashing a 43.61 at the NCAA Championships. The mark was another collegiate record, the 11th best time in the history of the 400m and is still the fastest time of 2018.
4️⃣3️⃣.6️⃣1️⃣ INSANE!!! ??? #ncaaTF pic.twitter.com/CmUxc1t8wv

— NCAA Track & Field (@NCAATrackField) June 9, 2018
The day after the meet, Norman announced his intention to forego his final two years of eligibility.
In his two meets in Europe after the professional season, Norman lowered his 200m personal best in Paris to 19.84 and finished second to Noah Lyles in 19.88 in a much-anticipated matchup between the two young stars in Lausanne.
Norman has previously stated that he will remain in Los Angeles to train with his college coach, Quincy Watts. Norman's teammate at USC, 400m hurdler Rai Benjamin, also signed with Nike and will continue to train at USC.