2018 European Athletics Championships
Mondo Duplantis' Epic Leap Highlights Flaws In American Record Rules
Mondo Duplantis' Epic Leap Highlights Flaws In American Record Rules
Reverberations from 18-year-old Mondo Duplantis' electrifying 6.05m pole vault clearance at the 2018 European Championships are still being felt.
Aug 14, 2018
by Lincoln Shryack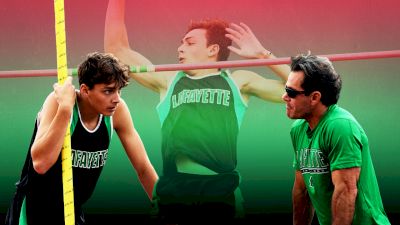 Reverberations from 18-year-old Mondo Duplantis' electrifying 6.05m pole vault clearance on Sunday at the 2018 European Championships are still being felt, and among them is the peculiar question of whether the mark will be ratified as an American record.
Watch his title-winning vault here: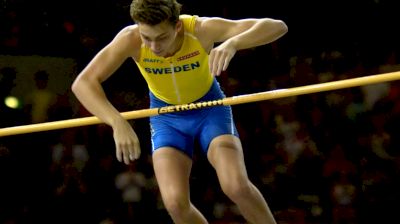 Unlock this video, live events, and more with a subscription!
Get Started
Already a subscriber? Log In
Duplantis, who owns dual American and Swedish citizenship, smashed his own world junior record to become the fourth-best performer of all time while competing for Sweden, but a current USATF rule loophole also makes him eligible to become the new U.S. record holder.
The current rule defines an American record as "the best performance made by an American citizen," which does not exclude dual citizenship athletes like Duplantis who represent other countries internationally. Duplantis' 6.05m on Sunday bettered fellow American Brad Walker's 6.04m previous record that was set in 2008.
Mondo is an American citizen, thus it's an American Record pic.twitter.com/6jazyARhAK

— Gordon Mack (@gordonmack) August 12, 2018
Records broken in 2018 will not be officially ratified by USATF until the Annual Meetings in December, but the expectation, per the rule, is Duplantis will be named the American record holder despite the fact he set the mark while representing a foreign country at the European Championships. Although it wasn't at a major championship, Duplantis' 5.82m jump at the 2017 New Balance Indoor Nationals was ratified as the American junior record by USATF last year.
With no criteria explicitly prohibiting dual citizenship athletes from breaking U.S. records while wearing another country's uniform, awkward American record-breaking moments like we saw Sunday in Berlin are possible.
According to Becca Peter of PoleVaultPower.com and World champion Sandi Morris, issues with the rule as stated were brought up to the USATF records committee at a meeting last year by Athlete Advisory Committee representative Jeff Hartwig, who highlighted Duplantis as an example.
Morris said the topic of such a scenario playing out wasn't immediately taken seriously by the rules committee since the possibility was deemed remote at the time.
Jeff Hartwig (in rule committee meeting) noticed the rule was flawed. Verbatim:"Imagine Mondo jumping 6.05m in a Swiss jersey at European champs where Americans aren't allowed to compete - breaking the AR."

Their response: "What are the chances of that?"

I can't make this up https://t.co/NsFT92E2a0

— Sandi Morris, OLY (@sandicheekspv) August 13, 2018
Whether Duplantis' epic leap into American track and field history while wearing the blue and gold of Sweden spurs a revision to the rule as written is yet to be seen, but according to Peter, the Athletes Advisory Committee plans to submit a rule change at this December's Annual Meeting so a similar scenario like the one currently playing out with Duplantis no longer occurs.
Any new rules agreed upon by the rules committee would not take effect until January 1, 2019, but according to Peter, a retroactive rule change that would prevent Duplantis from being named the official U.S. record holder is unlikely.
We have reached out to USATF spokeswoman Jill Geer as well as Hartwig for clarification on the matter, and will update this story if we receive any response.