Create a free account to unlock this article!
Get Started
Already a subscriber? Log In
Teenage fever is currently sweeping across the world of track and field.
With the spectacular performances of 17-year-old Jakob Ingebrigtsen and 18-year-old Mondo Duplantis over the weekend at the 2018 European Championships, the rare and incredible talents of these young men have finally received the full attention they deserve. The shiny gold medals now hanging around their necks—two in the case of Ingebrigtsen—represent what could be the start of a new era in their events. As such, this past weekend in Berlin may one day be remembered as the moment two athletic greats were introduced to the wider world.
While we continue to marvel at the current crop of wunderkinds and eagerly await their next moves, it seems fitting to recall some other track and field heavyweights who burst onto the international scene before celebrating their 20th birthdays. Of course, most of the greatest track stars of today were crushing their competition as teenagers, but to make this premier list, a gold medal at an outdoor senior-level championship was a requirement. Based on this collection of A-list athletes, Ingebrigtsen and Duplantis should feel even better about their new hardware.
Allyson Felix (2005 World Championships 200m - Age 19)
The long and storied career of Allyson Felix has already spanned four Olympic Games and a whopping 17 international gold medals, and it has still yet to slow down. But before Allyson Felix and gold medals became a near foregone conclusion, a 19-year-old Felix arrived at the 2005 IAAF World Championships in Helsinki looking to better the silver medal she had earned just a year prior in the 200m at the Olympic Games.
That's exactly what the American teen did. With a powerful close that would become a Felix trademark in the coming years, the sprinter overwhelmed her competition in the race's final meters to win the first of her eventual three straight world titles in the event.
Eliud Kipchoge (2003 World Championships 5,000m - Age 18)
Well before he became the undisputed greatest men's marathoner of all time, an 18-year-old Eliud Kipchoge was the winner of one of the most memorable IAAF World Championship races in history. With a scintillating kick off a blistering pace, the young Kenyan mowed down the greatest 1500m runner in history, Hicham El Guerrouj, in the final 50 meters to set a 12:52.79 championship record that still stands today.
Even as Kipchoge now stands atop the marathon mountain alone, it's still incredible that he took down both El Guerrouj and future world record holder Kenenisa Bekele in their primes on the grandest stage as a teenager. And to think that 15 years later he's still crushing every challenger that comes his way.
Kirani James (2011 World Championships/2012 Olympic Games 400m - Age 18/19)
If there was one takeaway from the record-shattering 2018 NCAA 400m season, it's that the quarter-mile is a young man's game. But the breathtaking speed we witnessed from USC sophomore Michael Norman and Co. at the collegiate level this year isn't even the biggest stage we've seen youth be served in the 400m; after all, Grenada's Kirani James was already a two-time gold medalist before turning 20 years old.
As a previous World Youth and World Junior champion, James was somewhat of a known entity in track circles before he rose to prominence on the senior level, but his victory at the 2011 World Championships in Daegu over then-reigning World and Olympic champion LaShawn Merritt was nonetheless stunning. The 18-year-old James managed to pass Merritt in a thrilling final straightaway, beating the American by just 0.03 seconds and becoming the youngest champion in event history.
Not even a year later, James would win Olympic gold in London at 19, this time without Merritt in a dominant 43.94.
Ghirmay Ghebreslassie (2015 World Championships Marathon - Age 19)
The marathon has been trending younger for some time now, and in 2015 Eritrea's Ghirmay Ghebreslassie gave us a startling reminder of the phenomenon when he won the world title in Beijing at the ripe age of 19. Easily dispatching a field that featured that year's Boston Marathon champion (Lelisa Desisa) and the reigning World and Olympic champion (Stephen Kiprotich), the precocious Ghebreslassie became the youngest winner in event history and the first world champion ever from Eritrea.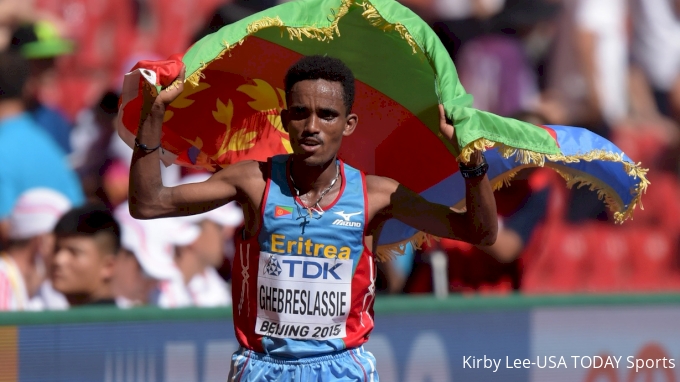 Still only 22, Ghebreslassie's marathon resume—which includes a fourth-place finish in the 2016 Olympics and an NYC win—likely has many more trophies to come.
Bob Mathias (1948 Olympic Games Decathlon - Age 17)
His 7,139 points may have been the lowest winning decathlon score since the 1920 Olympic Games, but it mattered little to the 1948 Olympic champion, 17-year-old American Bob Mathias. The California teen was wildly inexperienced in the discipline upon his arrival to London that year, and it showed in his struggles in the shot put and javelin. But Mathias' preternatural athletic ability was nonetheless evident even at such a young age; he won the high jump and discus competitions en route to a commanding 165-point victory in his Games debut. To this day he remains the youngest men's track and field champion in Olympic history.
Mathias went on to repeat as the Olympic gold medalist four years later in Helsinki while setting a new world record.
Ulrike Meyfarth (1972 Olympic Games High Jump - Age 16)
This is your answer to a track and field trivia question. Germany's Ulrike Meyfarth was just 16 years old when she won the high jump at the 1972 Munich Olympic Games, the youngest track and field athlete ever to win Olympic gold. And Meyfarth didn't just win, she set a new world record of 1.92m while smashing her personal best by more than six inches.
Meyfarth would add one more Olympic title before her career was said and done, with her second gold not coming until the 1984 Olympics in Los Angeles. That's one of the many advantages of being world-class at such a young age, as Meyfarth was still in her prime 12 years after her first major victory.