2018 FloXC Show
2018 FloXC Countdown: #11 Boise State Men
2018 FloXC Countdown: #11 Boise State Men
The Boise Men come in at No. 11 on the 2018 FloXC Countdown.
Sep 3, 2018
by Lincoln Shryack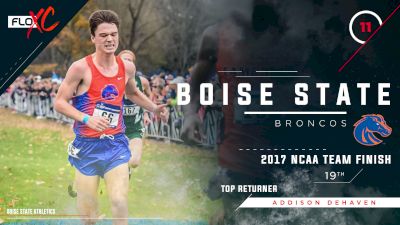 Follow our 2018 FloXC Countdown, where FloTrack ranks the top 25 cross country teams and individuals in the NCAA this season which will be LIVE on FloTrack. And be sure to watch our LIVE FloXC Podium Reveal Show Tuesday, September 11th at 10 AM CT. The No. 11 men's spot goes to Boise State, and here's why:
Probable Top Six:
SR Yusuke Uchikoshi (8:38 3K ST; 14:09 5K; 18th at '16 NCAA XC)
SR Addison DeHaven (7:54 3K; 13:58 5K; 31st at '17 NCAA XC)
JR Miler Haller (14:07 5K; 29:08 10K; 36th at '17 NCAA XC)
SO Elijah Armstrong (8:09 3K; 14:16 5K; 70th at '15 NCAA XC)
SR Andrew Rafla (7:57 3K; 14:01 5K; 83rd at '14 NCAA XC)
SO Ahmed Muhumed (8:17 3K; 14:06 5K; 113th at '17 NCAA XC)
Impact Freshmen/Transfers:
N/A
Analysis:
With three All-Americans at the top of their roster, and the return of Elijah Armstrong from his Mormon mission, the Boise State men look ready to make a run for the NCAA's top 10 in November, a feat the program hasn't achieved since 1996.
Boise has had the talent over the last few seasons to challenge for such a finish, but due to injuries and underperformance, they haven't quite got it done-- the Broncos have placed 19th at NCAA XC for two straight seasons.
But this year is shaping up to be different, and that's not simply because optimism abounds in August. Boise State brings back each of the four men who led them at nationals over the last four championships, a crazy stat that highlights the immense experience this roster has in 2018.
The Broncos will count on senior Yusuke Uchikoshi rebounding from a poor race last year at nationals (217th place) to return to his top 20 ways from 2016. On top of the NCAA disappointment, Uchikoshi went from winning Mountain West XC in 2016 to just 20th last year, but his strong spring on the track suggests he'll be at full capacity this upcoming fall.
If Uchikoshi is running well again on the grass, he'll join forces with 2017 All-Americans Addison DeHaven and Miler Haller to form a fearsome top-three. On paper, BSU looks to have the best team in the Mountain West-- ahead of Colorado State and Air Force-- and the top Bronco trio is the biggest reason why. It's not a stretch to think each could be top 30 at nationals in 2018.
Behind the All-Americans will be two men who you maybe haven't heard from in awhile. Elijah Armstrong was Boise State's top NCAA finisher as a freshman in 2015, but he hasn't run a single cross country race since then as he has been on his Mormon mission for the last two years. It's tough to guess what sort of shape Armstrong will be in this season as he works his way back into shape, but coach Corey Ihmels must be thrilled to have such a talent rejoin the team.
The other name coming back is redshirt senior Andrew Rafla, who like Uchikoshi, will be looking to bounce back from a poor race at nationals in 2017. Rafla finished all the way back in 241st place last fall, but his stellar track resume proves he can be a ton better this year. Rafla's best NCAA XC finish-- 83rd in 2014-- feels like it was eons ago, but the Broncos will hope for a similar run from him this November in Madison as they try to crack the top 10 teams.