Two weeks ago at the Nuttycombe Invitational, the women's races held all the surprises.
Wisconsin's Alicia Monson upset a field populated with national champions to win the individual race, while Colorado won the team race and top-ranked New Mexico was relegated to third-place. The men's competition provided their own insights into the season, but the women's race succeeded in spinning the conventional wisdom and reframing the season in late September.
Watch the Wisconsin XC Pre-Nationals Live On FloTrack
Many of the same teams return to the same course for Saturday's Wisconsin Pre-National Invitational. The fields are split into two separate races that were selected to equally balance the fields. Monson is back on her home course, hoping to keep the momentum of her shocking victory. Meanwhile, New Mexico will try to get back to their winning ways and set themselves on a path to their third title in four years.
Here's what to watch for in the women's races in Madison.
White Race
Individuals To Watch: Sharon Lokedi (#1), Alicia Monson (#2), Weini Kelati (#3), Ednah Kurgat (#4), Dorcas Wasike (#8), Elise Cranny (#9)
Teams To Watch: New Mexico (#2), Stanford (#6), Wisconsin (#8), Michigan (#11)
Key Questions:
Will the women's individual race revert to form?
Although the design of the meet was to create two even races, at least individually, the White race is the better of the two. Six of the top nine women in the nation and 13 of the top 25 are in the same race, making it both fast and deep.
Alicia Monson of Wisconsin surprised the field at Nuttycombe, sprinting free of New Mexico's Weini Kelati in the final straightaway to score the biggest victory of her career. On paper, her personal bests shouldn't have put her in the same category as Kelati, Ednah Kurgat or Allie Ostrander, but right now she's in top form and will once again be running on her home course. Was Nuttycombe a one-race aberration or an indication that Monson is one of the best of the nation?
Kelati and Kurgat will be back on Saturday to try and improve their finishes (second and third) from Nuttycombe. Solid performances, but going 1-2 is definitely within reason given their history. Kurgat finds herself in unfamiliar territory. Yes, she was beaten on the track last year, but she did go undefeated in cross country last fall or her way to a dominant victory at the NCAA Cross Country Championships.
Entering the mix are two standouts from the spring, Sharon Lokedi of Kansas and Dorcas Wasike. The pair finished first and second, respectively, in the 10,000m at the NCAA Championships in June. Neither has raced in a major competition this fall, but they've run up big margins of victory in all their races. After Kurgat was beaten, Lokedi has assumed the role of favorite--at least for the moment.
The presence of Washington and Stanford in the race means the opportunity to see Washington's Katie Rainsberger (#12) and Lilli Burdon (#15) and Stanford's Elise Cranny and Fiona O'Keeffe (#14).
Cranny, Rainsberger and O'Keeffe finished 1-2-3 at the Stanford Invitational two weeks ago. Burdon, who transferred from Oregon along with Rainsberger, has yet to make an appearance for the Huskies.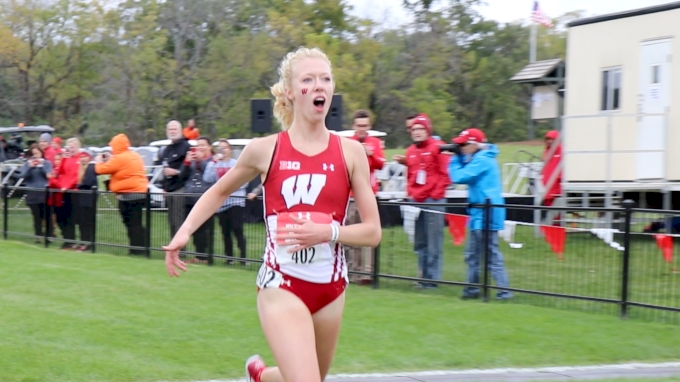 Unlock this video, live events, and more with a subscription!
Get Started
Already a subscriber? Log In
What will New Mexico's 1-5 gap be?
After a surprise third-place finish at Nuttycombe, it is clear that the only thing standing between New Mexico and their third title in a row is closing the gap to their fifth runner.
As expected, Kurgat, Kelati and Charlotte Prouse (#11) gave the Lobos a potent top three at Nuttycombe. But after that, the Lobos faltered. After placing third, it's clear that they will need to shore up their final two spots in order to win another championship.
Adva Cohen finished 35th at Nuttycombe--her first NCAA race. Given her track personal bests, there's plenty of reason to think she will develop into a solid fourth runner. But there are definitely some legitimate questions about New Mexico's last scorer.
Hannah Nuttall was 83rd at Nuttycombe, giving the New Mexico a 1-5 spread of 1:28. The two teams that beat them, Colorado and Boise State, have spreads of 52.9 and 55.5 seconds.
Like Cohen, Nuttall was making her NCAA debut so there's reason to expect an improvement as the season progresses. New Mexico also has other options at that spot. Sophie Eckel won the B race and turned in a time five seconds faster than Nuttall, while last year's fifth runner, Alondra Negron, also ran in the B race (though she ran 21 seconds slower than Nuttall).
New Mexico has suffered early season losses during their championship run.
In 2017, Colorado got the better of them at the Notre Dame Invitational--47-51. In that race (which, like Nuttycombe took place on the last weekend of September), the issue was once again the fifth runner. The Lobos went 1-2-6-8-34 with a spread of 1:03 over the 5K course.
They didn't have any setbacks after that on their way to defending their NCAA title. And although there was still a sizeable gap from runners four to five at the 2017 NCAA Championships (New Mexico had the fourth best #5 in the meet), their top four were so strong that no other team was able to threaten them.
This seems to be a similar situation this year. Even if their fifth runner makes a jump, there will be a big gap by virtue of the fact that their top runners can overwhelm the rest of the field.
In Saturday's race, they don't have to contend with Colorado, Boise State or Oregon. Their best competition should come from Wisconsin and Stanford. But even if they do win as expected, keep an eye to see if the 1-5 gap is moving in the right direction for New Mexico.
#Lobos place 3 in the top-10 of the women's #NuttyInvite, led by a runner-up finish by Weini Kelati.#GoLobos pic.twitter.com/ZW6f6llVC5

— New Mexico XC/T&F (@UNMLoboXCTF) September 28, 2018
Cardinal Race
Individuals To Watch: Weronika Pyzik (#7), Erika Birk-Jarvis (#13), Katrina Robinson (#19), Katherine Receveur (#23)
Teams To Watch: Oregon (#4), Arkansas (#7), BYU (#9), NC State (#10)
Key Questions:
Will Oregon fill the void left by Colorado?
After taking victory at the Nuttycombe Invitational, the nation's number one-ranked team, Colorado, will be holding out their top runners on Saturday. Colorado's B team, while good in their own right for a team of runners 8-15, won't contend for the win against top teams from Oregon, Arkansas, BYU and NC State.
The Buffaloes absence means that the showdown between them and Oregon will have to wait until the Pac-12 Championships. It also means that Oregon enters as the favorite to take the White race. It will be the first real test for Oregon's revamped top seven that features two transfers from San Francisco (Weronika Pyzik and Isabelle Brauer) and one fifth-year addition from Great Britain (Philippa Bowden). The Ducks have looked good in early season races, Susan Ejore in particular, but the lack of competition made it hard to tell if they are capable of challenging Colorado, New Mexico and Boise State.
This race won't answer that particular question, but it is fair to say that if Oregon is a title contender they should be able to get the victory on Saturday. Arkansas, led by freshman Katrina Robinson, is the next highest ranked team and is coming off a fifth-place finish at the Nuttycombe Invitational. BYU has a strong 1-2 in Erica Birk-Jarvis and Whittni Orton that carried the Cougars to a big win at the Notre Dame Invitational.
Then there is the question of accruing points for at-large qualification to the NCAA Championships. As per usual, Pre-Nationals will be a prime source for teams to get wins they can translate into a trip back to Madison in November. The White race features at least two teams to keep track of.
FloTrack's current projections have Ole Miss qualifying in the South Region and Minnesota advancing in the Midwest, meaning victories over either of these teams, or both, could be especially useful after regionals.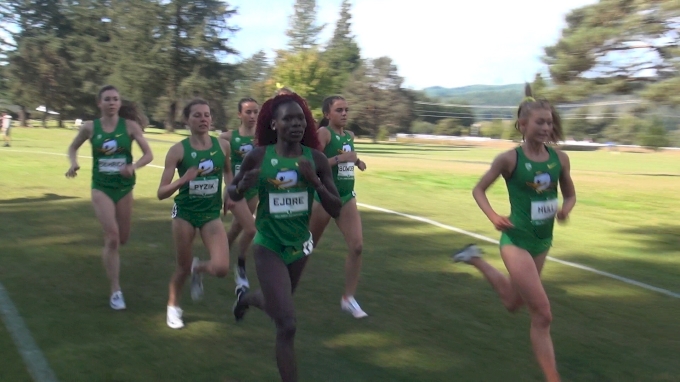 Unlock this video, live events, and more with a subscription!
Get Started
Already a subscriber? Log In
Who takes charge in the individual race?
There isn't the same individual firepower as the White race with just four women ranked in the top 25. Pyzik is the top seed, but isn't the clear favorite.
If she opts to run strategically with her team (always a possibility) then there are even more women who could take this race. Arkansas' Robinson showed at Nuttycombe that she isn't fazed by her first year of NCAA competition. The freshman ran shoulder-to-shoulder with the best in the country before ultimately fading to eighth.
BYU's Birk-Jarvis and Orton will be seeing the course for the first time this year, but have run well enough in 2018 to expect them in the front pack.
Indiana also has a top two that mix in with the leaders in Katherine Receveur and Margaret Allen. Receveur finished 24th at Nuttycombe, but she should be better on Saturday. Her teammate, Margaret Allen placed 18th. And no discussion of duos is complete without a mention of Portland's top two of Lauren LaRocco and Taryn Rawlings. The two seniors placed 16th and 22nd at Nuttycombe, respectively, and have the ability to turn in top-ten finishes on Saturday.