Former 600m Record Holder Cas Loxsom Announces Retirement
Former 600m Record Holder Cas Loxsom Announces Retirement
Former 600m world's fastest man announces his retirement.
Oct 27, 2018
by Lincoln Shryack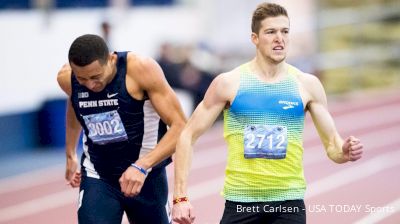 One of the fastest men in history in the indoor 600m has called it a career.
27-year-old Cas Loxsom, the second-fastest man ever in the indoor 600m and a 1:44 800m performer, announced his retirement via Instagram on Saturday.
"Today, I am a former professional Track & Field athlete," wrote Loxsom. "I can't believe it's now, but really there will never be a good time. The decision was made with a very heavy heart, but also with optimism."
Loxsom first burst onto the scene as a top 800m prospect back in 2010, when the then 19-year-old finished second at the IAAF World Junior Championships in Moncton, Canada, in 1:46.57. Fellow American standout Robby Andrews finished right behind Loxsom to earn bronze in that race.
After a highly successful career at Penn State in which he garnered several All-American honors, Loxsom joined the Brooks Beasts in 2013. His best season as a professional was undoubtedly 2015, when he ran his 1:44.92 PR in the USATF Outdoor Championships semi-final before finishing third in the final and qualifying for the IAAF World Championships in Beijing.
In 2017, Loxsom ran the fastest time in world history in the indoor 600m-- 1:14.91-- in State College, Pennsylvania. The mark was later surpassed by UTEP's Michael Saruni in 2018.
In April of 2017, Loxsom surprisingly announced that he was no longer with the Brooks Beasts. The announcement came just days after he had earned a gold medal as a part of Team USA's 4x800m squad at the IAAF World Relays in the Bahamas.
In the fall of 2017, Loxsom returned to Penn State to finish his degree and help coach the Nittany Lions as a volunteer assistant.
In a lengthy interview at the 2018 USATF Indoor Championships in Albuquerque, New Mexico, Loxsom discussed the frustrations of life as an unsponsored runner and revealed that he had recently resumed taking medication for depression and was seeing a therapist. Loxsom was praised on social media for sharing his struggles and not being afraid to seek help.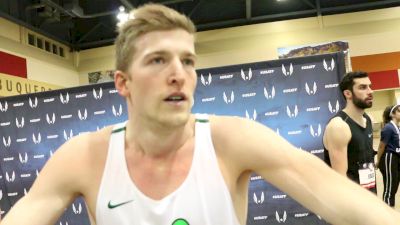 At the time, Loxsom was still planning on pursuing his running career, although he acknowledged that his overall happiness was his top priority going forward.
In his post today, Loxsom said, "I've also gained an incredible amount of empathy for those who choose that it isn't a path they want to walk (or run) anymore."
Set next to a photo of Loxsom along with former Brooks Beasts' teammate Nick Symmonds and Erik Sowinski on the podium at the 2015 USATF Outdoor Championships, he ended his post with a thank you:
"So thank you, everyone. It's been a wild ride and I wouldn't trade it for the world. I've been truly blessed to experience the things I have, both good and bad."