Create a free account to unlock this article!
Get Started
Already a subscriber? Log In
Top teams look to safely and smoothly advance to the NCAA Championships, while those teams farther down the projections will vie for at-large qualification out of Friday's NCAA West Regional meet in Sacramento, California. Here's what to watch for in the women's and men's races.
Watch the 2018 NCAA West Regional Live On FloTrack
Women's Race: Oregon, Boise State Finally Meet
Teams that are safe: #1 Oregon, #5 Boise State, #8 Stanford
Teams that are on the bubble: Washington, Portland, UCLA, Oregon State
Individuals to watch: #5 Allie Ostrander (Boise State), #7 Jessica Hull (Oregon), #8 Elise Cranny (Stanford), #11 Weronika Pyzik (Oregon), #12 Fiona O'Keeffe (Stanford), #19 Lauren LaRocco (Portland), Katie Rainsberger (Washington)
Current projections have five women's teams advancing out the West, and the region is both deep and top-heavy. Top-ranked Oregon is coming off a convincing win at the Pac-12 Championships where they beat Colorado and Stanford.
Oregon senior Jessica Hull finished second in that race, backing up her individual win at Pre-Nationals. Her improvement, and the strength of their supporting cast, has put Oregon in position to take the team title. The offseason departures of Lilli Burdon and Katie Rainsberger to Washington have been patched up by their two San Francisco transfers, Weronika Pyzik and Isabelle Brauer, and their off-race at Pre-Nationals looks to have been an aberration.
Fifth-ranked Boise State's formula for success is similar to Oregon's—one superstar up front and then overwhelming depth. Their tight pack almost helped them upset defending champion New Mexico at the Mountain West Conference Championships.
New Mexico went 1-2-3, but Boise State's Allie Ostrander led a parade of five Broncos who finished in the top 10. It wasn't quite enough to win the meet (they fell two points short of New Mexico), but their two through five of Emily Venters, Alexis Fuller, Clare O'Brien, and Maxine Paholek will help them match strength against strength in their first meeting with Oregon on the season.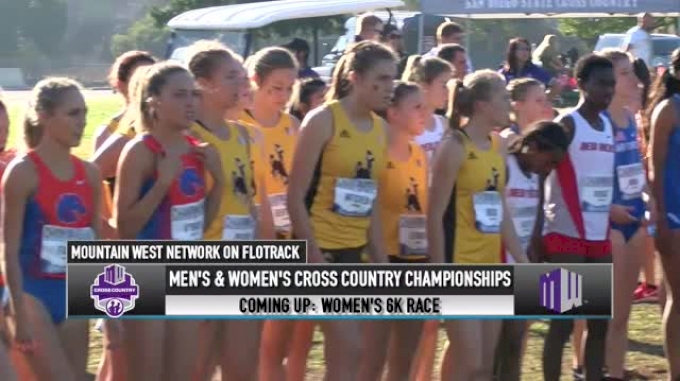 Unlock this video, live events, and more with a subscription!
Get Started
Already a subscriber? Log In
The daunting presence of Oregon and Boise State mean that Stanford will most likely have to settle for an at-large bid. If the season ended today, they would be the fifth team in by virtue of their three regular season wins.
From there, it gets crowded. Washington and Portland have enough wins to qualify as does UCLA (though the final Kolas projections have the Bruins losing out on a tiebreaker for the final spot). Washington debuted Burdon at the Pac-12 Championships two weeks ago. If she runs like she did last spring when she was third in the 5000m at the NCAA Outdoor Championships, then the Huskies will safely advance to Madison.
The results are bound to go a bit off script and when they do, keep an eye on Oregon State. The Beavers were sixth at the Pac-12 Championships, but have wins over Texas and Washington.
Men's Race: Stanford, Portland, Washington And Boise Battle For Auto Qualifiers
Teams that are safe: #3 Stanford, #5 Portland, #7 Washington, #10 Boise State
Teams that are on the bubble: #13 Oregon, #21 UCLA, Washington State, Gonzaga
Individuals to watch: #1 Grant Fisher (Stanford), #7 Nick Hauger (Portland), #23 Emmanuel Roudolff-Levisse (Portland), #25 Talon Hull (Washington)
Along with the Mountain region, the West plays an outsized role in determining the men's qualifiers for the NCAA Championships. Seven teams are predicted to advance out of Sacramento including top 10 squads from Stanford, Portland, Washington, and Boise State. Stanford's third-ranked team won the Pac-12 Championships on the strength of a Grant Fisher/Alex Ostberg/Alek Parsons 1-3-4 finish.
Even if they run without All-American Steven Fahy, the Cardinal are unlikely to fall out of the top three. Portland hasn't run their true top seven this year at all, mixing and matching combinations in the regular season and resting some of their big names at the conference meet. As a result, its hard to pin down the Pilots, but their runner-up finish last year and their third-place finish at the Nuttycombe Invitational in September gives them the benefit of the doubt.
Washington entered the season just wanting to qualify for the national meet a goal that in retrospect is incredibly modest. They took second at Pre-Nationals and the Pac-12 Championships. In each race, a sophomore led the way (Tibebeu Proctor at Pre-Nationals and Talon Hull at Pac-12s).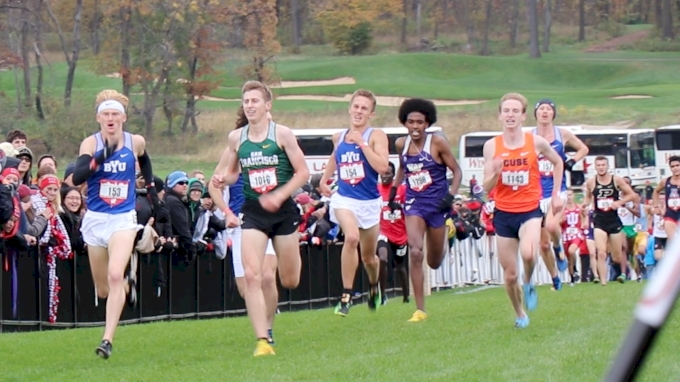 Unlock this video, live events, and more with a subscription!
Get Started
Already a subscriber? Log In
Boise State collected key wins early in the season at Nuttycombe, relieving some of the burden of qualification before the end of September. The Broncos next raced at Mountain West where they took home the title against Air Force, Colorado State, and Wyoming—all teams expected to advance out of the Mountain region.
Four addition teams from the West region sit between 27th and 38th on the current Kolas projections.
Thirteenth-ranked Oregon is in a good spot with four wins, while UCLA (three wins) and Washington State (four wins) are among the last teams to qualify. Oregon was comfortably better than both those teams at Pac-12s, beating Washington State by 30 points and UCLA by 52. Outside of the Pac-12, Gonzaga has three wins against projected qualifiers, though two of those are against other bubble teams NC State and Michigan.