2018 DIII NCAA XC Championships
DIII NCAA XC Men's Preview: North Central Goes For No. 19
DIII NCAA XC Men's Preview: North Central Goes For No. 19
We take a look at the men's team battle at 2018 NCAA DIII XC Championships.
Nov 14, 2018
by Lincoln Shryack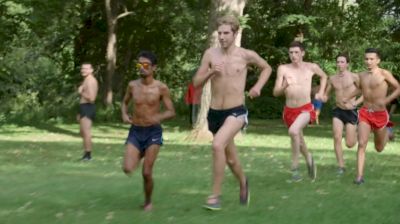 Unlock this video, live events, and more with a subscription!
Get Started
Already a subscriber? Log In
The winningest program in NCAA cross country history will look to add another title to their storied legacy as North Central College races for their record 19th DIII XC men's national championship on Saturday November 17, in Oshkosh, Wisconsin. The Cardinals will enter the meet as big favorites to take their third straight NCAA crown on the icy terrain of Lake Breeze Golf Course, but it won't be easy as they battle experienced foes and freezing cold conditions. Another notch in North Central's hefty championship belt is at stake on race day, but it's a notch they will really have to earn.
Watch the 2018 DIII NCAA XC Championships Live on FloTrack this Saturday
Below, we preview the men's contenders for the 2018 DIII NCAA XC Championships:
No. 1 North Central
Region: 1st at Midwest
Conference: 1st at CCIW
2017 NCAAs: 1st
How They Will Win: It's been another dominant run up to the national championships for the 18-time NCAA DIII champs in 2018, and North Central will rely on their overwhelming talent and experience to guide them to glory once more on Saturday. The Cardinals have three men who finished in the top 20 last year that will race in Oshkosh-- including individual title favorite Dhruvil Patel-- plus 2016 All-American Zach Hird, depth that no other team comes close to matching. NCC won by 139 points in 2017, and a similar beatdown is likely on the way this weekend.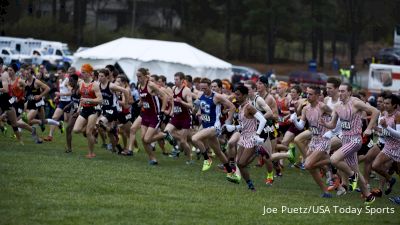 In their NCAA warm-up last Saturday at the Midwest regional, North Central dropped a preposterous 11-second spread to easily defeat UW-La Crosse and Washington U., two teams with strong podium potential. A replication of that performance, or anything close, will mean title No. 19 is in the bag for the greatest program in college cross country history.
No. 2 UW-La Crosse
Region: 2nd at Midwest
Conference: 1st at WIAC
2017 NCAAs: 2nd
How They Will Win: The Eagles from Wisconsin-La Crosse know that they need to be perfect in Oshkosh to have any shot of dethroning North Central, and even then that might not be enough to get past the cross country Goliath. For these Davids to conquer the XC giant, they will need the champs to fall apart, and at least three All-Americans of their own.
The good news is that La Crosse ran well at the Midwest region last Saturday-- they put three in the top 10-- but of course, the bad news is that they still fell 44 points shy of North Central. 2017 All-Americans Thomas Schultz and Josh Schraeder each have top 10 potential, while No. 3 man Tyler Nault could net a top 40 finish as well. The Eagles will cross their fingers that all bring their "A" games in order to offset the weakness of their last two scorers, who were each over 30 seconds behind Nault at regionals.
UWL certainly wants more than second place on Saturday, but given their runner-up finishes at NCAAs in 2017 and at last week's Midwest regional, that's probably where they'll end up this weekend.
No. 3 Washington U.
Region: 3rd at Midwest
Conference: 1st at UAA
2017 NCAAs: 5th
How They Will Win: WashU will hope that Midwest champ Brad Hodkinson and 2017 NCAA ninth place finisher David O'Gara both have spectacular days in Oshkosh in order for them to make a run at North Central and UW-La Crosse.
.@WASHU_XCTF had two Midwest Region Awards bestowed on the Bears as head coach Jeff Stiles was named the Women's XC Coach of the Year and Brad Hodkinson was named the Male Athlete of the Year! https://t.co/1OSgkTt1Yt#d3xc#LetsGoWashU pic.twitter.com/F7YKExJ4NZ

— WashU Bears (@WASHUBears) November 14, 2018
Hodkinson has developed into a legitimate individual title contender this year after transferring from Pacific Lutheran, and while O'Gara had a rough outing at regionals, he's been close to Hodkinson at every other race this season. Like Hodkinson, O'Gara has two All-American finishes in his back pocket. They'll still need a ton of help from NCC and UWL to win the title, but great days from their two studs at least gives them a sliver of hope.
With 2017 All-American Peter Johnsrud and junior Nick Matteucci both running well this season, the Bears are well-positioned to finish on the podium with such strong depth. Still, after losing to the Cardinals and Eagles at regionals, they'll need solid runs from all five scorers and a little luck to crack the top two in Wisconsin.
No. 4 Calvin
Region: 1st at Great Lakes
Conference: 1st at MIAA
2017 NCAAs: 12th
How They Will Make The Podium: Unlike the three teams ahead of them in the rankings, Calvin lacks a clear superstar with top 10 ability, but their tight pack compensates for their shortcomings up front. The Knights had just a 39-second spread at the Great Lakes regional, and a measly 26-second 1-5 gap at Pre-Nationals.There will be plenty of competition for the fourth and final podium spot at nationals, but Calvin is primed to fend off those challengers if they run together like they have all season.
The Knights were just 12th at nationals last season, but this young group has stepped up big time in 2018. No. 1 man Addison Smith didn't make the NCAA roster last year, but he was conference champion three weeks ago and should be among the top 30 on Saturday. Tyler Johnson and Jonathan Ellis have made similar jumps this season, collective improvements that helped Calvin beat fellow podium contender Haverford at Pre-Nationals. Expect more of the same if those three run well at Lake Breeze once again.
No. 5 Carnegie Mellon
Region: 1st at Mideast
Conference: 2nd at UAA
2017 NCAAs: 21st
How They Will Make The Podium: The Tartans weren't on the podium radar entering the season after finishing a lowly 21st at nationals in 2017, but with a few new faces in their top five, Carnegie Mellon is dramatically improved. CM lacks experience-- only two runners on the regionals roster have placed inside the top 100 at nationals-- but they can crack the top four if their newcomers compete as well as they have throughout the fall.
Led by Aaditya Mhatre and Andrew Singh's top five finishes at the UAA Championships, Mellon finished just seven points behind Washington U. after losing by nearly 40 points to the same squad a year prior. And by riding a 31-second spread at the Mideast region, the Tartans defeated Haverford just a season after the Fords stomped them by 71 points at the same race in 2017.
This is a different Carnegie Mellon squad, and don't be surprised if they're holding a trophy in Oshkosh.
No. 6 Haverford
Region: 2nd at Mideast
Conference: 1st at Centennial
2017 NCAAs: 8th
How They Will Make The Podium: The Fords' podium chances took a major blow when NCAA 3,000m champion Dylan Gearinger went out with an injury after conference, and already Haverford has felt the pain of his absence as they lost to Carnegie Mellon at regionals. With Calvin and Mellon on the upswing, the Fords will need huge days out of All-American contenders Ryan Herlihy and Graham Peet to overcome their sudden No. 5 man problem: without Gearinger, they had a disastrous 58-second gap between their fourth and fifth runners at regionals. Yikes.
No. 7 RPI
Region: 1st at Atlantic
Conference: 1st at Liberty League
2017 NCAAs: 14th
How They Will Make The Podium: RPI's fate rests in the hands of their 3-4-5 runners, three individuals who will either be making their NCAA debut or gunning for a first-ever finish in the top 100. Even despite their inexperience, the 37-second spread 1-5 at the Atlantic regional showed great promise, especially since the Engineers' two low sticks-- Grant and Sean O'Connor-- both figure to be top 10 contenders at nationals.
MXC | Grant O'Connor & @RPI_XC Win @NCAADivision III Regional #d3xd https://t.co/MIRHTF9df8

— RPI Athletics (@RPIAthletics) November 10, 2018
Grant O'Connor was fourth at NCAA XC last year, and then followed that up with a NCAA 5k title in the spring, while Sean O'Connor spent most of this XC season beating his superstar teammate. They're both seniors who have never even sniffed the team podium, so this year offers a little extra motivation as they battle DIII's best at the front of the pack. They'll need to stay up there and hope several of their teammates can finish inside the top 100 to grab a trophy.