2018 DIII NCAA XC Championships
DIII NCAA XC Women's Preview: Hopkins Hones In On Dynasty
DIII NCAA XC Women's Preview: Hopkins Hones In On Dynasty
Can anyone stop Johns Hopkins from winning their third straight NCAA DIII crown?
Nov 15, 2018
by Lincoln Shryack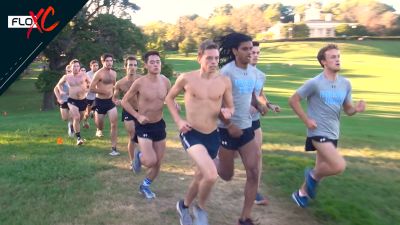 Unlock this video, live events, and more with a subscription!
Get Started
Already a subscriber? Log In
The 2018 DIII NCAA women's cross country championships will feature a favorite in Johns Hopkins looking to expand on their recent dynasty, and a slew of challengers seeking to put an end to the Blue Jays' dominance. Hopkins will race for their sixth title since 2012 on Saturday in Oshkosh, Wisconsin, a run that only one other DIII women's program in history has accomplished. It should be fascinating to watch it all unfold in brutal cross country conditions this weekend.
Watch the 2018 DIII NCAA XC Championships Live on FloTrack
Here's what to watch in the women's team race:
No. 1 Johns Hopkins
Region: 1st at Mideast
Conference: 1st at Centennial
2017 NCAAs: 1st
How They Will Win: The Blue Jays have won five of the last six national titles, and with a rested top three and several more All-American contenders lining up on Saturday, the Johns Hopkins women will make it six of the last seven in Oshkosh.
The Jays elected to skip Pre-Nationals this year, so they have yet to race other top contenders like Washington U. or MIT, but Hopkins doesn't need a validation of their superiority since they have an individual favorite in Ellie Clawson (third in 2017) and a bevy of her teammates who have stuck with her throughout the season. Hopkins is so deep that Clawson, Caelyn Reilly, and Tasha Freed-- first, second, and third at the conference meet-- all sat out regionals last weekend, and yet JHU still went 1-2 with Felicia Koerner and Sam Levy and won the meet by 43 points.
Washington U. could present a stiff challenge if Hopkins has an off day, but those days are few and far between for this experienced squad. JHU won by 95 points last year, and they'll bring a similarly talented roster to Oshkosh.
No. 2 Washington U.
Region: 1st at Midwest
Conference: 1st at UAA
2017 NCAAs: 3rd
How They Will Win: The Lady Bears' top three of Paige Lawler, Aly Wayne, and Sophie Watterson can match up with any elite trio in the country, and they will each need to deliver top 20 performances on Saturday for WashU to have any chance of upsetting Johns Hopkins. Lawler in particular has been spectacular in 2018-- she was second at Pre-Nationals and won conference-- and a great day for her will result in a top five individual finish. She's a consistent low stick and someone that the Bears can rely on to keep them in contention.
But even though low scores for Lawler, Wayne, and Watterson will help to offset Washington's four and five, it still might not be enough. The team's 1-5 spread will need to be better than the 1:24 gap they produced at regionals in order to topple Johns Hopkins.
No. 3 MIT
Region: 1st at New England
Conference: 1st at NEWMAC
2017 NCAAs: 4th
How They Will Make The Podium: With a distant second place finish to WashU at Pre-Nationals, and now an injury to top freshman Izzi Gengaro, the chances of MIT winning the national title seem slim. Gengaro was the team's top runner in 10th at Pre-Nationals, and her status is up in the air heading into Oshkosh. But the Engineers should still have a podium squad even without Gengaro, as they easily won the competitive New England region by 21 points.
All-American Leandra Zimmermann will be the key low stick for MIT on Saturday. The senior led the Engineers' fourth place team a year ago at nationals with her 30th place finish, and that type of day from her will be key for a team suddenly short on star power.
No. 4 SUNY Geneseo
Region: 1st at Atlantic
Conference: 1st at SUNYAC
2017 NCAAs: 6th
How They Will Make The Podium: Geneseo has the ideal blueprint for a podium team: a low stick with tons of NCAA experience (Elise Ramirez), and three other scorers from last year's sixth place team who have each improved mightily this season. As long as the fifth scorer can avoid a triple digit finish, the Knights will land on the podium in 2018.
Ramirez has improved her nationals finish each season since her freshman year, and that trend should continue for the senior after she placed a middling 46th in 2017. A top 10 showing in Oshkosh is more in line with her ability-- she easily dropped All-American Natalie Cooper in the late stages of her win at the Atlantic regional last Saturday. Ramirez and junior Genny Corcoran should both earn All-American nods, as the latter has finished within a few places of her star teammate at every race this season.
Neither Ramirez or Corcoran has had a bad race this fall, and if nothing changes there, SUNY Geneseo will likely hold a trophy in Oshkosh.
No. 5 Middlebury
Region: 2nd at New England
Conference: 1st at NESCAC
2017 NCAAs: 11th
How They Will Make The Podium: She may not be at her top 10 NCAA level from a year ago, but the return of Abigail Nadler to the Middlebury women provides stability and experience to a team on the podium bubble. Nadler, a three-time All-American who was seventh at nationals last fall, can't hope to replicate that sort of finish as she runs her third race back from injury, but there's no doubt that the Panthers are a different team with her in the lineup-- Middlebury beat No. 6 Williams at regionals after losing to them by 48 points earlier in the season.
With Nadler on the mend, Rory Kelly has emerged as a reliable presence up front. Her dramatic improvement this season is best represented in the discrepancy between her regional finish in 2017 and 2018-- she was fifth last Saturday after taking 36th a season before. Kelly will need a top 30 finish to help the Panthers land on the podium, and all signs for her are pointing there.
Middlebury won't have a tight spread at nationals-- the gap was 72 seconds at the New England region-- but their top two of Kelly and freshman Cassie Kearney can make up for it with low numbers. And if Nadler can find some NCAA magic in spite of her limited fitness, the Panthers could be a top four group.
No. 6 Williams
Region: 3rd at New England
Conference: 2nd at NESCAC
2017 NCAAs: 8th
How They Will Make The Podium: Williams has dropped three straight meets to fellow podium contender Middlebury, and yet there were promising signs coming out of their latest defeat at the New England regional. The Ephs were just seven points behind their conference rival last Saturday, a big improvement from the 26-point loss they took at the NESCAC Championships. The difference this time was Williams' spread; the Ephs cut 20 seconds off their scoring gap from conference to regionals, a trend they'll need to continue in Oshkosh to make the podium.