The 2018 DII NCAA XC Championships are this Saturday, December 1, in Pittsburgh, Pennsylvania. FloTrack will have live coverage of the championship races, which begin at 10 AM CT with the men's 10,000m.
Watch the 2018 DII NCAA XC Championships Live on FloTrack this Saturday
Below, we highlight the contenders for the men's DII title in Pittsburgh:
No. 1 Colorado School of Mines
Region: 1st at South Central
Conference: 4th at RMAC
2017 NCAAs: 3rd
How They Will Win: It's been a peculiar season for the Orediggers, who have really only competed twice in the build-up to NCAAs. Head coach Chris Siemers went so far as to punt on the RMAC Championships, betting that an under-raced, but experienced core of All-Americans can deliver a title if they're still fresh on December 1. If seniors Grant Colligan and Josh Hoskinson, as well as junior Logan Ramlet, can deliver top 10 finishes in Pittsburgh, there's a strong chance that CSM will hold the title trophy for the first time since 2015.
To do that, Mines knows that they will have to first get past conference nemesis Adams State, who has won 13 NCAA XC crowns and five of the last six. Mines did that at the South Central regional two weeks ago 49-57, but Adams State has a history of middling results ahead of NCAAs and then crushing everyone at the national championships. Beating Adams on the biggest stage is as much a mental mountain as it is a physical one.
Like the Orediggers, the Grizzlies have four returning All-Americans, two of which-- seniors Sydney Gidabuday and Elias Gedyon-- are as close to top 10 locks as you can get. Mines can offset them with good days from the undefeated Colligan-- who could win the whole thing-- and Hoskinson, so the difference will likely come down to each team's 3-5 runners. Logan Ramlet, Luc Hagen, and Derek Steele are the men for the job there, as 2017 All-American Ricardo Ocampo hasn't been on form this year.
Mines needs that trio to outperform whoever emerges from the Adams quartet of Kale Adams, Joshua Joseph, Isaiah Rodarte, and Miguel Villar. Adams and Joseph are both former top 10 guys who haven't been on that level in 2018, while Rodarte and Villar are freshmen who will make their NCAA debuts. Hagen and Steele are also newcomers to the stage, so a lot will depend on which versions of Adams and Joseph show up on race day.
Mines gets the nod based on their win at regionals, but they still will need to run their best race of the season to earn the title.
No. 2 Adams State
Region: 2nd at South Central
Conference: 1st at RMAC
2017 NCAAs: 1st
How They Will Win: For the super talented and accomplished Adams State squad, the formula for another NCAA title on December 1 is simple: get great races from Kale Adams (third in 2017) and Joshua Joseph (ninth in 2017). If those two run up to their abilities, the Grizzlies will likely win title No. 14 in a rout in Pittsburgh.
But for ASU, things are a bit more complicated than they would like in 2018.
Adams and Joseph have proven themselves to be NCAA gamers capable of elevating their performance on the biggest stage, but even so, neither has been particularly impressive so far in 2018. Adams, who was third at nationals in 2017, did not finish the regional race and was just ninth at the RMAC Championships. He could certainly rebound on Saturday, especially since he doesn't have a full 10k on his legs from regionals, but there has been little indication thus far that he is in top 10 shape this season.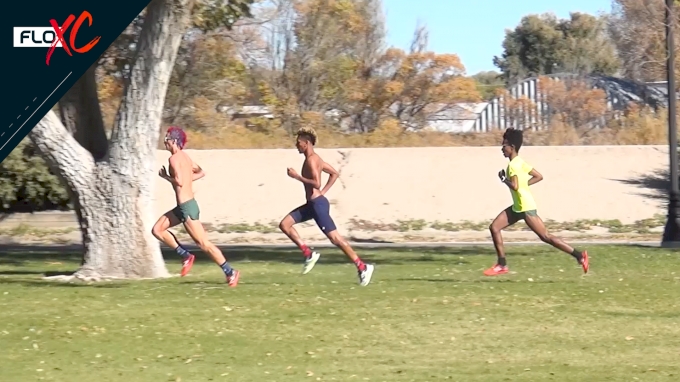 The same goes for Joseph, who finished nearly a minute and a half behind regional winner Grant Colligan of Colorado Mines two weeks ago. That doesn't bode well for him cracking the top 10 again, either.
Of course, Adams State will be in the title hunt even without those two running up to par as Sydney Gidabuday and Elias Gedyon are virtual top 10 locks. Gidabuday, a six-time NCAA champ with 13:29 5k speed, is one of a small handful of favorites to take the individual title. Gidabuday and Gedyon, plus freshmen Miguel Villar and Isaiah Rodarte, have all shown good form of late, giving this Grizzly squad plenty of talent to contend up front.
Based on their history of excelling at nationals, you can never count out a Damon Martin-coached team. If Adams and Joseph run up to their talent in Pittsburgh, you can bet that Adams State will collect another championship trophy.
No. 3 Grand Valley State
Region: 1st at Midwest
Conference: 1st at GLIAC
2017 NCAAs: 2nd
How They Will Win: The Lakers title hopes start with the nation's top 1-2 punch of Zach Panning and Enael Woldemichael, who are both certainly capable of finishing in the top five on Saturday. Panning has strong title chances himself as the nation's top returner, and Woldemichael shouldn't be too far behind as he was sixth as a freshman in 2017. Grand Valley's elite duo will carry them onto the podium, but how far up it they go will depend on the contributions of their much less proven 3-5 runners, all of whom will be making their nationals debut.
To beat Colorado School of Mines and Adams State, GVSU will need All-American performances from at least two of Tanner Chada, Ben Zaremba, or Jacob Domagalski, a tough ask considering that both Chada and Zaremba are redshirt freshmen. Riding freshmen isn't typically the formula for an NCAA title, and it's tough to imagine the Lakers winning their first cross country crown in school history while doing so.
But still, you cannot count out a team that has two of the biggest stars in D2 cross country on their roster. GVSU has made the podium every year since 2013, and that streak will live on in 2018.
No. 4 Chico State
Region: 1st at West
Conference: 1st at CCAA
2017 NCAAs: 9th
How They Will Make The Podium: The Wildcats are the mystery team among podium contenders as they raced exclusively in California ahead of regionals and have no returning cross country All-Americans on their roster. But despite the light competition Chico State faced in the regular season, their West region performance indicates that a big day could be coming at nationals. Chico will make the podium if they can get two All-Americans and run as a pack like they did en route to a 37 second spread two weekends ago.
At the front of that pack will be senior Eddie King, who has led the team in four out of five races this season. King was just 84th at nationals in 2017, but his drastic improvement is most evident in two key performances since then: an eighth place finish in the NCAA outdoor 5k in May (his first appearance at NCAA outdoor), and his victory at the West regional on November 17, a meet in which he was just 18th the year before. King has top 10 potential on Saturday.
Any one of Jack Johnson, Wyatt Baxter, or Jason Intravaia could fill the Wildcats' No. 2 this weekend, as all three finished in the team's top two at one point this season. Like King, Johnson made huge strides on the track-- he was seventh in the NCAA steeple-- and the senior is a completely different runner now from the one who finished 189th at NCAAs in 2017. Senior Teddy Kassa shouldn't be too far off from those three, as he was 79th at nationals a year ago.
All told, Chico State has a lot of depth to rely on even without having the benefit of proven NCAA cross country standouts. The Wildcats won a solid West region by 24 points, the best sign yet that this Chico team will be battling for a trophy in Pittsburgh despite finishing ninth last year.
No. 5 Western Colorado
Region: 3rd at South Central
Conference: 2nd at RMAC
2017 NCAAs: 4th
How They Will Make The Podium: The Mountaineers have a 2017 All-American, junior Ross Husch, and another front-runner in sophomore Taylor Stack who finished 41st last year at nationals, and both men running well on Saturday will be key for Western Colorado to finish on the podium for the second straight year.
Since the Mountaineers placed well behind Colorado Mines and Adams State at regionals, there is a very clear ceiling of where they can finish in Pittsburgh, but Western will likely pose a stiff challenge to both Grand Valley State and Chico State for one of the final two spots on the podium. In addition to Husch and Stack, WCU has a stud freshman in Charlie Sweeney-- he was 11th at the brutally tough South Central regional-- who has top 40 potential on a good day.
If Husch, Stack, and Sweeney are on for Western, they will be tough to keep off the podium.