The 2018 DII NCAA XC Championships are this Saturday, December 1, in Pittsburgh, Pennsylvania. FloTrack will have live coverage of the championship races, which begin at 10 AM CT with the men's 10,000m followed by the women's 6,000m at 11:15 AM CT.
Watch the 2018 DII NCAA XC Championships Live on FloTrack this Saturday
Below, we highlight the contenders for the women's DII title in Pittsburgh:
No. 1 Adams State
Region: 1st at South Central
Conference: 1st at RMAC
2017 NCAAs: 1st
How They Will Win: The winningest program in women's NCAA XC history--17-time national champion Adams State-- will enter this year's championships as they have for most of the last two decades: as favorites to win it all. Led by 2017 All-Americans/twin sisters Eilish and Roisin Flanagan, the Grizzlies have narrowly beat their primary competition for the national title-- No. 2 Western Colorado-- in the last two meets, riding a miniscule spread to victory each race. If ASU comes anywhere close to replicating their 23 second 1-5 gap from regionals this Saturday, Adams will reign over D2 once again.
But as their tiny one-point victory over Western at the South Central region highlighted, the Grizzlies will have to be on their game in Pittsburgh to overcome the Mountaineers' bevy of low sticks. For ASU, that means both Flanagans will need to be in the top 20, and their 3-5 runners not too far off as Western could easily have three in the top 10. Adams State isn't as strong up front, but they have the advantage with a much better fifth, an advantage that made all the difference at conference and regionals.
No. 2 Western Colorado
Region: 2nd at South Central
Conference: 2nd at RMAC
2017 NCAAs: 9th
How They Will Win: Because the Mountaineers have been beat by Adams State twice in the last month by a slim margin, they know exactly what they need to do to finally topple their RMAC rivals: close the gap between their elite top four and the fifth scorer, which has been an Achilles' heel of late.
Fortunately for Western Colorado, fifth woman Cassidy Ahrens was much improved at the South Central region-- she was 14th, 18 seconds behind No. 4 Kennedy Rufener-- and another quality performance from her at nationals could lead Western and their potent lineup of top 10 contenders to their first title since 2002.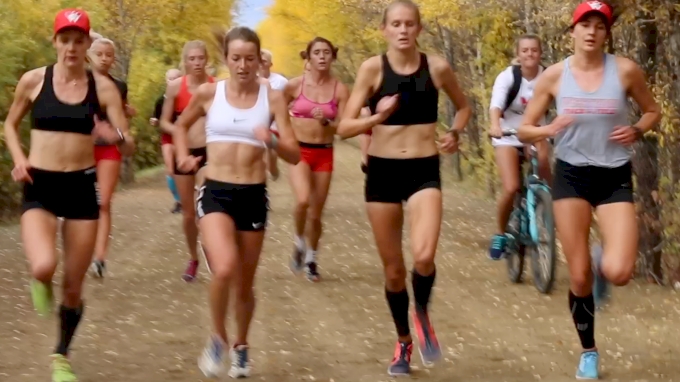 Unlock this video, live events, and more with a subscription!
Get Started
Already a subscriber? Log In
Eight-time NCAA champ Alicja Konieczek is the pre-meet favorite to win it all after two straight victories at the RMAC Championships and South Central regional, while Sophie Seward should be in the top five as well since she was just a place behind Konieczek two weekends ago. Add in last year's seventh place NCAA finisher, Aneta Konieczek, and the Mountaineers have by far the best top three in the nation, and it's not particularly close. Kennedy Rufener, who was fourth in the outdoor 10k this past spring, has been strong all season as well.
But it will come down to Western Colorado's fifth on Saturday. If Ahrens has a great day, the Mountaineers will be a very tough out.
No. 3 U-Mary
Region: 1st at Central
Conference: 1st at NSIC
2017 NCAAs: 2nd
How They Will Win: The Marauders have four cross country All-Americans on their roster-- two from 2016 and two from last year-- and they will need all four to run well on Saturday to have a shot at their first national title. On paper, U-Mary looks to be capable of challenging the two RMAC squads ahead of them in the rankings, as the quartet of Jaiden Schuette (17th in 2017), Ida Narbuvoll (12th in 2016), Emily Roberts (5th in 2015 and 2016), and Kate Fox (29th in 2017) have all excelled at NCAAs before and are each trending in the right direction heading into Pittsburgh.
The big question for U-Mary is how well senior transfer Emily Roberts will perform on Saturday. Roberts missed all of the 2017 cross country season while at Southern Indiana, and then was a shell of her former self when she returned to the track months later. Even after transferring to U-Mary, Roberts didn't seem fully back at the beginning of the fall, as she was the team's seventh at Roy Griak. But much has changed in the months since. Roberts was second at the Central region behind Schuette, and after three successful races in a row, it now appears that she could finish in the top 20 this weekend.
More than two years have passed since Roberts last ran in an NCAA Championship race of any kind, but the Marauders will lean on her to deliver a big day on Saturday.
No. 4 Grand Valley State
Region: 1st at Midwest
Conference: 1st at GLIAC
2017 NCAAs: 6th
How They Will Win: The Lakers have an individual title contender in Sarah Berger and two other likely All-Americans in Gina Patterson and Allie Ludge, and all three need to deliver great races for GVSU to beat the loaded squads ahead of them.
As the top returner in the nation, Berger could very well win the entire thing, which takes some of the pressure off of a Grand Valley team that doesn't have the depth of Adams, Western, or U-Mary. Of course, those teams all have low sticks as well, so a legitimate path to a national title for the Lakers is tough to imagine. Their 61 second spread at the Midwest regional doesn't bode well for them winning in Pittsburgh.
But with the trio of Berger, Patterson, and Ludge all having top 20 potential, Grand Valley State is a likely podium team on Saturday.
No. 5 Alaska-Anchorage
Region: 1st at West
Conference: 1st at GNAC
2017 NCAAs: 5th
How They Will Make The Podium: Alaska-Anchorage will be limited at nationals as they don't have a reliable fifth runner, but the Seawolves do have an undefeated front runner in Emmah Chelimo, a returning All-American in Zennah Jepchumba, and two other potential top 40 finishers that will keep them in the podium hunt.
Chelimo is a top 10 sleeper in 2018, as she was just 44th in 2017 but will carry a perfect five-for-five 2018 record into Pittsburgh this weekend. Sophomore Nancy Jeptoo finished second behind her star teammate at the West regional, and a big day for her in her NCAA debut would be huge for the Seawolves. Seniors Jepchumba and Danielle McCormick both had solid races at nationals last year, and that's the expectation once again.
Anchorage will have to combat a big number from their fifth scorer, but with so much talent through four, they very well could beat one of the four teams listed above.