2019 DI NCAA Indoor Championships
Greatest Women's NCAA 5K Field All-Time, Who Takes Wide Open Mile?
Greatest Women's NCAA 5K Field All-Time, Who Takes Wide Open Mile?
The women's 3000m and 5000m at the NCAA Indoor Championships feature some of the best in collegiate history, while the 800m and mile are filled with parity.
Mar 5, 2019
by Kevin Sully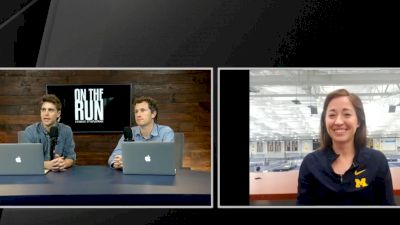 It's a study of contrasts in the women's distance fields at this week's NCAA Indoor Championships in Birmingham, Alabama. In the 3000m and 5000m, some of the best in collegiate history are set to face off. Their names are familiar to distance fans now--and their presence beside each other on the start line signals the potential for a historic race.
But a look at the entry list in the 800m and mile yields a different reaction. Parity reigns--the reliable superstars are missing, leaving room for the emergence, and re-emergence, of new names.
Women's 5000m: Friday, 8:07 PM CT
Prior to the season, New Mexico coach Joe Franklin called the women's 5000m field the best in NCAA history. With four women holding season bests under 15:17, another three under 15:30 and the presence of an 8:45 3000m runner, it's a statement that's hard to dispute.
The top four--Ednah Kurgat, Weini Kelati, Sharon Lokedi and Allie Ostrander--ran their fast times last December in a race at Boston University that produced four of the seven best indoor marks in collegiate history. Kurgat won that match-up going 15:14.78 to set a lifetime best and to edge Kelati and Lokedi.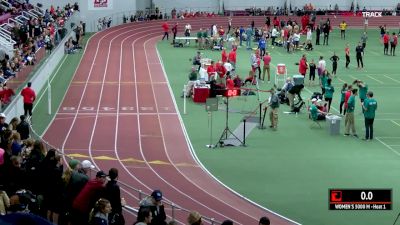 Unlock this video, live events, and more with a subscription!
Get Started
Already a subscriber? Log In
Since then, Kurgat has only competed in two races--a 3000m in Seattle and a mile leg on the DMR at the Mountain West Conference Championships. Kelati's 2019 has been more impressive. She ran 8:53.98 in the 3000m at the Millrose Games, despite falling during the race. Two weeks ago she ran a 4:37 that converted down to 4:31.70 when accounting for altitude.
Ostrander has been solid as per usual. At the Mountain West Conference Championships, she won the 3000m, anchored Boise State's DMR to the victory and was runner-up to Kelati in the mile. Neither of Lokedi's 3000m races this year were fast enough to make the meet, but it would be foolish to discount a 15:15 5000m runner.
All of the four women above prefer a quick pace. If it lags even a bit, then the odds tilt heavily toward Wisconsin's Alicia Monson. The junior for the Badgers qualified with a 15:34.53 entry mark, but that undersells her potential. Her best performance this indoor season came when she ran 8:45.97 in the 3000m at the Millrose Games to beat a field of professionals. Yes, this is a 3000m and not a 5000m, but Monson's performance this fall on the cross country course (she took fourth at the NCAA Championships, just ahead of Kurgat) shows that she is capable of excelling in the longer distances.
If you are looking for a sleeper, sophomore Dorcas Wasikie of Louisville is a good pick. She fell down in that race in Boston, but still managed to run 15:25.35.
Women's Distance Medley Relay: Friday, 8:47 PM CT
The entry list is a bit deceiving with a few teams pulling their best runner. Sharon Lokedi of Kansas, Alicia Monson of Wisconsin and Allie Ostrander of Boise State are expected to compete in the 5000m on Friday night so their teams will be short-handed in the relay.
Michigan enters with the top seed, though they lost to Michigan State at last week's Big Ten Championships and Hannah Meier will be running on tired legs from the mile prelims. That's a theme that runs throughout this event with most of the contenders using athletes on the anchor leg that are doubling back from individual events.
Unlock this video, live events, and more with a subscription!
Get Started
Already a subscriber? Log In
But there are a few exceptions. Outdoor 1500m champion Jessica Hull scratched the mile to focus on this event for Oregon. She anchored a 4:31 at the Dempsey Indoor meet to put Oregon in this meet. BYU's Erika Birk-Jarvis, Villanova's Nicole Hutchinson and Arkansas' Taylor Werner are racing the next day in the 3000m, but like Hull, will be fresh for this event. No one in that group has the finishing speed of Hull, so they will depend on their first three legs to give them some cushion heading into the 1600m leg.
Oklahoma State doesn't have any individual qualifiers on their team, which will be an advantage. Their quartet of Molly Sughroue, Nicolette Dixon, Kaylee Dodd and Sinclaire Johnson ran 10:55.93 earlier this year in Seattle, good for second best in the country.
Women's Mile: Saturday, 4:10 PM CT
The top 16 entrants are separated by four seconds and all 16 have a chance to win. That's not a cheap championship platitude. In this field, it's hard enough deciphering who will make the ten woman final, forget the champion. The scratches from Jessica Hull, Danae Rivers and Weini Kelati combined with Dani Jones redshirting makes this the most difficult distance event to pin down.
The event's new top seed, Hannah Meier of Michigan, has spent the last three weeks hacking time off a calcified personal best from 2013. Her latest breakthrough, a wire-to-wire win at the Big Ten Championships in 4:32.46, has come at the perfect time. An NCAA title would be a stunning end to a career that has featured three stress fractures, a transfer from Duke to Michigan and struggles to match her high school performances.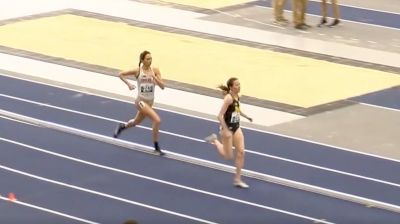 Unlock this video, live events, and more with a subscription!
Get Started
Already a subscriber? Log In
If a Meier win seems too scripted, too sentimental for a meet as unforgiving as the NCAA Indoor Championships, then you have to answer just who is this field a more reasonable choice. Julia Rizk of Ohio State, second to Meier at Big Tens, cut eight seconds off her personal best last weekend to run 4:32.79. Karisa Nelson of Samford was the 2017 champion at this meet before injuries wiped out her 2018 season. In a field full of second chances, she fits right in.
Katie Rainsberger is back at an NCAA final for the first time since 2017. This time she will be running in a Washington jersey after placing fourth outdoors in the 1500m and third indoors in the 3000m for Oregon.
Women's 800m: Saturday, 5:30 PM CT
Sammy Watson's mid-season decision to turn pro was a microcosm of the unpredictable women's 800m in 2019. This event was indecipherable even before Watson, the reigning outdoor champion from Texas A&M, made her decision in February. Her season best was 2:06.89, well off her lifetime best. Meanwhile, her Aggie teammate Jazmine Fray hasn't emerged as a favorite. Her 2:05.42 was good enough to win the SEC Championships and qualify her for nationals, but it's a long ways from the 2:00.69 she ran in 2017 to break the collegiate record.
Into the vacuum steps Danae Rivers of Penn State. The junior is consistent and experienced. This weekend will mark her fifth appearance at an NCAA championship. She finished seventh in this meet last year. Her best NCAA finish came in 2017, when she took third in the mile as a freshman.
The mile is also where she posted her best mark this year. Rivers ran 4:29.47 at the Millrose Games. That was a big personal best and the best time in the nation. But Rivers opted not to run that race, instead choosing the 800m. She opened up her indoor season with a collegiate record in the 1000m and has also run 2:02.94 in the 800m.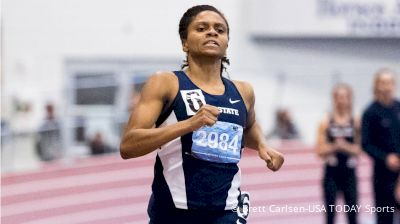 The top two seeds in the meet come from Martha Bissah of Norfolk State and Monmouth's Allie Wilson. Both ran at the outdoor championships last June, their only appearance at a national championship. Bissah placed sixth while Wilson didn't make the final.
Rachel Pocratsky of Virginia Tech finished just ahead of Rivers at this meet last year to take sixth. Outdoors, she placed fifth in the 1500m. Two weeks ago, she set her season best of 2:03.43 to win the ACC Championships.
Kansas senior Marleena Eubanks also turned in her top time during conference weekend. Eubanks ran 2:03.99 (converted down to 2:03.63 to account for altitude) at the Big 12 Championship, a lifetime best for the 2016 junior college champion.
Women's 3000m: Saturday, 6:10 PM CT
The timing of this race at the end of the meet means a bounty of potential storylines. Depending on what happens in the mile, 5000m and distance medley relay the race could center on:
-Jessica Hull winning a DMR and 3000m in the same meet
-Alicia Monson going for a distance sweep
-The New Mexico women trying to turn in another dominant distance performance
-Allie Ostrander aiming for her first non-steeple title.
Hull and Ostrander have the individual NCAA track championship box checked, but Monson, Ednah Kurgat, Weini Kelati are looking for their first. All have the resumes and personal bests befitting a champion (Kurgat does already have a cross country title). Will this race (or the 5000m the night before) be their breakthrough moment?
Monson's 8:45.97 at the Millrose Games is the third best in collegiate history and the best of the year by a margin of almost eight seconds. In that race, she displayed the ability to close hard off a fast pace, something that will be useful in this final. The New Mexico women along with Ostrander don't want the pace to dawdle, not with Monson and Hull in the field. Hull's best mark on the year is an 8:53.91, but that's a bit misleading. When you mash together an NCAA 1500m champion with a third-place cross country finisher, you get an ideal candidate for a 3000m runner. Those are Hull's last two NCAA performances.
Monson doesn't have the championship accolades, but she has a similar ability to shift gears.
Her victory in that Millrose race overshadowed the other collegian in the race, Kelati. She finished eight seconds behind Monson, but fell during the race. The presence of two other Lobos in the race (Ednah Kurgat and Charlotte Prouse) will help keep the race from turning into a 400m sprint.