The men's distance events at this week's NCAA Indoor Championships feature the latest chapter in the Morgan McDonald/Grant Fisher rivalry, Devin Dixon trying to back up his fast 800m time from January and Oliver Hoare going for his second mid-distance title. If that wasn't enough, there's the prospect of Wisconsin winning a team championships with virtually only distance runners. To do it, they will need big points in four of the five distance events this weekend.
Here is a breakdown of the men's distance races on Friday and Saturday in Birmingham, Alabama.
Men's 5000m: Friday, 8:27 PM CT
Morgan McDonald is here, Grant Fisher is not. We will have to wait for the 3000m at the end of the meet for that. But even without Fisher, this race brings back many of the big stars from November's cross country championships. McDonald is the favorite, both because of his victory this fall, and his lifetime best of 13:15 at the distance is far and away the best in the field.
The truncated nature of the indoor season means he had to get a qualifier at the last minute in this event, but he cruised a 13:37 at the Big Ten Championships to ensure his place in both the 3000m and 5000m in this meet.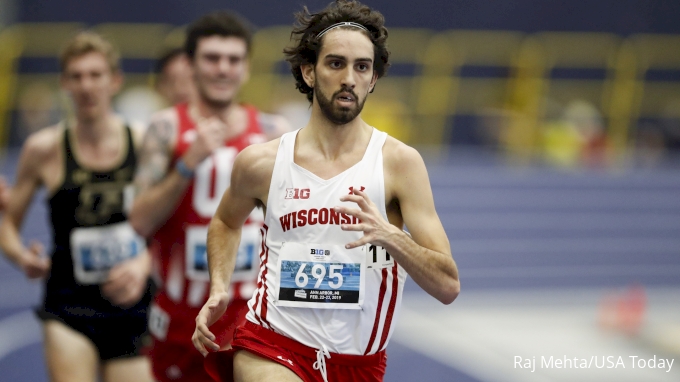 Unlock this video, live events, and more with a subscription!
Get Started
Already a subscriber? Log In
McDonald's close second to Fisher in the Millrose Games 3000m was his highest profile race this year and showed that he was still sharp. The 5000m is probably more in his wheelhouse and when you add in the absence of Fisher, McDonald is a sizeable favorite.
That's not to say it will be easy. This field features seven of the top 10 finishers from the NCAA Cross Country Championships. Tyler Day of Northern Arizona has the fastest seed time with a 13:31 that was converted down for altitude and track size from a 14:02. He's a perennial All-American but will need to be well clear of McDonald in the final 400 to have a chance.
Iowa State's Edwin Kurgat was third behind McDonald and Fisher on the cross country course and possess a sharp kick. Kurgat, along BYU's Clayton Young (who beat Kurgat at the Iowa State Classic), Amon Kemboi of Campbell and Joe Klecker of Colorado are the only four men in this field who have run under 13:36 this season.
Even though it is a championship race, don't expect a conservative early mile. Frontrunners Robert Brandt of UCLA and Conner Mantz of BYU are pre-programmed to grind from the front.
Men's Distance Medley Relay: Friday, 9:02 PM CT
Last season, Virginia Tech bucked the trend of tactical DMRs and ran from the front for the NCAA title. Their aggressive running across all four legs, neutralized New Mexico's Josh Kerr and winnowed the field with each passing leg. It's anyone's guess if this year's race will unfold in the same manner, or if it will revert to essentially a mile race prefaced by 12 laps of futile commotion.
Wisconsin's Oliver Hoare has the fastest mile personal best of the field and makes the Badgers the team to beat. Even without Morgan McDonald (who is running the 5000m the same night), Wisconsin should have enough from Olin Hacker and Eric Brown in their early legs to keep Hoare in contention.
Notre Dame, last year's surprise runner-up, are dark horses no more. The Irish, headlined by 3:57 miler Yared Nuguse, beat Wisconsin earlier this season and turned in the top time in the nation. Nuguse scratched the mile, an event where he had the eighth best time in the country, to be at full-strength.
Ole Miss sits third on the yearly list and could use both Waleed Suliman (3:56.78) and Derrick Gutierrez (3:58.55), though both men are entered in the mile prelim earlier in the day. Texas finished second to Ole Miss to earn their qualifier and has one of the best closers in the race in Sam Worley. The sophomore is qualified in the mile and was fifth in the 1500m at the NCAA Outdoor Championships last June.
Grant Fisher of Stanford isn't known as a miler, but he has a 3:41 1500m personal best and closed in 3:56 when Stanford ran their 9:29.35 in January.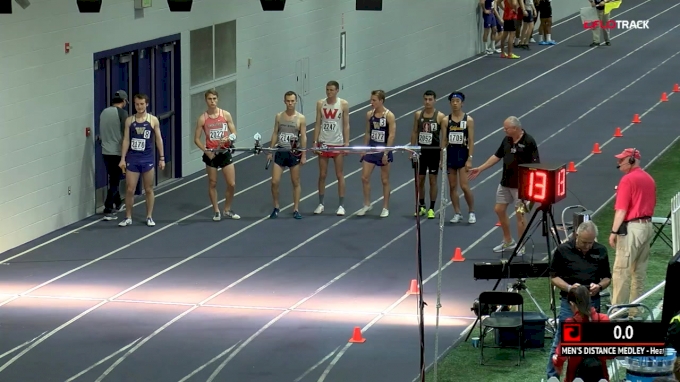 Unlock this video, live events, and more with a subscription!
Get Started
Already a subscriber? Log In
Men's Mile: Saturday, 4:20 PM CT
After Oliver Hoare's 3:54 mile at Millrose, the only thing that can stop him is fatigue. The mile will most likely be his third race of the weekend. But that situation applies to many of the men in this field and Hoare has presumably been prepping for the mile/DMR double this entire season.
Beginning with his surprise 1500m outdoor title last June, the junior hasn't shown any weaknesses. Hoare was 17th at the NCAA Cross Country Championships in November, a performance that showed he had the best range of any men's distance runner in the nation. In the winter, he ran 7:48.81 for 3000m good for fifth-best in the country. Last week, he tuned up at the Big Ten Championships, comfortably winning the mile and running the 1200m leg on Wisconsin's victorious DMR team.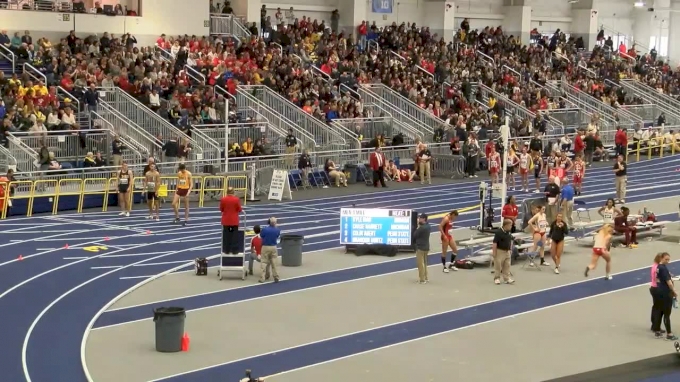 Unlock this video, live events, and more with a subscription!
Get Started
Already a subscriber? Log In
On time, Ole Miss' Waleed Suliman is the next best in the field this weekend. His 3:56.78 puts him atop a large pile of challengers that includes Carlos Villarreal, Kyle Mau, Charlie Hunter and Sam Worley. It's a tightly packed group with 14 runners owning seed times from 3:56.78 to 3:58.79. If Hoare stumbles, it's a free for all.
Men's 800m: Saturday, 5:40 PM CT
Devin Dixon has been the class of this event all season. He enters with the fastest time (1:45.27) and wins in both of his 800m races this year. The junior also possesses the most top-end speed, evidenced by his preposterous sub-44-second 4x400m splits. If you're looking for a vulnerability with Dixon, it's his championship history. Last year in this meet he failed to make the final and his two outdoor appearances at NCAA Championships he's finished no higher than fifth.
He's been candid about fixing the psychological side of his racing and there's plenty of reasons to believe he can put it together this year.
It also helps that he's operating on a completely different level this winter. His 1:45.27 is the fourth fastest time in NCAA history and his ability to get out quickly will allow him to run the race on his terms.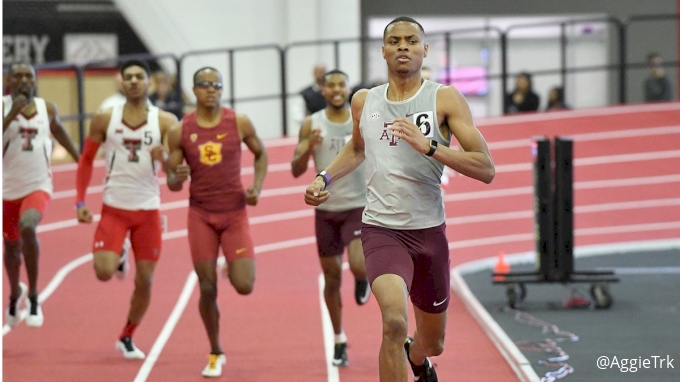 Unlock this video, live events, and more with a subscription!
Get Started
Already a subscriber? Log In
The latter could be key.
Michael Saruni and Isaiah Harris, runners who were able to dictate the style of the race, are no longer in the NCAA. Both went pro after championship season, Saruni outdoors and Harris indoors. That leaves Mississippi State's Marco Arop as the main challenger to Dixon, at least according to time. Arop, second last year outdoors, ran 1:45.90 this year. The two met at the SEC Championships two weeks ago with Dixon winning in a restrained 1:47.47 to Arop's 1:47.86.
If Dixon goes out under 51 seconds for the first 400m, he will be by himself for the duration. A late race slowdown does open up the opportunity for fast closers Bryce Hoppel of Kansas and Robert Heppenstall of Wake Forest. Heppenstall has made six different NCAA finals in the 800m, with his best finish coming at last year's NCAA Indoor Championships when he took third. Hoppel isn't as experienced as Heppenstall, but did place fourth outdoors and eighth indoors in 2018.
Joseph White of Georgetown is back after redshirting in 2018. During his last collegiate season in 2017 he was third indoors and outdoors in the event.
Men's 3000m: Saturday, 6:25 PM CT
Ok, now we get Fisher/McDonald Part 3. And depending on how Wisconsin has performed in the rest of their events, this one could help decide the men's team title. By itself, it should be a fantastic race. Fisher exacted a bit of revenge at the Millrose Games, outkicking McDonald to win 7:42.62 to 7:42.76.
But this race doesn't have much in common from their 3000m in February. Both men will be sharper (that was McDonald's debut and Fisher second race), and the race will won't have the presence of a rabbit to keep the early pace moving along. If all goes to form, McDonald is coming off a 5000m victory, while Fisher will anchor Stanford's DMR on Friday night.
All that considered, this race is a true toss-up. It's easy to say that the team race will give McDonald an extra boost, but this is an NCAA Championships with two men who have already won an NCAA title. There doesn't need to be more motivation.
McDonald's teammate, Oliver Hoare, will try to get as many points as possible in what will be his fourth race of the weekend. If he were racing fresh, his closing speed might be enough to beat Fisher and McDonald, but he will only have two hours rest since the mile.
Amon Kemboi of Campbell and Colorado's Joe Klecker are seeded fourth and fifth and are both capable of running in the 7:40s. Kemboi was left behind by Fisher and McDonald at Millrose when the kicking began, but he still managed to run 7:44.77. It's easy to see a similar situation unfolding in Birmingham, with Fisher and McDonald winding up the pace in the last mile until, like Madison in November and New York in February, it's just the two of them in the homestretch.