2019 DI NCAA Indoor Championships
Grant Holloway Redefines Track Greatness With Stunning NCAA Performance
Grant Holloway Redefines Track Greatness With Stunning NCAA Performance
Putting Grant Holloway's incredible 2019 NCAA indoor performance into context.
Mar 10, 2019
by Lincoln Shryack
Before the start of his junior year in 2019, Florida's Grant Holloway had already established himself as arguably the greatest hurdler in NCAA history. His four straight NCAA titles, a 60m hurdles collegiate record and a No. 2 all-time 110m hurdles performance made him a NCAA track and field legend in just two short years.
It turns out he was only getting started.
On Saturday at the 2019 NCAA Indoor Championships, Holloway had by far his best day yet as a track and field megastar— the 21-year-old broke the 60m hurdles American record, won the 60m title in a 6.50 PB and ran the second leg on Florida's third place 4x400m in the span of two and half hours; him accomplishing all that after finishing third in the long jump on Friday night only makes his weekend all the more special.
All told, Holloway tallied 27.5 points for the national champion Gators— second-most by an individual in history— an unbelievable performance that he credited to finally having a 100-percent build-up to the season.
"It says I'm in good shape," said Holloway after his epic meet. "I've been telling everybody I've been in good shape for a long time. It's like my first actual season where I'm healthy, no nagging injuries. I'm blessed to have a healthy season."
Holloway wasn't so fortunate in his first two years in Gainesville. Knee surgery in the summer of 2017 robbed him of a base phase ahead of his sophomore season, which was followed by a sports hernia shortly after his collegiate record in February of 2018. That he was able to achieve so much despite those problems is incredible, and this weekend he showed how much further he could climb without his body holding him back.
After knocking on the door of his 7.42 hurdles collegiate record on several occasions this season, Holloway busted it down in Birmingham with a 7.35 American record, breaking Greg Foster's 7.36 mark that had stood since 1987. Even for a man as record-prone as Holloway, this was a whole new level; it's been eight years since anyone has run faster than he did on Saturday.
GRANT HOLLOWAY 7.35
NCAA RECORD
AMERICAN RECORD
NO. 3 IN WORLD HISTORYpic.twitter.com/ONqXdEF4k4

— FloTrack (@FloTrack) March 9, 2019
"I've been chasing and running after that time for so long, and now that my name is finally under it, it's perfect. I'm shell-shocked," he said.
Holloway had barely crossed the line before jerking his head around to check the clock. Turning fully around he stretched his arms out in triumph, but the third-fastest man in history didn't have much time to celebrate— the 60m final awaited just 40 minutes later.
After the championship was over and Holloway was in the midst of celebrating with his teammates, he revealed he took exception to any suggestion that he would be challenged in the 60m final. Holloway's 6.51 from January stood as the fastest time in the country all season long, but his inexperience in the event and the heavy workload offered reason to doubt that he could deliver in his first 60m final.
He squashed that doubt quickly once the race got underway as he glided to a 6.50 win. He could barely cool down and warm-up between the hurdles and 60m, and yet he set a PB and ran the No. 8 60m performance in NCAA history.
Grant Holloway goes 6.50 to win his first NCAA 60m title! #NCAATF pic.twitter.com/Wt9V9lr6Lf

— FloTrack (@FloTrack) March 9, 2019
Before the meet started on Friday, former South Carolina star Terrence Trammell reached out to Holloway to give him advice on how to reserve energy while navigating the 60mH/60m double, appropriate since Trammell was the last man to win both events way back in 2000. The 19-year gap between Trammell and Holloway's sweeps speaks to just how difficult it is; that Holloway could run his fastest ever 60m after a 7.35 shows that he put Trammell's advice to good use.
"I talked to some of the greats [before NCAAs], like Terrence Trammell. He gave me a couple tips, how to siphon my energy and do certain things. Speaking with him is great."
Holloway could have called it a meet at that point and no one would've blamed him— Florida had already locked up the team title before the 4x400m. But Holloway isn't wired like that— his energy is almost palpable and he told reporters before the championship that he doesn't really ever feel tired even after the 4x400m. Plus, his coach, Mike Holloway, wanted to use the race to prepare him for outdoors, and didn't want to disrespect the event by removing its best competitor.
"We had so many teams that wanted to be here. I didn't want to scratch it," said Coach Holloway.
"The 4x4 is good for Grant. It's going to help him outdoors, and he hadn't run one since the Razorback meet, it's been a month. I'll be honest, it was a training run for him."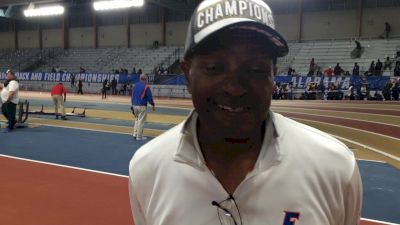 With his 46.00 leg for the Gators, Holloway's incredible indoor season came to end. Four podium trips were made by Holloway, and now he'll get to bask in the afterglow of a championship performance that may never be duplicated.
In the mixed zone afterwards the junior accidentally let slip that next year would be 60m hurdles runner-up Daniel Roberts' turn to own the event— indicating that he is going pro after the season— before smiling at his mistake and promptly ending the interview in jest. He wasn't going to confirm that detail even though it seems certain he won't be back for his senior year.
But the topic of Holloway turning professional, along with his coach putting him in the relay partially as outdoors preparation, served as a reminder that what Holloway accomplished in Birmingham is not the ultimate goal.
A big reason that Holloway returned this season was his mission to break the 13.00 110m hurdles collegiate record, a box he desperately wants to check before signing with a shoe brand. So he'll revel in this magical weekend for a few days, but on Monday it's back to work. The new Grant Holloway is just getting started in 2019.