Create a free account to unlock this article!
Get Started
Already a subscriber? Log In
The chase to hit the tougher-than-ever Olympic standards begins in earnest this Thursday at the 2019 Payton Jordan Invitational in Palo Alto, as a strong collection of international heavyweights and NCAA stars will come together just one day after the 2020 qualification window opens for all events. The softer, but still difficult 2019 World Championship standard will be a fine consolation prize for those not yet up for the 2020 challenge, but either way, the five races below are sure to be fast and ultra-competitive.
Watch the 2019 Payton Jordan Invitational live this Thursday, May 2, on FloTrack
Here are the women's races to watch at Stanford:
10,000m (10:02 PM PT)
Who: Sifan Hassan, Amy Cragg, Susan Krumins, Vanessa Fraser
2019 World Standard: 31:50
2020 Olympic Standard: 31:25.00
26-year-old Sifan Hassan of the Netherlands and Nike Oregon Project is arguably the rangiest female distance runner alive with her world-class ability from 800m (1:56.81) to the half marathon (65:15). The expectations are therefore incredibly high for her at 10,000m, which she will debut at on Thursday. Hassan hasn't raced on the track since last September, but two fast road races-- a 14:44 5k in February and 65:45 half marathon three weeks ago-- show that she's fit. The 31:25 Olympic standard will be no trouble for a woman who has designs on the 5k/10k double at Worlds this fall.
Hassan's 5k win, with a 61-sec. close, at 2017 Payton Jordan: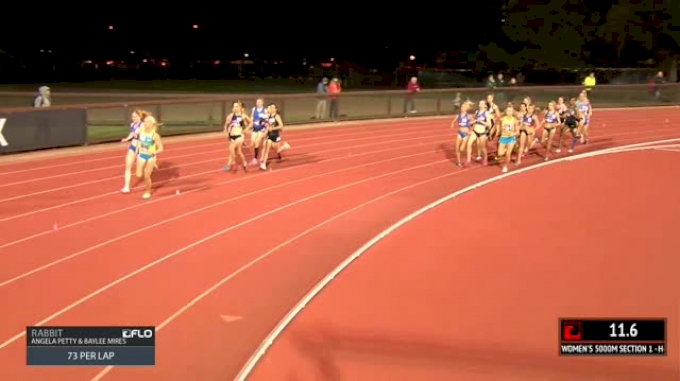 Unlock this video, live events, and more with a subscription!
Get Started
Already a subscriber? Log In
Other notable names include 2:21 marathoner Amy Cragg running her first track race in two years, Hassan's Dutch compatriot Susan Krumins, and Bowerman TC first year pro Vanessa Fraser.
5,000m (9:26 PM PT)
Who: Jenny Simpson, Meraf Bahta, Elinor Purrier, Weini Kelati, Ednah Kurgat, Fiona O'Keeffe
2019 World Standard: 15:22.00
2020 Olympic Standard: 15:10.00
Jenny Simpson will run her first outdoor 5,000m in nearly six years as she makes her 2019 outdoor debut at Payton. Simpson and the 5,000m have a storied history at Payton Jordan, as Thursday will be 10 years to the day that she ran the still-standing 15:07.64 5k collegiate record. This race will serve as more of a rust-buster for her, but the four-time 1,500m global medalist could still run a quick time with defending champ Meraf Bahta (14:49 PB) likely targeting the 15:10 Olympic standard.
Don't forget about NCAA stars and New Mexico teammates Weini Kelati (15:15 PB) and Ednah Kurgat (15:14 PB), both of whom have an outside shot to eclipse Simpson's collegiate record if they can hang with the pros.
3,000m Steeplechase (7:18 PM PT)
Who: Adva Cohen, Allie Ostrander, Charlotte Prouse, Alicja Konieczek
2019 World Standard: 9:40.00
2020 Olympic Standard: 9:30.00
9:29 steepler Adva Cohen of New Mexico will make her long-awaited NCAA 3,000m steeplechase debut, and she'll do it against two-time defending NCAA champion Allie Ostrander. Cohen, who ran 9:29.74 at the European Championships last summer to finish fifth, has had an up-and-down first year in Albuquerque but she appears to be trending in the right direction after running a 15:31 5k PB two weeks ago at Bryan Clay.
Cohen's fifth place finish at the 2018 European Championships: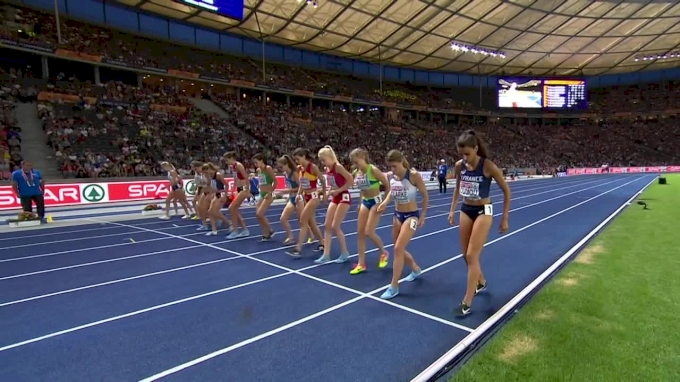 Unlock this video, live events, and more with a subscription!
Get Started
Already a subscriber? Log In
Ostrander will be a tough beat, however, as the Boise State junior has shown impressive speed and strength this outdoor season. Her 32:06 10k at Stanford was good for 10th in NCAA history, and she just ran a 4:14 1,500m PB on April 19.
9:30 is the Olympic standard, and a time faster than that would net a top five spot on the NCAA steeplechase all-time list.
1,500m (9:14 PM PT)
Who: Jessica Hull, Karissa Schweizer, Elise Cranny, Violah Lagat, Marielle Hall, Hanna Green, Erica Birk
2019 World Standard: 4:06.50
2020 Olympic Standard: 4:04.20
Four-time NCAA champion Jessica Hull of Oregon will run her first 1,500m since her victory at the 2018 NCAA Outdoor Championships. Hull set her 4:08.75 PB in that race, a time she will look to lower as she squares off against 4:04 runner Violah Lagat, Hanna Green of Nike OTC, and the Bowerman trio of Elise Cranny, Karissa Schweizer and Marielle Hall.
With Lagat slumping a bit and Green, Cranny and Hall owning slower PBs than Hull, this race seems likely to come down to the Oregon star and first-year pro Karissa Schweizer, who ran 4:06 last summer.
800m (7:10 PM PT)
Who: Jenna Westaway, Lauren Ellsworth, Sabrina Southerland, Susan Ejore, Siofra Cleirigh Buttner
2019 World Standard: 2:00.60
2020 Olympic Standard: 1:59.50
Former 800m NCAA champion and 2:00 runner Sabrina Southerland will make her 2019 debut against another former NCAA 800m All-American, Siofra Cleirigh Buttner, as well as current collegiate title contenders Lauren Ellsworth of BYU and Oregon's Susan Ejore. That quartet may be most familiar to U.S. fans, but the favorite has to be Canadian Jenna Westaway, who ran a 1:59.87 indoor national record in February.