The 2019 Mountain West Outdoor Championships will feature another chapter in the New Mexico vs. Allie O distance drama, the fastest female 800m runner in the country and an entertaining men's 5,000m between two conference champions.
Watch the 2019 Mountain West Outdoor Championships in Clovis, California, live on FloTrack
Here are five events to watch at Mountain West:
Women's 1,500m
Who: Alexis Fuller, Allie Ostrander, Adva Cohen
When: 7:15 pm CT Friday (Prelims), 7:30 pm CT Saturday (Final)
Boise State's Allie Ostrander and New Mexico's Adva Cohen waged an epic battle in the 3,000m steeplechase last Thursday at Payton Jordan-- Ostrander won by a slim .05 margin-- and the pair will meet again at Mountain West, this time over 1,500m. We may have to wait until NCAAs to see the two-time defending NCAA steeple champion Ostrander and 9:29 steepler Cohen square off over barriers again, but this race should still be magnificent.
Ostrander and Cohen have run 4:14 and 4:15, respectively, and their fierce battle from last week will no doubt be fresh in their minds. They can't just worry about each other, however, as Ostrander's teammate, Alexis Fuller, enters with the fastest time in the conference this year at 4:13.06. Fuller ran that mark just this past Friday in Portland.
Women's 5,000m
Who: Ednah Kurgat, Allie Ostrander, Jaci Smith
When: 10:20 pm CT Saturday
If Allie O does elect to double back in the 5,000m after the 1,500m on Saturday, her matchup with New Mexico's Ednah Kurgat should be a good one. Kurgat beat Ostrander by over seven seconds in the NCAA indoor 5k in March, only to have the favor returned in the 3k as the Boise State All-American beat her by seven seconds the following day. Their PBs are close-- 15:14 for Kurgat, 15:16 for Ostrander-- and both women are as experienced as they come at the NCAA level.
A wildcard to watch is Air Force's Jaci Smith, who beat Ostrander in the NCAA indoor 5k but has not raced since those championships. Who knows what her fitness will be, but Smith has quietly racked up three All-American awards between outdoor, cross country and indoor over the last year.
With Ostrander not fresh for this race and questions surrounding Smith, Kurgat is the logical pick to win here.
Women's 10,000m
Who: Weini Kelati
When: 11:30 pm CT Thursday
New Mexico's Weini Kelati isn't likely to face a lot of competition in Thursday's 10,000m-- her 32:41 PB is nearly a minute faster than the conference's top time in 2019-- but this race will still be one to watch as the NCAA runner-up in cross country and the indoor 5k tackles just the second 10k of her career. Kelati ran her only previous 25-lapper at conference a year ago, where she finished second behind teammate Ednah Kurgat.
If all goes well on Thursday, Kelati seems likely to take on the distance at NCAAs next month.
Men's 5,000m
Who: Cole Rockhold, Jacob Bilvado
When: 9:55 pm CT Saturday
Defending conference champion Cole Rockhold of Colorado State will enter Mountain West on a high after his big 13:35 PB at Bryan Clay three weeks ago. That time broke the school record for the senior, but perhaps more importantly, it signaled that the three-time All-American was fully back after missing portions of the cross country and indoor track seasons due to injury.
Air Force's Jacob Bilvado is the other man to watch, and although his 13:47 best lags well behind Rockhold's, he did beat him when the pair last raced at the Stanford Invitational. Bilvado won the Rockhold-less indoor conference 5k in February.
Women's 800m
Who: Avi'Tal Wilson-Perteete
When: 8:55 pm CT Friday (Prelims), 9:05 pm CT Saturday (Final)
UNLV sophomore Avi'Tal Wilson-Perteete ran the fastest 800m in the NCAA so far this season with her 2:02.41 from Bryan Clay, a performance that puts her squarely in the NCAA title hunt in a crowded women's 800m. The reigning conference champ isn't afraid to run fast even without good competition-- Wilson-Perteete ran 2:02 at Mountain West last year and won by nearly three seconds-- so a hard solo effort could see her put a scare into her 2:01.14 PB.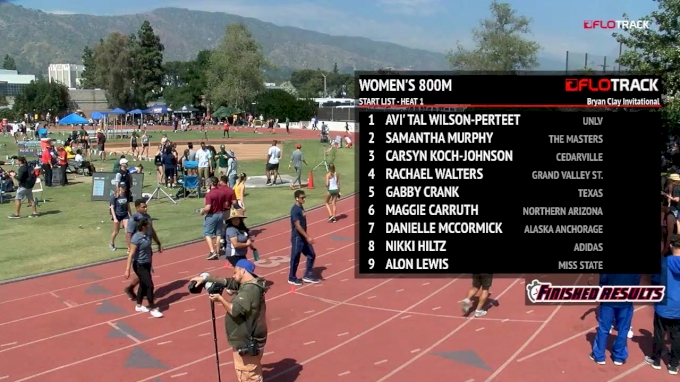 Unlock this video, live events, and more with a subscription!
Get Started
Already a subscriber? Log In