The 2019 Big 12 Outdoor Championship is this Friday through Sunday in Norman, Oklahoma. FloTrack will bring you live coverage of all track events, featuring 2019's fastest man over 100m and 200m, Divine Oduduru of Texas Tech.
Watch the 2019 Big 12 Outdoor Championship live on FloTrack
Here are five stories to watch:
Men's 100m/200m - Divine Oduduru's Encore
When: 100 - 5:55 pm CT Saturday (Prelims), 6:35 pm CT Sunday (Final); 200 - 7:30 pm CT Saturday (Prelims), 7:40 pm CT Sunday (Final)
Divine Oduduru reached a new level of sprint stardom three weeks ago, one that suggested his 2019 campaign could end not just with more NCAA titles but perhaps a medal in Doha.
The Texas Tech junior pulled off a rarer than rare sub-10/sub-20 100/200 double within the span of 45 minutes on April 20 in Waco, and he did so emphatically with two world leads of 9.94 and 19.76. With that he became just the 10th man in history to pull of such a double on the same day, a stat made all the more impressive since his previous PRs were 10.10 and 20.13.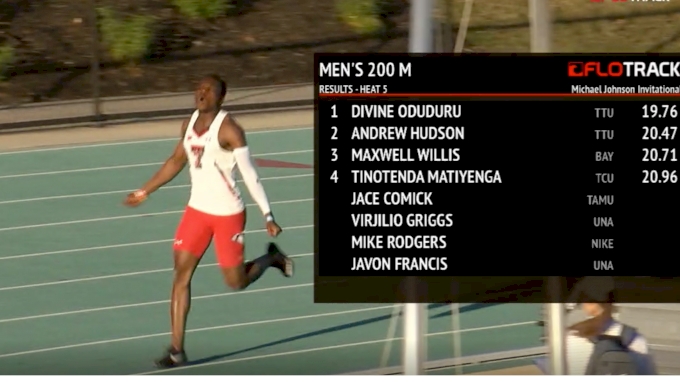 Unlock this video, live events, and more with a subscription!
Get Started
Already a subscriber? Log In
The 19.76 was second-fastest in NCAA history and a national record for the Nigerian, a time that would all but guarantee him a spot on the World Championships podium if he could replicate it in October. Of course, that's easier said than done. 19.76 in April is spectacular, but now the challenge becomes stretching his newfound fitness through NCAAs in June and into the fall.
How quickly Divine runs this weekend in Norman— particularly in the 200m— will provide a clearer picture of what to expect going forward from the reigning indoor and outdoor NCAA 200m champ. Another sub-10/sub-20 day on Sunday at Big 12s— if the fickle Midwest weather cooperates— will not only reinforce his status as NCAA favorite in both, but will legitimize his shiny new PRs that as of now are tremendous outliers on his résumé.
Men's 800m - Bryce Hoppel's Undefeated 800m Season Rolls On
When: 6:25 pm CT (Saturday), 6:55 pm CT (Sunday)
Kansas junior Bryce Hoppel hasn't lost an 800m race since NCAAs last June, and that shouldn't change this weekend after he ran an impressive NCAA #2 1:45.87 two weeks ago. Hoppel's stock has skyrocketed in 2019 thanks in large part to his indoor national title in March and he'll look to continue that ascent by winning his first Big 12 outdoor title in Norman.
Bryce Hoppel puts on a kick clinic on his way to the 800m #NCAATF title! pic.twitter.com/Evt9cF1bzx

— FloTrack (@FloTrack) March 9, 2019
Two men from Iowa State will ensure that Hoppel's path to victory isn't a cakewalk. Juniors Festus Lagat and Roshon Roomes ran matching 1:47.14 PBs in early April, each making for a good test for Hoppel as he prepares for NCAAs.
Women's 100m - Teammates Teahna Daniels, Kynnedy Flannel Square Off
When: 5:40 pm CT Saturday (Prelims), 6:25 pm CT Sunday (Final)
Texas senior Teahna Daniels will go for her third straight Big 12 100m title this weekend. Daniels is the fastest woman in the conference by far with her 11.06 PB, and she appears to be close to that form after running 11.20 into a headwind on April 20. Daniels beat 2019 NCAA 60m champion Twanisha Terry in that race, proof that she will contend for the NCAA title in June on her home track.
Standing in Daniels' way this weekend is her freshman teammate, Kynnedy Flannel. The 18-year-old Flannel is a better 200m runner-- she won the Big 12 indoor title in February and has run 22.79 this outdoor season-- but her very windy 11.16 (+4.3) at the Texas Relays in March stands as the all-conditions top time in the conference in 2019.
Women's 800m - Freshman Kassidy Johnson Takes On Experienced 800m Field
When: 6:10 pm CT Saturday (Prelims), 6:45 pm CT Sunday (Final)
Kansas State's Kassidy Johnson enters her first Big 12 Outdoor Championship with the fastest 800m time in the conference, 2:04:45, but she faces a steep trek to a conference title in the face of much more experienced competition. Indoor Big 12 champ Marleena Eubanks of Kansas has been a little slow out of the gates this outdoor season, but her 2:03 from February shows her potential. She and fellow senior Gabby Crank of Texas should apply the most heat to the K-State frosh in Norman.
Men's 5,000m/10,000m - Edwin Kurgat Looks To Pad Big 12 Win Streak
When: 10,000 - 9:00 pm CT Friday, 5,000 - 8:15 pm CT (Sunday)
Iowa State distance stud Edwin Kurgat has won five straight conference titles dating back to last outdoor season, and if he runs both the 10k and 5k it's a virtual lock that he will make it seven. Kurgat swept the 3k and 5k at the indoor championship in two close battles with Oklahoma State All-American Isai Rodriguez, but with Rodriguez not having raced since then you can expect more dominance from the Cyclone star.