The following is an actual conversation between FloTrack writers Kevin Sully and Lincoln Shryack regarding Infinite Tucker's Superman dive to win the SEC 400m hurdles title over the weekend.
Kevin Sully
Lincoln, this photo deserves an article.
Lincoln Shryack
Put it on a damn billboard in College Station.
Kevin Sully
For those who need some background, this is Infinite Tucker of Texas A&M leaping across the finish line to win the SEC 400m hurdles. But leaping doesn't seem like an appropriate verb in this case.
Lincoln Shryack
Some people would say he didn't need to go to Infinity and Beyond to win this race. But those people would be wrong and dumb.
I'm considering making this my phone background. Or a tattoo.
Definitely a tattoo.
Kevin Sully
We've seen dives of desperation and dives because of a loss of balance, but this is a whole new genre. He went full-on Superman 180, like a running back going over the goal line. If planking was still a thing, I'd say that was his motivation.
Lincoln Shryack
What's crazy is that his name was actually just Paul before this race. Paul Tucker. It changed to Infinite once he flew across the line.
Kevin Sully
He turned into Paul on meter 398.
Lincoln Shryack
Where does this rank on the all-time finish-line dives in track? Above Shaunae Miller-Uibo?
Once again for good measure... BAM!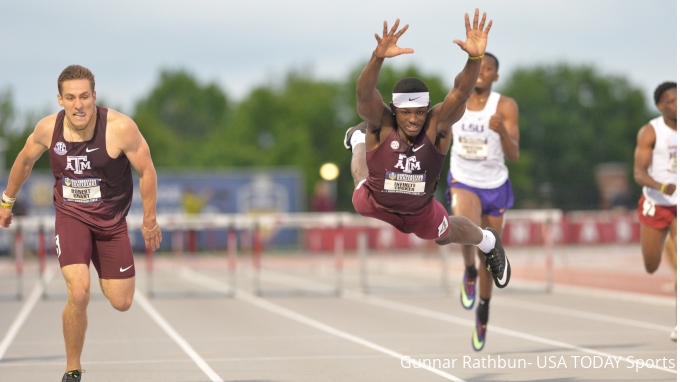 Kevin Sully
For the stakes of the race, definitely lower than Miller-Uibo, Christian Smith at the 2008 Olympic Trials, and Jeff Porter in the 2012 Olympic Trials, though Porter's came as he crossed the line. But, in terms of presentation, it's at the top.
If I'm a figure skating/gymnastics judge, that's close to a perfect 10.
The separation of the legs is the only deduction.
Lincoln Shryack
It's on Mt. Rushmore for sure here.
Look at his face. I challenge you to grin while preparing to crash and burn on the track. Kevin Sully isn't grinning.
Kevin Sully
He knew exactly what was coming and didn't blink. What do we think of some of the social media comments about him doing this in a race against his teammate?
Check out the photo finish photo:
Here are images of what Infinite Tucker's dive to win the SEC Championships 400m hurdles looked like through the timing cameras (@FinishLynx), provided by @FlashResults. pic.twitter.com/Am9usF0led

— Texas A&M Track and Field (@aggietrk) May 13, 2019
Lincoln Shryack
On par with the 2016 takes that said Miller-Uibo shouldn't have dived (doved? doven? deeved?) to beat Allison Felix. Garbage.
FULL. EXTENSION.
Pat Henry shook his hand afterward—the greatest compliment you can get from him.
Kevin Sully
During the Miller-Uibo debate, smart people weighed in and said that diving doesn't get you to the finish line quicker. In this case, I don't care.
Lincoln Shryack
Analytics don't win championships.
It's important to differentiate lame falls from a fighter jet taking off from a runway. This was the latter.
Kevin Sully
What if this becomes his thing? Yeah, it's not efficient or healthy, but I'd be all for a hurdler with a trademark finish.
Lincoln Shryack
The new market inefficiency. CC: Michael Lewis.
Kevin Sully
Ok, I've watched this 15 more times and now I think he might have been losing his balance just a tad.
Infinite Tucker for the @SEC 🥇!

Aggies go 1️⃣-2️⃣ in the 400 hurdles

📺 https://t.co/GKa0NNH8wG #SECTF #GigEm pic.twitter.com/GaVkuCF4KX

— Texas A&M Track and Field (@aggietrk) May 12, 2019
Lincoln Shryack
Art doesn't need an explanation.
Kevin Sully
Saw an interview and he said he felt like he was giving it his all. Understatement of the year.
Lincoln Shryack
Nobody:
Texas A&M hurdlers: