Unlock this article, live events, and more with a subscription!
Get Started
Already a subscriber? Log In
The first six-ish weeks of the professional track season have offered one clear lesson: the late World Championships aren't going to tamp down fast times. From Michael Norman's 43.45 to Shaunae Miller-Uibo's 49.05, it's feeling like mid-August already. Perhaps the non-championship year in 2018 caused some energy and emotion to be bottled up, only being released in a year with a clear championship target.
Now that the Diamond League season is in full swing, expect that continue. The fields are only going to get better and the conditions more conducive to fast times. Exhibit A: Saturday's Diamond League in Shanghai where the early season trend could even lead to a world record. Here are five events to watch:
Men's 400m Hurdles: World Record Looms In First Benjamin/Samba Meeting
There's no way this race disappoints. I say this with the full understanding that track can, and often does, let us down (usually in the highest-profile of races). But I still insist that I don't see how this goes badly enough to disappoint.
Here's what we have going on:
-The first meeting between Rai Benjamin and Abderrahman Samba.
Benjamin ran 47.02 at the NCAA Championships last year. Samba ran 46.98 in Paris during one of his five Diamond League wins. Samba already ran 47.51 this year, his sixth-best time ever. He also dropped a 44.60 in the 400m, while Benjamin debuted with a personal best of 44.31 in the 400m.
-Benjamin's Diamond League hurdle debut.
After his NCAA season wrapped, he ran two 200m races in Europe, but nothing in his best event. We have no idea how fast Benjamin is with competition. That 47.02 he ran was on a wet track in a race he won by more than a second. His next best time, 47.98, came when his winning margin was almost two seconds. There's another level of Benjamin that we're going to start to see on Saturday.
-The world record, 46.78 by Kevin Young in 1992, is in jeopardy.
Is it crazy to talk about a world record in mid-May? Yes. But look at how fast these two have run without each other. Put them on the same track and the laws of physics take over. If Saturday isn't the day for the world record, then it will happen someday soon. I thought we'd have to wait longer for these two to race each other, but rejoice! We are getting it now.
Men's 5000m: Brussels, Part II
The top three men from the 2018 Diamond League final that was the deepest men's 5000m in history are all on the start list. Selemon Barega (12:43), Hagos Gebrihiwet (12:45) and Yomif Kejelcha (12:46), collaborated for a masterpiece last September.
In Shanghai, five other men in this field own personal bests inside 13 minutes, including American Paul Chelimo, who will be making his season debut on the track. If the theme of fast early-season performances continues, this one has potential. Barega, Gebrihiwet and Kejelcha have run well in the months leading up to this race, and Kejelcha, in particular, has been in championship form since January. His indoor season ended with a world record of 3:47.01 in the mile and his outdoor season started with a 13:10 win at the Payton Jordan Invitational where he ran the last two laps in 1:54.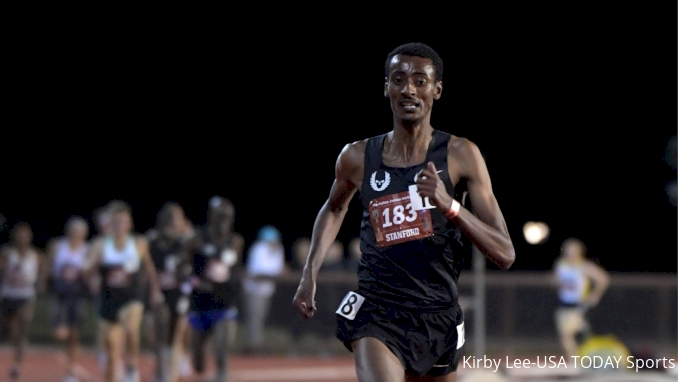 Unlock this video, live events, and more with a subscription!
Get Started
Already a subscriber? Log In
Kejelcha's last two years have proven he can run fast with a group or solo, if necessary. In a field this tough, it's a good guess that someone will be able to go with him. The result will be something very fast.
Women's 400m: Sydney McLaughlin Takes On The Diamond League
On Saturday, Sydney McLaughlin will make her much-anticipated Diamond League debut. Her races thus far have been either devoid of serious competition or on relay legs. That will change Saturday when McLaughlin jumps into a flat 400m against three women--Salwa Eid Naser, Stephenie Ann McPherson and Shakima Wimbley--who have run faster than McLaughlin's 50.07 lifetime best. The most potent is Bahrain's Naser. She's broken 50 seconds on eight occasions, highlighted by her personal best of 49.08. Only Shaunae Miller-Uibo was better at the distance in 2018.
McLaughlin shouldn't be rusty. She looked good on two 4x400m relay legs this spring, and ran 54.14 last week in her 400m hurdles debut. Beating Naser might be too much to ask for in her first real pro race, but breaking 50 seconds is a reasonable target.
Men's 400m: Will Any Challengers To Norman Emerge?
Michael Norman isn't in this race (he'll run a 200m in Osaka on Sunday) and Wayde Van Niekerk is still working up to full speed after his knee surgery late in 2017.
Other than those two, this field has most of the top medal contenders. Steven Gardiner, Fred Kerley and Akeem Bloomfield will make their season debuts. All three own personal bests under 44 seconds. In the era of Van Niekerk and Norman, sub-44 won't be enough for gold, but this race will be a good indication of just how deep the event is. Norman's 43.45 at Mt. SAC is about as emphatic a statement that can be made in a season opener. If you want to pencil him in for gold already, I wouldn't blame you. But a performance like that might catalyze the event as a whole. The three men above (along with Nathon Allen, Isaac Makwala) could combine for something quick in China.
Men's 100m: Christian Coleman Takes On Noah Lyles
This will be Christian Coleman's first 100m race of the year and he will wade right into a tough field that features Noah Lyles, Reece Prescod, Mike Rodgers, Akani Simbine and Bingtian Su. In his last appearance at 100m, Coleman ran 9.79 to win the 2018 Diamond League final. The race solidified him as the man to beat for the foreseeable future.
Lyles should be his best competition on Saturday. He's already run some 100m races in Florida and anchored the U.S. 4x100m team to silver at last week's World Relays. He looked good on that leg, bringing the American team back from a huge deficit and nearly catching the Brazilian team at the line. Coleman was 2-0 against Lyles in 2018. But the margins were small, .01 and .04. Expect something tight again in Shanghai. With Lyles set to focus more on the 200m this year, Saturday's race could be one of the few times these two race this season.