The 2019 DI NCAA East Preliminary Round is this Thursday through Saturday, May 23-25, in Jacksonville, Florida, and it will be LIVE on FloTrack.
Fields of 48 in the individual events (and 24 in the relays) will be trimmed down to 12 by weekend's end to qualify for nationals in Austin, Texas, meaning the intensity will be sky-high over the three days in North Florida.
Watch the 2019 DI NCAA East Preliminary Round May 23-25 LIVE on FloTrack
While much attention will be given to the top 12 and those on the bubble heading into the prelim round, here we're highlighting the 10 biggest names competing this weekend in Jacksonville. All of these athletes will likely be contenders for NCAA titles in two weeks' time, and so we'll be keeping a close eye on how they look heading into the big meet.
Grant Holloway | Florida | 110m Hurdles, Long Jump, 4x100m, 4x400m
On the surface, it seems Holloway's meteoric stock should've taken a hit after finally losing to Kentucky's Daniel Roberts in the SEC 110m hurdles final on May 11, 13.07 to 13.12, but the reality is the Florida icon is right on schedule to achieve his stated goal of breaking the 13.00 collegiate record by season's end.
1⃣3⃣.0⃣7⃣ 🔥🔥🔥🔥

🐊 #SECTF Outdoors Record
🐊 🌎 Leader
🐊 John McDonnell Field Record@Flaamingoo_ just did all that in a PRELIM. LAWD 😨😨😱😱

📹: https://t.co/TKFpGe5eve pic.twitter.com/VtlFsNXHlD

— Gators Track and Field & Cross Country (@GatorsTF) May 10, 2019
His 13.07 SEC prelim, followed by the 13.12, in the final were the two fastest times of his life, and it's now all but certain that whoever wins at NCAAs between he and Roberts will end up with the record. That will be one of the top storylines in Austin, and the chance to see both men at the East Prelim--even if they don't run in the same heats--will be appointment viewing ahead of the national championships.
Daniel Roberts | Kentucky | 100m Hurdles, 4x100m
The Kentucky junior emerged this season as Holloway's foil, and by accomplishing the once-unthinkable task of beating the two-time defending NCAA champion in a 110m hurdles collegiate final--something that hadn't happened to Holloway in two years--Roberts has gone from heir apparent to potentially the best hurdler in the United States within the span of one race. Roberts had been driving toward his SEC breakthrough all season--remember, he ran under the old collegiate record at NCAA Indoors to finish second behind Holloway and then lost to him by just .02 in his 110m hurdles season debut--but NCAAs will tell us if he has truly assumed the throne.
.@RiseOfDRob 's meteoric #SECTF 110H win in 13.07 tying him for second fastest collegiate high hurdler ever

and with young @taibrownnn getting fourth-place pointshttps://t.co/Bm7liIwV4Z pic.twitter.com/3vF9GUcbwe

— UK Track & Field (@KentuckyTrack) May 12, 2019
Roberts, like Holloway, isn't running for time this weekend, but you better believe both men will be keeping an eye on what the other man runs.
Kayla White | North Carolina A&T | 100m, 200m, 4x100m
North Carolina A&T senior Kayla White has talent that most athletes can only dream of, as the current world leader in the 100m (10.96) and NCAA No. 1 in the 200m (22.52) didn't begin her track career until 11th grade. That late start and her recent switch from a hurdles focus to just the sprints has only made her ascent more remarkable, and her huge conference meet three weeks ago, where she ran 10.96 and 22.52, has White eyeing a sweep at NCAAs.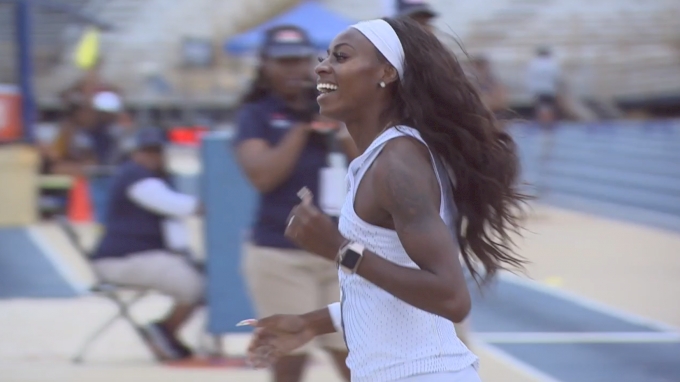 Unlock this video, live events, and more with a subscription!
Get Started
Already a subscriber? Log In
The East Prelim will provide a good litmus test for White, as she'll get an up-close view of SEC 100m champ Sha'Carri Richardson and 22.54 200m runner Anavia Battle.
Mondo Duplantis | LSU | Pole Vault
Fresh off his 6.00m collegiate record at SECs, don't expect Mondo to do anything besides the bare minimum to qualify. At last year's East Prelim, 11 pole vaulters hit 5.35m and stopped once their spot to NCAAs was secured. That's almost guaranteed to be what the LSU freshman does as well this weekend. On the off chance that I'm wrong, however, the top vaulter in the world is worth a watch.
MONDO RONDO GIVES US THE TEAM LEAD BY SETTING THE COLLEGIATE RECORD (6.00m/19' 8.25")#SCtop10 #GeauxTigers pic.twitter.com/U3Ldi3gdZB

— LSUTrackField (@LSUTrackField) May 12, 2019
Anavia Battle | Ohio State | 100m, 200m, 4x100m, 4x400m
The Buckeye sophomore holds the second-fastest 200m in the country with her 22.54, a time only eclipsed by North Carolina A&T's White in 2019. Battle has firmly established herself as the class of Big Ten sprints--she swept the 100m and 200m with ease two weeks ago--but defeating the best of the SEC, not to mention an on-fire White, to win a title in Austin is another matter entirely. Look for Battle to make a statement in the 200m this weekend as the top five 200m runners in the NCAA are all in the East.
Danae Rivers | Penn State | 800m
In a women's 800m race that remains wide open, NCAA indoor champ Danae Rivers is the closest thing to a favorite. After sweeping the 800m/1500m at Big Tens for the first time two weeks ago, the Penn State junior is clearly in the best form of her career. Rivers beat reigning NCAA mile champ Julia Rizk by a hair in that conference championship 1500m, and she should be tested again this weekend with four other 2:03 competitors in the field. It's all about qualifying, but racing instincts have a tendency to take over, and such a situation could propel Rivers to a quick time in Jacksonville.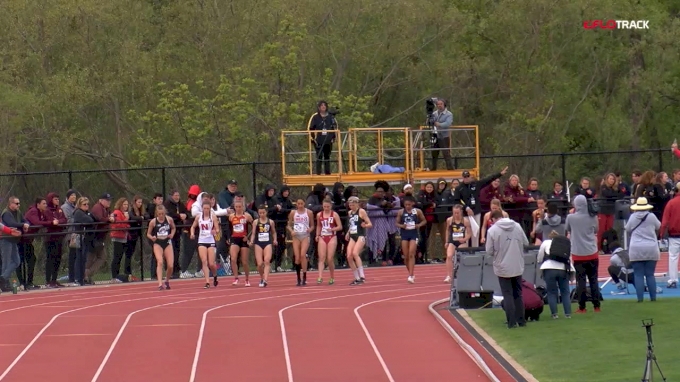 Unlock this video, live events, and more with a subscription!
Get Started
Already a subscriber? Log In


Trevor Stewart | North Carolina A&T | 400m, 4x400m
It's no surprise that a MEAC athlete owns the fastest men's 400m time entering Prelims, but what is surprising is the top mark's owner: North Carolina A&T's Trevor Stewart; not 2019 NCAA indoor 400m champ Tyrell Richard of South Carolina State.
Stewart ran 44.40 and 44.38 on back-to-back days at the MEAC Championships, winning the conference title by more than a second as Richard sat out with an injury. With Richard's status now in question, Stewart has suddenly assumed the role of NCAA favorite.
Unlock this video, live events, and more with a subscription!
Get Started
Already a subscriber? Log In
Not bad for a guy who hadn't broken 45 before 2019.
Sha'Carri Richardson | LSU | 100m, 200m, 4x100m
The true freshman has been the class of the SEC for most of 2019, and her sweep of the 100m, 200m and 4x100m in the nation's top conference proves Sha'Carri Richardson is NCAA champion material.
Just another chase down courtesy of @itskerrii 😎 pic.twitter.com/mkmgSUqw85

— LSUTrackField (@LSUTrackField) May 11, 2019
Yared Nuguse | Notre Dame | 1500m
Notre Dame's 2019 NCAA DMR champion anchor, Yared Nuguse, will look to qualify for NCAA Outdoors for the first time after falling short in 2018. That should be no problem for the ACC 1500m champion, who set his 3:38.32 PB in April at Bryan Clay and still sports one of the best kicks in the nation.
Jaron Flournoy | LSU | 100m, 200m, 4x100m, 4x400m
LSU senior Jaron Flournoy, aka "Mr. 'Oh Yeah,'" had yet another 4x100m celebration-induced incident at SECs, which, although hilarious and entertaining, could've caused injury to himself and Arkansas anchor Roy Ejiakuekwu. But heck if it wasn't wild, though: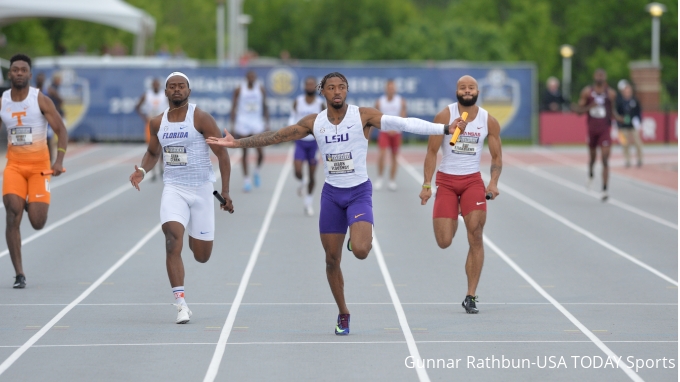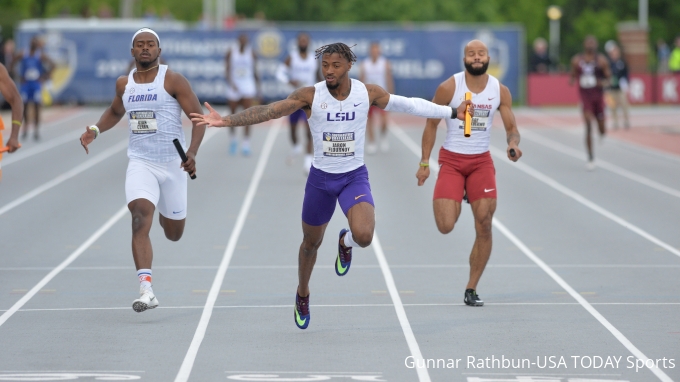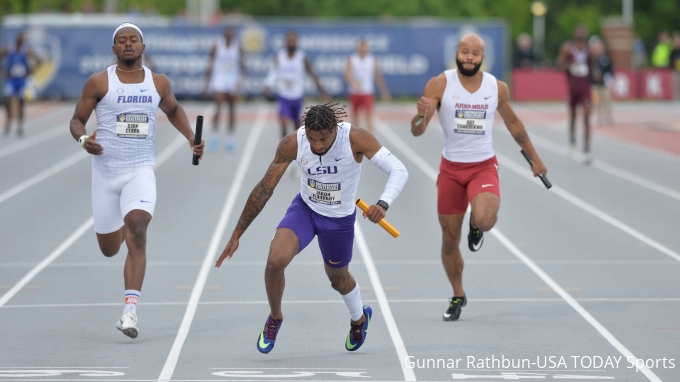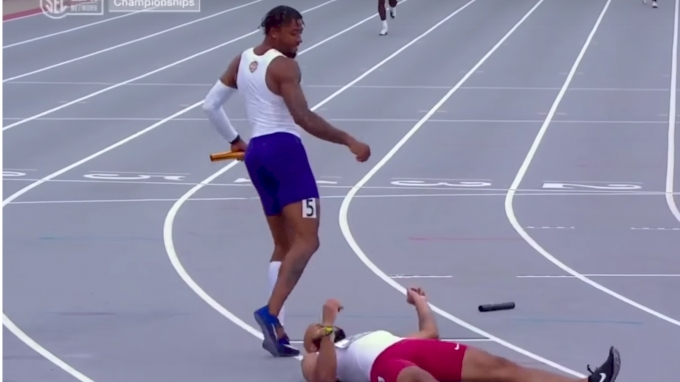 It seems as if all video evidence of Flournoy's bungled celebration at SECs has been scrubbed from Twitter, but as you can tell, he trips and eventually wipes out Arkansas' Ejiakuekwu as he tries to stand up. Added to his Texas Relays' antics, Flournoy has successfully grabbed the mantle of "most entertaining NCAA track and field athlete" this outdoor season, for better or worse.
LSU beat Houston to win the Texas Relays 4x1 in 38.41! 😈 pic.twitter.com/R7nESJrqxb

— FloTrack (@FloTrack) March 30, 2019
Between both relays and the 100m and 200m, Flournoy will be a constant presence this weekend in Jacksonville. You won't want to miss any of it.