2019 Music City Distance Carnival
Music City Distance Carnival Preview: Coburn's Outdoor Debut, Fast HS Mile
Music City Distance Carnival Preview: Coburn's Outdoor Debut, Fast HS Mile
Emma Coburn opens up, Athing Mu against the pros and a fast high school boys mile highlight the 2019 Music City Distance Carnival.
May 29, 2019
by Lincoln Shryack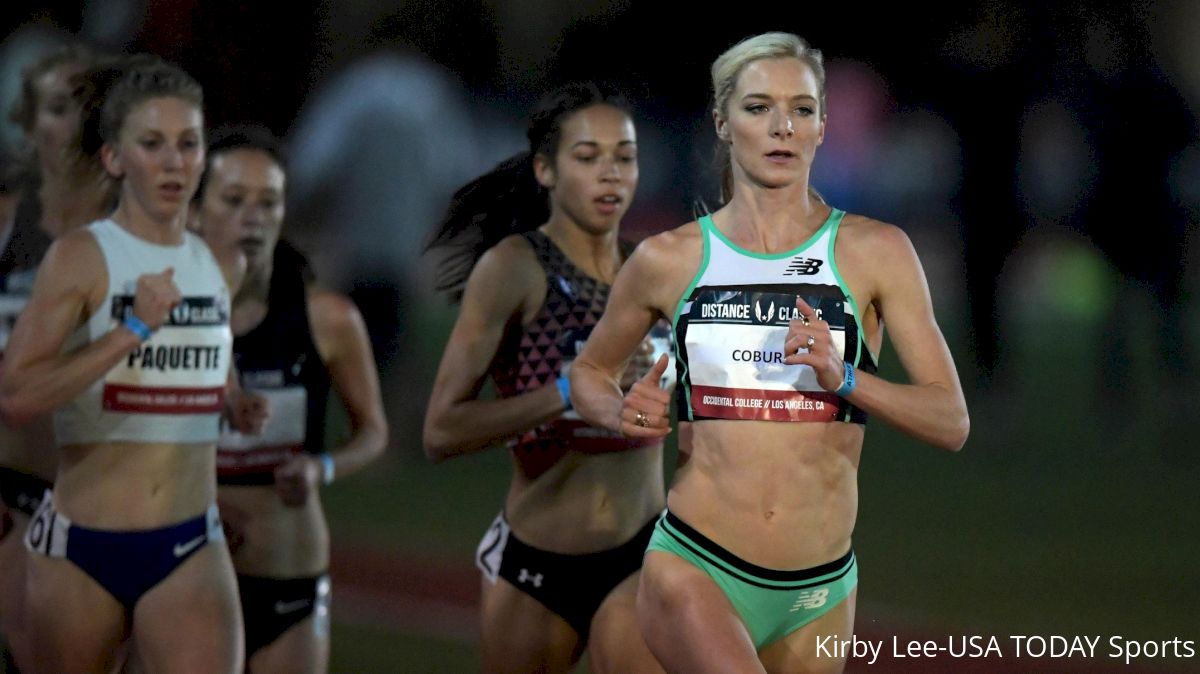 The 2019 Music City Distance Carnival is going down this Friday and Saturday in Nashville and will feature an array of professional, collegiate and high school talent with the intent of running fast. World champion Emma Coburn will make her outdoor debut, while teen sensation Athing Mu will run her first race against a pro field since breaking the 600m American record indoors in February.
Watch the 2019 Music City Distance Carnival LIVE on FloTrack this Friday and Saturday
Here are the five events to watch:
Women's 1500m
When: Saturday 8:45 p.m. CT
Who: Emma Coburn, Aisha Praught-Leer, Cory McGee, Helen Schlachtenhaufen, Shannon Osika, Ce'Aira Brown
Steeplechase world champion Emma Coburn will step down to the 1500m with training partners Aisha Praught-Leer and Cory McGee in a race slated to be paced under the 4:04.20 Olympic standard. A happy consolation prize would be the 4:06.50 2019 Worlds standard, especially for 1500m specialists like McGee, Helen Schlachtenhaufen and Shannon Osika.
Coburn will make her outdoor debut in Nashville after serving as a pacer twice this spring, but her 4:05 PB could still be danger against a fit Praught-Leer & Co. The Jamaican steeplechaser just ran a 15:07 5k on May 16 and has a 4:04 1500m best.
Men's 800m
When: Friday 8:00 p.m. CT
Who: Brandon McBride, Thomas Staines, Quamel Prince, Alex Amankwah
Canadian Olympian and 1:43 man Brandon McBride will make his 2019 season debut at MCDC against reigning champion and DII star Thomas Staines and a whole host of sub-1:46 guys. McBride was the fifth-fastest man in the world last season after his 1:43.20 in Monaco, but if he's rusty, the former NCAA champ could be pressed by some combination of Staines, who won last year in a 1:45.57 PB, and Prince, who ran 1:45 in his last outing.
Also in the field: Ghanaian Olympian Alex Amankwah (1:44.80 PB).
Women's 800m
When: Saturday 6:35 p.m. CT
Who: Athing Mu, Sammy Watson, Jenna Westaway, Emily Richards
16-year-old mid-distance prodigy Athing Mu, who stole the show at USA Indoors in February by setting the 600m U.S. record (1:23.57), will chase the sub-2:00 barrier in Nashville against a slew of professionals, including rookie pro and 2018 NCAA champion Sammy Watson.
Mu hasn't run a fast 800m outdoors yet in 2019, but that should change on Saturday—after all, she popped a 400m PB (52.41) last weekend. Against an experienced field that includes Canadian indoor record holder Jenna Westaway (1:59.71), 2018 MCDC champion Emily Richards (2:00.62 PB) and Watson, Mu isn't the favorite, but that's the point-- hop in a professional field and get pulled along to a quick time.
Men's 1500m
When: Saturday 8:30 p.m. CT
Who: Rob Napolitano, Jeremy Hernandez, Brannon Kidder, Cory Bellemore, Will Leer
NJ*NY teammates Rob Napolitano and Jeremy Hernandez each netted huge mile PRs in Yomif Kejelcha's world record race back in March-- Napolitano 3:54, Hernandez 3:55-- and the 3:37s they split in that effort have them hoping for something faster in the 1500m this outdoor season. This race is scheduled to be paced under the 3:36.00 Worlds standard, so perhaps that hope becomes reality this weekend at Music City.
Boys Mile
When: Saturday 8:15 p.m. CT
Who: Jake Renfree, Cole Sprout, Charles Hicks
Two of the top prep milers in the country will do battle in Nashville after finishing No. 1 and 2 at the prestigious New Balance Nationals Indoor mile back in March.
Notre Dame signee Jake Renfree of Tennessee (4:06.39 PB) and rising junior Cole Sprout from Colorado (4:06.69 PB) both notched top three finishes at cross country national championships in the fall--Renfree was second at Foot Locker, while Sprout took third at NXN--and each should be in line for big PBs with a pacer set to go through 1200m in 3:00.
Sprout in particular looks ready to drop a big time, as he recently ran the first ever sub-9:00 3200m on Colorado soil and before that finished second at Arcadia in 8:40.73.