The NCAA Division I Championships are in Austin, Texas, rather than Eugene, Oregon, this year, but that doesn't mean there isn't any track action worth watching in the Pacific Northwest this weekend!
In the midst and aftermath of all the collegiate action, Portland will play host to some of the country's top professional athletes on Saturday and Sunday as they chase world and Olympic qualifying standards, PRs and season's bests.
Watch the 2019 Portland Track Festival LIVE on FloTrack on June 8 and 9!
Here are the top events to watch:
Women's High Performance 800m
When: Sunday, June 9 | 7:05 p.m. PT
Who: Sabrina Southerland, Kendra Chambers, Konstanz Klosterhalfen, Justine Fedronic, Lindsey Butterworth, Katie Mackey, Brooke Feldmeier, Sam Murphy
The Nike Oregon Project's 22-year-old ascendant talent, Konstanze Klosterhalfen, is the class of the field if she decides to run the 800m instead of the 1500m, which she's also entered in—the two-time German indoor silver medalist ran 1:59.65 in 2017. But if Klosterhalfen opts for the longer race, France's Justine Fedronic will own the top PR—a 1:59.86 from 2016—though she has struggled to get back to that kind of form in the past year, running four races in 2019 with a 2:04.04 season's best.
Oregon's 2018 Division I indoor champion Sabrina Southerland, who ran a 2:00.72 PR at last year's NCAA Division I West Preliminary Round, will also look to get her season back on track after running a 2:09.86 season opener.
Canada's Lindsey Butterworth will continue her busy season with her ninth race of 2019, of which this will be her sixth 800m race. She ran her season's best on May 18, a 2:02.13, though she's also capable of 2:00-flat times.
For Brooks Beast Katie Mackey, this will be her first 800m race since 2017, when she ran 2:04.21 at Stanford.
Watch Southerland run her PR at the 2018 NCAA Division I West Preliminary Round: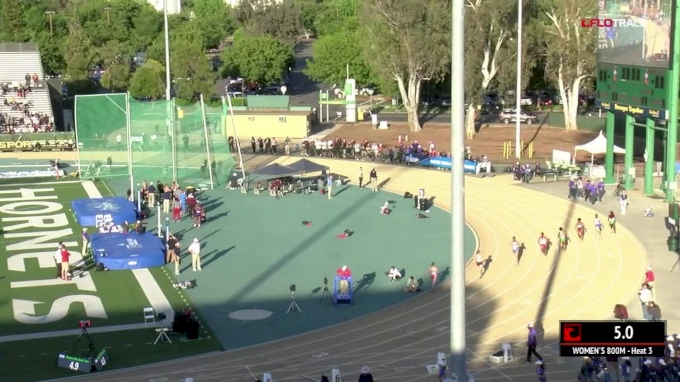 Men's High Performance 800m
When: Sunday, June 9 | 7:15 p.m. PT
Who: Drew Windle, Charlie Grice, Brannon Kidder, Neil Gourley, James Gilreath, Josh Kerr, Henry Wynne, Eric Avila, Amos Bartelsmeyer
2018 indoor 800m silver medalist and NCAA Division II legend Drew Windle headlines this crew as a number of men step down from their specialty races to get some speed work in, including Windle's Brooks Beasts teammate Josh Kerr.
The former Division I mile and 1500m champion from New Mexico dabbled in a couple of half-miles in the indoor season this past January, running 1:49.61 and then 1:48.55—a PR.
Windle, whose lifetime best clocked in at 1:44.63 in 2017, admittedly struggled with his health since finishing runner-up in Birmingham a year ago, but has been training consistently since then (and also got a new puppy!). He opened his outdoor season in May with a 1:48.03 in USATF Distance Classic "B" heat, which his teammate Brannon Kidder won in 1:47.17.
Women's High Performance 1500m
When: Sunday, June 9 | 7:25 p.m. PT
Who: Shannon Rowbury, Konstanze Klosterhalfen, Alexa Efraimson, Nikki Hiltz, Sarah MacPherson, Mariah Kelly, Amanda Rego, Allie Buchalski, Katie Rainsberger
Three-time Olympian and U.S. 1500m record-holder Shannon Rowbury looms large at the top of this field as she may return to her marquee event after the birth of her child last summer (she's also entered in the 5000m, so we'll see which one she chooses). If she races the 1500m, she likely won't mount a challenge to her 3:56.29 PR, but it will be exciting to see how her fitness is coming along this season. She made her first return to competition in January in the 3000m, running 9:03, and then raced the USATF Cross Country Championships in Tallahassee the next month.
Her Nike Oregon Project teammate, Konstanze Klosterhalfen, will more likely than not opt to race the 1500m with her rather than the 800m that she's also entered in. Klosterhalfen, who went on a tear this indoor season (4:19.98 PR and Millrose mile win; 8:32.47 3000m PR, 15:15 5000m PR), boasts a 3:58.92 PR from 2017.
Alexa Efraimson hasn't raced faster than her American junior record-breaking 4:03.39 since 2015, but has been knocking on its door this season with back-to-back 4:04s in Shanghai and Nanjing this May. Klosterhalfen, who often favors a hot pace, might help her get there this weekend.
In addition, first-year adidas pro Nikki "All I Do Is Win" Hiltz will look to continue her undefeated outdoor season in Portland this weekend. The 24-year-old Arkansas alum ran her 1500m PR at the USATF Distance Classic in May, going 4:07.71 for the win over her fellow class of 2018 runner Karissa Schweizer of Nike Bowerman TC and Klosterhalfen. In the past three months, Hiltz took a sledgehammer to her lifetime bests, resetting not just her 1500m PR, but also her 800m PR (2:01.37 FTW), mile PR (4:30 FTW), and 3000m PR (9:04.32).
Men's High Performance 1500m
When: Sunday, June 9 | 7:35 p.m. PT
Who: Craig Engels, Eric Jenkins, Neil Gourley, Izaic Yorks, David Ribich, Sam Parsons, Mac Fleet, Adam Palamar, Charlie Hunter, Vincent Ciatti, Austin Tamagno, Dustin Nading, James West
Nike Oregon Project teammates Craig Engels and Eric Jenkins will probably factor in largely here. Engels, who won his first U.S. title in the mile indoors, is one of four U.S. men who have the world standard thanks to his 3:35.79 PR from March. Jenkins only raced once this year at the Payton Jordan Invitational, where he turned in a 13:21.71 5000m to get the world standard—getting another one here in the 1500m would just be a bonus.
The only other man in the field who has the 1500m standard is Brooks Beast Izaic Yorks, who obtained it as a result of winning the NACAC title last August.
His teammate, David Ribich, will be in the hunt for that standard. This will be his first 1500m of 2019, but he owns a 3:37.35 lifetime best and nearly ran a PR in the indoor mile in February with a 3:58.91.
Sam Parsons, who recently transferred his nationality to Germany, also has some solid momentum behind him as he almost PR'd in the 1500m in May with his fourth-place, 3:38.63 finish at the USATF Distance Classic.
Recommended follow on Instagram: @craigathor
House of Run Relay
When: Sunday, June 9 | 3:00 p.m. PT
The House of Run Relay began in 2014 after FloTrack's very own Kevin Sully and his co-host Jason debated a listener email on the House of Run podcast that posited the question, "What is the maximum number of handoffs you can have in a mile relay and still break the world record of 3:43.13?"
Their debate considered many factors while trying to figure out how to get maximum output from each runner while offsetting the downtime involved with handoffs. They reasoned that, at some point, you'd have too many runners and not enough room to run, which eventually brought them to what they believe is the optimal arrangement: 32x50m.
The Portland Track Festival brings this debate to life annually as entrants assemble teams of any size and compete for cash. As always, there will be chaos.
Don't believe us? Just watch: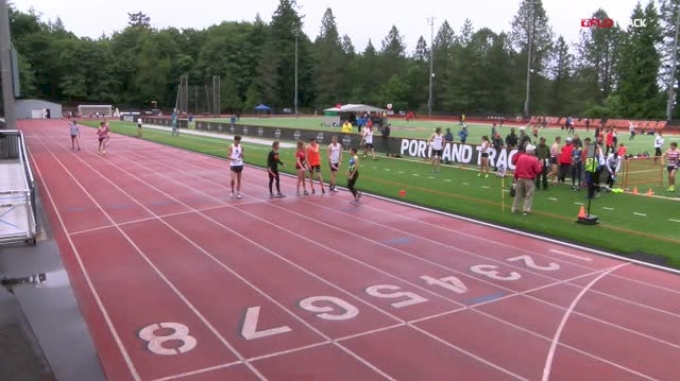 Unlock this video, live events, and more with a subscription!
Get Started
Already a subscriber? Log In