2019 Sunset Tour
2019 Sunset Tour: Standard Hunt, Centro/Shelby In 800m, Fisher's Pro Debut
2019 Sunset Tour: Standard Hunt, Centro/Shelby In 800m, Fisher's Pro Debut
A brand new meet in LA will feature many top U.S. stars in their final tune-up before USAs.
Jul 8, 2019
by Lincoln Shryack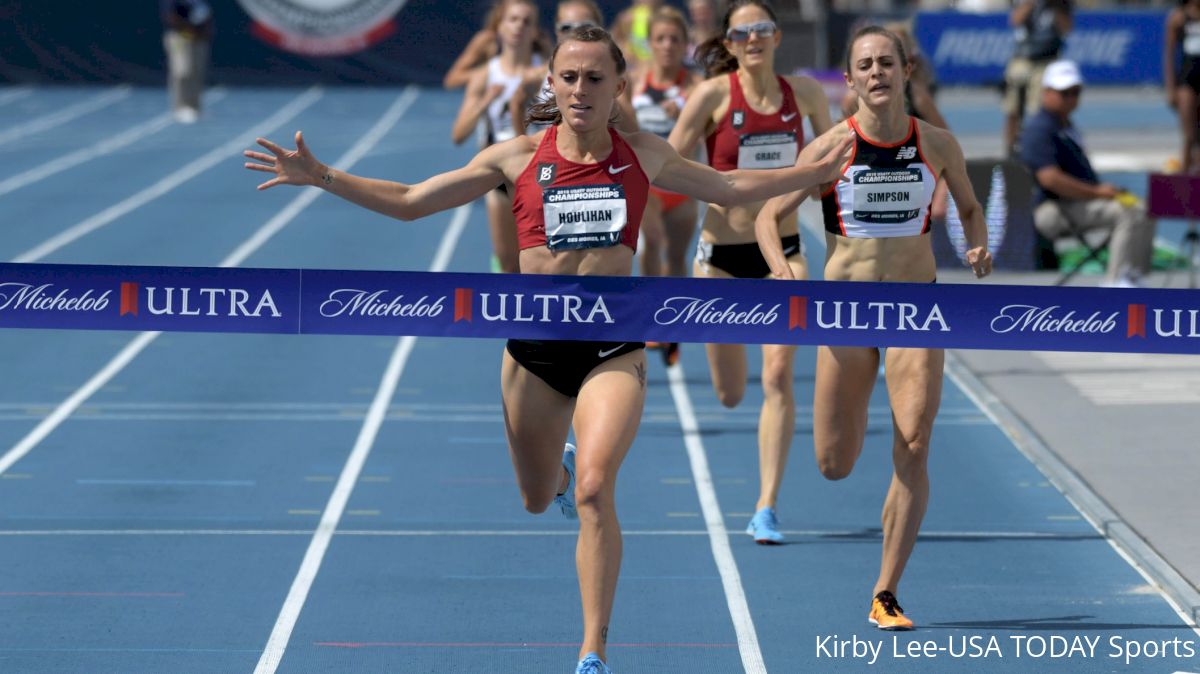 The 2019 Sunset Tour-- this Tuesday, July 9, on FloTrack-- is a brand new meet in Azusa, California, that will bring together droves of top professionals in pursuit of pre-USAs fine-tuning (for the Americans that is) and in many cases, the 2019 IAAF standard. Top pro groups like Bowerman Track Club and the Nike Oregon Project will have many of their athletes in attendance, while several 2019 NCAA stars will also toe the line in preparation for the USATF Championships in just over two weeks.
Watch the 2019 Sunset Tour on Tuesday, July 9, LIVE on FloTrack
Here are five events to watch:
David Torrence Men's 1500m (Heat 2)
When: 9:05 PM PT
Who: Ben Blankenship, Chris O'Hare, Drew Hunter, Donavan Brazier, Robert Domanic, Lopez Lomong
Analysis: Both sections of the men's 1500m are strong-- Nick Willis, Sam Prakel, Justine Kiprotich and Kyle Merber will run in the first heat-- but the premier race will be especially potent as young stars like Drew Hunter (3:35.90 PB) and Robert Domanic (3:36.33), along with two-time World Championship 1500m finalist Chris O'Hare (3:32.11), are all in need of the 3:36.00 IAAF standard.
Even so, the name that jumps off the start list is 800m extraordinaire Donavan Brazier of the Nike Oregon Project, who will run the first 1500m of his life on Tuesday. The 22-year-old owns the 800m world lead in 2019 (1:43.63), but this race will take him out of his two-lap comfort zone to test his strength. Brazier, who ran a 3:59 indoor mile in 2017, has added a lot more mileage to his regimen since coming over to NOP in October of last year. It will be fun to see if that translates to a fast time.
Aside from the 1500m guys chasing specific times, a pair of Olympians should have a say in this race. The pressure is off for Ben Blankenship since he hit the standard at Pre, and he's a good pick to win here after running that 3:52 PB on June 30. 34-year-old Lopez Lomong may be a 5k/10k guy now, but there's still a 1500m runner in there somewhere: Lomong ran 3:37.62 in a low-key race in Eugene on June 29. (Note: Lomong is also entered in the 5k.)
Brave Like Gabe Women's 1500m (Heat 2)
When: 9:35 PM PT
Who: Colleen Quigley, Shannon Rowbury, Nikki Hiltz, Dani Jones, Katie Mackey, Karissa Schweizer, Cory McGee, Alexa Efraimson
Analysis: Several women with an eye on a top three finish in the U.S. 1500m later this month will go here, along with Bowerman stars Colleen Quigley (steeplechase) and Karissa Schweizer (5,000m), in a race targeting the 4:06.50 standard. American record holder Shannon Rowbury and Colordo's Dani Jones are the only high profile 1500m runners in this contest without it, but separate from that plot, the winner in Azusa will carry significant momentum into USAs.
Colleen Quigley showed she was fit coming off an injury with a 9:11 steeple at Pre, her second fastest time ever in her season debut. Quigley is an elite miler as well, and her 4:03 speed gives her a strong shot at the win here. A top three U.S. finish is all but guaranteed for Quigley in the steeplechase, and this race will put the final touches on her preparation.
A quartet of contenders for the U.S. 1500m team-- Nikki Hiltz, Katie Mackey, Cory McGee and Alexa Efraimson-- don't need the standard but could certainly use a signature victory in the last days before Des Moines. First year pro Nikki Hiltz has been on fire since April as the 24-year-old notched six wins across the track and roads in a two month span. Hiltz' lone loss this outdoor season was to Konstanze Klosterhalfen in a race where she ran her 4:05.56 PB.
Rowbury's performance will be particularly notable as she hasn't run a 1500m since 2017 after having a baby last year. The 34-year-old does not yet have a USATF qualifier, so she will at minimum hope to run under that 4:09.00 mark. Tuesday's race will be just Rowbury's second of the outdoor season after running a 15:38 5,000m on June 9.
Run Gum Men's 800m (Heat 2)
When: 7:50 PM PT
Who: Bryce Hoppel, Matthew Centrowitz, Craig Engels, Josh Kerr, Erik Sowinski
Analysis: 2019 NCAA champion Bryce Hoppel of Kansas will go for his 20th consecutive 800m victory in his tune-up before USAs. The 21-year-old 1:44.41 man, who completed an undefeated collegiate 800m campaign on June 7, will be favored against some top-tier 1500m talent dropping down for speed work-- Olympic champion Matthew Centrowitz, 3:51 miler Craig Engels and Josh Kerr (3:33 1500m PB)-- as well as veteran half-miler Erik Sowinski, who has finished top five at USA Outdoors for five straight seasons.
Centro's performance will be particularly interesting to watch as Sunset will mark just his second race of the season after debuting at Pre on June 30. His 800m PB is impressive for a miler-- 1:44.62-- but the 29-year-old hasn't run under 1:47 since he ran that personal best four years ago.
Kerr ran his 1:46.06 PB on June 9 in Portland, while Engels owns a 1:46.03 best from 2016.
Hyperice Men's 5,000m
When: 9:45 PM PT
Who: Hassan Mead, Leonard Korir, Grant Fisher, Woody Kincaid, Lopez Lomong, Riley Masters
Analysis: Bowerman Track Club's Grant Fisher will make his professional debut along with several of his new training partners, as well as Olympians Hassan Mead and Leonard Korir, in the men's 5k. Fisher will target the 13:22.50 standard on Tuesday, a mark that is just over seven seconds faster than his PB.
The 27-year-old Mead already has the standard by virtue of his NACAC win from last summer, but he'll look to improve on his disappointing 13:23 from the Shanghai Diamond League on May 18. While the 2016 Olympian is a better 10k runner at this stage of his career, he does not have the standard for that distance so he will likely focus on the 5,000m at USAs. His 13:02 PB is from 2014.
Leonard Korir, Woody Kincaid, Lopez Lomong (if he picks this race over the 1500m) and Riley Masters will join Mead and Fisher as contenders to win the race. 32-year-old Korir is a pure 10k guy at this point, but his 27:34 on June 15 showed he was fit. Lomong, Kincaid and Masters haven't race a lot this season and they all need the 5k standard. Lomong has the 10k mark via his 2018 NACAC win.
Under Armour Women's 800m (Heat 2)
When: 8:05 PM PT
Who: Shelby Houlihan, Kate Grace, Sabrina Southerland, Sinclaire Johnson, Sammy Watson
Analysis: After a successful 1500m season debut at Pre (3:59.64 for third), nine-time U.S. champion Shelby Houlihan will step down to the 800 for the first time since 2016. The 26-year-old Houlihan will face a worthy cast of challengers including Bowerman teammate and 2016 800m Olympic finalist Kate Grace, Canadian Lindsey Butterworth and 2019 NCAA 1500m champion Sinclaire Johnson.
Butterworth has already run under 2:03 on five occasions this season, including a 2:01 on June 30. She'll look to hit the 2:00.60 IAAF standard in this one.
2018 NCAA 800m champions and first year pros Sabrina Southerland and Sammy Watson will each look to improve on lackluster early season results in this race.