2019 AAU Junior Olympic Games
The 2019 AAU Junior Olympic Games Sprints Preview
The 2019 AAU Junior Olympic Games Sprints Preview
It's probably no coincidence that the largest enrollment in AAU Junior Olympic Games history—more than 15,000—brings a changing of the guard in 2019.
Jul 24, 2019
by Cory Mull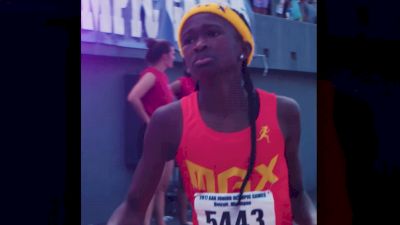 It's probably no coincidence that, with the largest enrollment in AAU Junior Olympic Games history—more than 15,000 athletes are entered to compete—in 2019, we'll see a changing of the guard among athletes.
Last year's installment saw countless young stars line the track, from the likes of Tyrese Cooper to Athing Mu to Brandon Miller.
This year's version will offer some new faces and emerging talents.
The sprint category, in particular, will offer some of the event's most promising stars: 10-year-olds Juliah Bolden and Grant Reynolds; 12-year-olds Elise Cooper and Jonathan Simms; 13-year-olds Christin Facey and Tavares Duckett; 14-year-old Mekhi Gammons; 15-year-olds Ramiah Elliott and Erriyon Knighton; and a pair of 17- and 18-year-old teammates from the Milwaukee Mustangs, Elijah Johnson and Amari Brown.
Gammons will enter with the most press following his performance at the AAU National Club Championships, where he ran a 13-year-old world age group record of 47.86 seconds, almost seamlessly taking the reigns as the club's next great sprint star. The MGX sprinter, who has opted not to run the 800m this season, will instead go for the 200/400 double.
Then there's the 15-year-old Elliott, who's resume is skyrocketing upward. She won four high school state championships in Indiana as a freshman and finished fourth in the 200m at the USA U20 Championships in Florida in June, going 23.27. She returns as a champion in the 400m from last year's event.
Johnson and Brown, two talents from Wisconsin, are nearing star roles in 2019.
Johnson, a runner-up in the 100m and a fourth-place finisher in the 200m at the 2018 Games, had a banner senior season in Wisconsin, earning a sprint double at the state championships. He is likely to be the next great sprinter within the AAU circuit in 2019.
Brown, meanwhile, is fast rising and has a chance to earn a double of her own at the Games. Like Johnson, she medaled in the 200m last year, placing third, but is coming off two wins at Wisconsin's state championships in both the 100m and 200m.
The likes of Facey and Duckett could offer some extraordinary, and record-level, performances, while Cooper and Simms are likely to produce the same aura of efforts.
The 17-18 age boys 400m is sure to be a barnburner. While Durham Striders athlete Khaleb Mcrae enters with the event's top time of 46.54, he'll have a few athletes hot on his tail. Team Xtreme's Dominick Yancy (46.72) and i5Elite's Ryan Willie (47.12) will be more than capable of going for a win.
Up Next:
Hurdles Preview (6 p.m., Wednesday)
Throws Preview (12 p.m., Thursday)
Distance Preview (8 a.m. Friday)
Jumps Preview (12 p.m. Friday)
Related Links:
- - -
* MGX's Mekhi Gammons set a 13-year-old age group record in the 400m at the AAU National Club Championships
Top Sprint Seeds
Girls 100
8 & Under: Ariyana Gray, RBF Run To Be Fit, 14.72
9yo: Bella-marie Black, Charlotte Heat, 13.73
10yo: Juliah Bolden, Miami Gardens Xpress, 13.08
11yo: Tamra Houston, Cleveland Mustangs, 12.92
12yo: Elise Cooper, Owings Mills Track Club, 12.29
13yo: Christin Facey, Alpha Elite Track Club, 12.17
14yo: Cynteria James, Down South Xtreme, 12.11
15-16yo: Kaila Jackson, Track Life University, 11.64
17-18yo: Amari Brown, Milwaukee Mustangs, 11.62
Girls 200
8 & Under: Alaiyah Choice, Legion of Zoom TC, 29.73
9yo: Bella-marie Black, Charlotte Heat, 27.62
10yo: Juliah Bolden, Miami Gardens Xpress, 26.61
11yo: Tamra Houston, Cleveland Mustangs, 26.00
12yo: Elise Cooper, Owings Mills TC, 24.41
13yo: Christin Facey, Alpha Elite TC, 24.53
14yo: Somiyah Braggs, Real South TC, 24.33
15-16yo: Kaila Jackson, Track Life University, 23.78
17-18yo: Jazmine Hobson, D-4 Fire Training, 23.73
Girls 400
8 & Under: Madisyn Scott, Texas Thunder TC, 1:09.24
9yo: Bella-marie Black, Charlotte Heat, 1:03.78
10yo: Sarah Marshall, Flash Athletics, 1:00.50
11yo: Sianni Wynn, Camden Pal TC, 58.55
12yo: Skyler Franklin, Five Star Generals, 55.29
13yo: Christin Facey, Alpha Elite, 53.94
14yo: Jaellene Burgess, South Dade Express, 54.29
15-16yo: Ramiah Elliott, Indiana Storm, 54.56
17-18yo: Milan Ming, Unattached, 54.10
Boys 100
8 & Under: Kameron Edmonson, Charlotte Panthers, 13.97
9yo: William Young, Motor City Track Club, 13.28
10yo: Maddox Pitre, Greater Houston Track Club, 12.87
11yo: Zacchaeus Brocks, Motor City Track Club, 12.20
12yo: Jacob Stanley, Ohio Heat Track Club, 12.13
13yo: Tavares Duckett, Texas Rollas Track Club, 11.39
14yo: Nyckoles Harbor, Full Speed Athletics, 11.02
15-16yo: Alexander Nunley, Unattached, 10.68
17-18yo: Elijha Johnson, Milwaukee Mustangs, 10.57
Boys 200
8 & Under: Omar Thomas, Track Club Of Fort, 28.21
9yo: Aiden Opore, Jackrabbit TC, 26.80
10yo: Maddox Pitre, Greater Houston TC, 26.49
11yo: Zacchaeus Brocks, Motor City TC, 25.27
12yo: Jonathan Simms, Impact Track, 24.45
13yo: Tavares Duckett, Texas Rollas TC, 22.78
14yo: Mekhi Gammons, MGX, 22.02
15-16yo: Erriyon Knighton, My Brother's Keeper, 21.18
17-18yo: Charles Lewis, HAM Team Huntsville, 21.11
Boys 400
8 & Under: Kameron Edmonson, Charlotte Panthers, 1:04.81
9yo: Camron Chandler, Golden Elite, 1:02.79
10yo: Grant Reynolds, Mark Trail Flying TC, 1:00.10
11yo: Quincy Wilson, Virginia Elite Speed, 57.69
12yo: Jonathan Simms, Impact Track, 53.77
13yo: Durian Moss, Down South Xtreme, 51.32
14yo: Mekhi Gammons, MGX, 47.86
15-16yo: Erriyon Knighton, My Brother's Keeper, 47.67
17-18yo: Khaleb Mcrae, Durham Striders, 46.54
Related Links: