2019 AAU Junior Olympic Games
The 2019 AAU Junior Olympic Games Distance Preview
The 2019 AAU Junior Olympic Games Distance Preview
Major distance standouts will compete head-to-head over the course of a week at the AAU Junior Olympic Games in Greensboro, North Carolina.
Jul 26, 2019
by Adair Lyden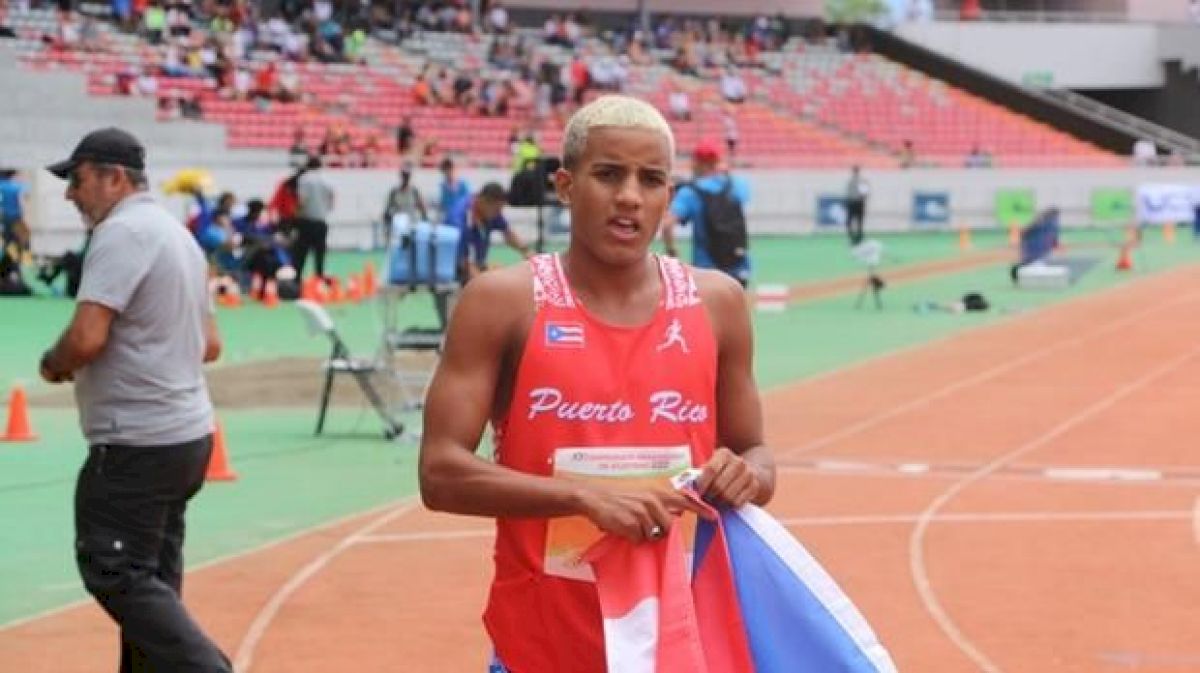 Major distance standouts will compete head-to-head over the course of a week at the AAU Junior Olympic Games in Greensboro, North Carolina.
With many top athletes returning from last year's competition, we will see big names fight to defend their titles and historic rivalries go down yet again.
One emerging name to watch out for is John Castro, a native of Puerto Rico who's coming off a bronze medal in the 1,500m at the Pan American U20 Championships in San Jose, Costa Rica, where he ran 3:49.05. He's entered as the top seed in the boys 17-18 800m with a time of 1:52.86.
Leading the charge for the distance girls will be Krianne McBride and Cha'iel Johnson. We saw them go head-to-head last year in the 800m and 1,500m in the 13-year-old age group and this year it looks to be de ja vu. Both ladies come into competition with stellar seeds; Johnson leads the 800m with a 2:08.00 and the 1,500m in 4:35, while McBride -- who, while a year behind, ran up as a high school freshman this season - is right behind in 4:39.
Not to be forgotten is 11-year-old Damira Allen. The Philadelphia native is back after taking a year off and she's bound to perform much like 2017, when the young talent scooped up three gold medals in the 400m, 800m, and 1,500m. She enters as the top seed in the 800m with a 2:20.99.
On the boys side, Jonathan Simms is no stranger to the spotlight, as he holds the 9-year-old, 10-year-old, and 11-year-old 800m meet records. This year, he will be challenged by Amanuel Putz for the 12-year-old title. Putz comes in with the top seed of 2:08.37, though Simms is right behind in 2:09.86. Putz also holds an incredible lead on the 1,500m field with his 4:19.37 seed; Joshua Gammage comes in right behind in 4:36.59.
It's a Florida vs. Texas rivalry in the 9-year-old girls 800m and 1,500m competitions. Keep an eye out for Jayla Flemons, Harmonee Hill, and Anaiah Berry as this trio battles it out for the individual title. All three ladies are within seconds of one another and it could be anyones race once the gun goes off.
These rivalries could create an atmosphere for many record-breaking efforts. But one that's sure to go down is the 15-16-year-old girls 800m.
Michaela Rose has some major star power into the category. She clocked a speedy 2:04.38 at New Balance Nationals Outdoor - a race she won - and has the talent it takes to run any athlete beyond her age group as she will look to break the 2009 age group record of 2:07.98. Much like Rose, Friends' Central's Micah Trusty will be exciting to watch in the 1,500m, as the rising high school sophomore enters as the top seed and owns the top overall girls time of 4:47.30.
Of course, the Games aren't just about the middle distance events.
Judah Edwards leads the 3,000m race walk field by over six minutes, which is impressive considering he has gone up in distance since winning the 1,500m 12-year-old title in 2018. The age group record stands at 14:44.76. Edwards walked nearly a minute under this time at the AAU Region 19 Qualifier-but will experience in the distance make a difference come race day?
McBride, meanwhile, is not only among the top of the field in the 800m and 1,500m, but also the 3,000m. With a 10:14.44, she is the fastest middle school 3,000m runner in the nation and the top seed across all age groups in the event.
The question becomes: Which event will McBride focus on the most? Could that give Isabel Conde Frankenberg, who comes in with a seed of 10:29.54, an opening to win a title?
Up Next:
Distance Preview (8 a.m. Friday)
Jumps Preview (12 p.m. Friday)
Related Links:
* John Castro is the top seed in the boys 17-18 800m
Top Distance Seeds
Girls 800m
8yo: Madisyn Scott, Georgetown, TX, 2:40.34
9yo: Anaiah Berry, Saint Petersburg, 2:33.68
10yo: Jordan Johnson, Pahokee, FL, 2:30.38
11yo: Damira Allen, Chester, PA, 2:20.99
12yo: Kashia Hoo, Hollywood, FL, 2:19.08
13yo: Kennedy Hill, Jax, FL, 2:08.00
14yo: Cha'iel Johnson, Miami Gardens Xpress, 2:08.00
15-16yo: Michaela Rose, Suffolk, VA, 2:07.61
17-18yo:Clare Pitcher, Franklin, WI 2:12.48
Girls 1,500m
8yo: Kyann Craig, Bridgeton, MO, 5:21.68
9yo: Harmonee Hill, Miami Gardens Xpress, 5:16.25
10yo: Paige Sheppard, Plainfield, NJ, 4:57.34
11yo: Julia Grant, Brooklyn, NY, 4:53.91
12yo: Sahar Victoria, Staten Island, NY, 4:53.92
13yo: Kennedy Hill, Jax, FL 4:35.00
14yo: Cha'iel Johnson, Miami Gardens Xpress, 4:35.00
15-16yo: Micah Trusty, Philadelphia, PA, 4:47.30
17-18yo: Lacey Eden, Annapolis, MD, 4:54.52
Girls 3,000m
11yo: Esther Nelson, Temecual, CA, 11:05.44
12yo: Sahar Victoria, Staten Island, NY, 10:38.40
13yo: Micaela Villarreal, San Antonio, TX, 10:30.21
14yo: Krianne McBride, Elgin, TX, 10:14.44
15-16yo: Isabella Edwards, Leander, TX, 10:37.18
17-18yo: Kaycee Keller, Pipe Creek, TX 10:47.54
Girls Race Walk
9yo: Taylor Gross, Odenton, MD, (1500m) 9:37.79
10yo: Margret Rankin, Fort George, (1500m) 9:14.49
11yo: Serenity Hines, Jacksonville, FL (1500m) 9:01.52
12yo: Abigail Quinn, Sharpsburg, GA, (1500m) 8:04.37
13yo: Alessandra Vela, Laredo, TX, (3000m) 14:37.10
14yo: Heather Durrant, Elgin, IL, (3000m) 16:00.05
15-16yo: Jaqueline Gonzalez, Laredo, TX, (3000m) 13.38.11
17-18yo: Karla Funes, Houston, TX, (3000m) 13.38.33
* Grant Reynolds is the top seed in the boys 10-year-old 800m
Boys 800m
8yo: Delano Rodgers, Conyers, GA, 2:37.26
9yo: Jasen Johnson-Lockhard, Charlotte, NC, 2:30.80
10yo: Grant Reynolds,Conyers, GA, 2:20.71
11yo: Drew Johnson, Charlotte, NC, 2:17.13
12yo: Amanuel Putz, Onalaska, WI, 2:08.37
13yo: Steven Fitz-Henley, Hollywood, FL 2:07.71
14yo: Nathan Lopez, Lynnfield, MA 2:01.49
15-16yo: Miles Brown, Southfield, MI, 1:55.66
17-18yo: John Castro, Cidra, PR, 1:52.86
Boys 1,500m
8yo: Victor Jaimez-Solorio, Apple Valley, CA, 5:06.50
9yo: Jasen Johnson-Lockhart, Charlotte, NC, 5:12.44
10yo: Izic Miller, Mundelein, IL, 4:55.18
11yo: Drew Johnson, Charlotte, NC, 4:38.94
12yo: Amanuel Putz, Onalaska, WI, 4:19.37
13yo: Luis Tovar, San Antonio, TX, 4:32.24
14yo: Nathan Lopez, Lynnfield, MA, 4:13.50
15-16yo: Maddon Muhammad, Charlotte, NC, 4:01.20
17-18yo: John Castro, Cidra, PR, 3:52.86
Boys 3,000m
11yo: Peyton Parker, Wamego, KS, 10:32.02
12yo: Bryan Hailey, Clyde, TX, 10:01.51
13yo: Dylan Schieffelin, Austin, TX, 9:42.60
14yo: Nathan Lopez, Lynnfield, MA, 9:17.48
15-16yo: Maddon Muhammad, Charlotte, NC, 8:58.55
17-18yo: Elijah Bennett, Maxwell Airforce Bace, AL, 9:01.43
Boys Race Walk
9yo: Nathaniel Samson, Bronx, NY, (1500m) 10:05.45
10yo: Julius Williams, Dallas, TX, (1500m) 10:08.90
11yo: Prince Watkins, Rialto, CA, (1500m) 7:31.00
12yo: Collin Wise, Columbia, O, (1500m) 8:54.42
13yo: Judah Edwards, Leander, TX, (3000m) 13:35.04
14yo: Nathan Arguijo, Leming, TX, (3000m) 12:37.01
15-16yo: Jaden Lambert, Converse, TX, (3000m) 12:37.06
17-18yo: Jadon Davis, Baltimore, MD, (3000m) 15:07.85