With Fist Raised, Gwen Berry's Protest Echoes Past And Present
With Fist Raised, Gwen Berry's Protest Echoes Past And Present
U.S. hammer thrower Gwen Berry raised her fist during the national anthem at the Pan American Games.
Aug 13, 2019
by Kevin Sully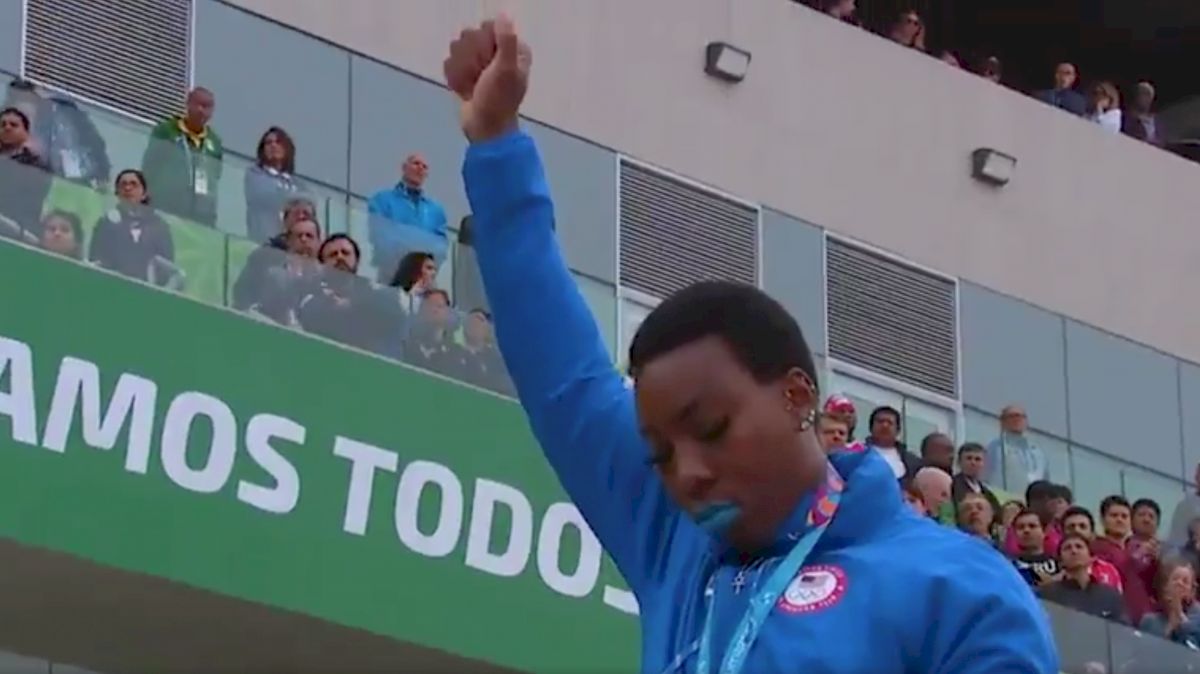 A day after she raised her fist during the national anthem, Gwen Berry had a meeting in Lima, Peru, with officials from the USOPC and USATF.
Berry, fresh off a gold medal in the women's hammer throw at the Pan American Games, was told that her protest was in violation of IOC Rule 50, which prohibits demonstrations during the Games. Officials told Berry they respected her opinions and asked if she was aware of the rule.
Berry said yes.
The 30-year-old is not new to national teams. She competed for the United States at the 2017 World Championships and 2016 Olympics and is familiar with the contract that requires her signature.
"I know what I did and I know I broke the rules and I'll make that sacrifice. I'm honored to make that sacrifice," Berry said.
At the conclusion of the meeting, the USOPC didn't go into next steps, or what a possible punishment might look like, but Berry knows that stripping of her medal is a possibility.
"They didn't give me a time. They just said be ready," Berry said.
"If I was afraid to sacrifice my medal for a bigger cause I wouldn't have done what I did. But for me, I feel that right is right and wrong is wrong," Berry said. "I feel that what I did was right."
The raised fist drew parallels to Tommie Smith and John Carlos at the 1968 Olympics in Mexico City. On Saturday, Berry didn't raise her fist until the final line, "O'er the land of the free."
"I felt like those words--the last words--mean a lot to every American," Berry said.
"I did it because I wanted to salute the people in America who've lost their lives, who've faced so many injustices over the last couple years. All the violence that is going on, it's just crazy."
While outward displays of social activism across sports have been on the rise in the United States in recent years, it's been less common in track and field. In 2018, 400m runner David Verburg raised his fist before the start of his race at the Millrose Games.
"A lot of people have a lot of things to lose. Not saying that I don't, but people have kids to feed, people have bills to pay and sometimes those types of rules put fear in people, for a good reason," Berry said.
"Track and field is still considered amateur in the United States of America. We don't have big contracts. We don't get paid a lot of money," Berry said. "I feel like if you are already struggling to even do something that you're passionate about and not get paid for it, why would you make things worse for yourself?"
Berry, who qualified for the World Championships after her runner-up finish at the USATF Championships, hasn't decided if she will protest at the biggest meet of the year.
"I don't know what will come from this. I hope track and field athletes do become more vocal, but only how they choose to be vocal. I don't want anybody to sacrifice what they are not willing or ready to sacrifice."