2019 FloXC Show
2019 DIII FloXC Countdown: #7 Washington U. Men
2019 DIII FloXC Countdown: #7 Washington U. Men
The No. 7 spot in men's DIII goes to Washington U.
Aug 22, 2019
by Lincoln Shryack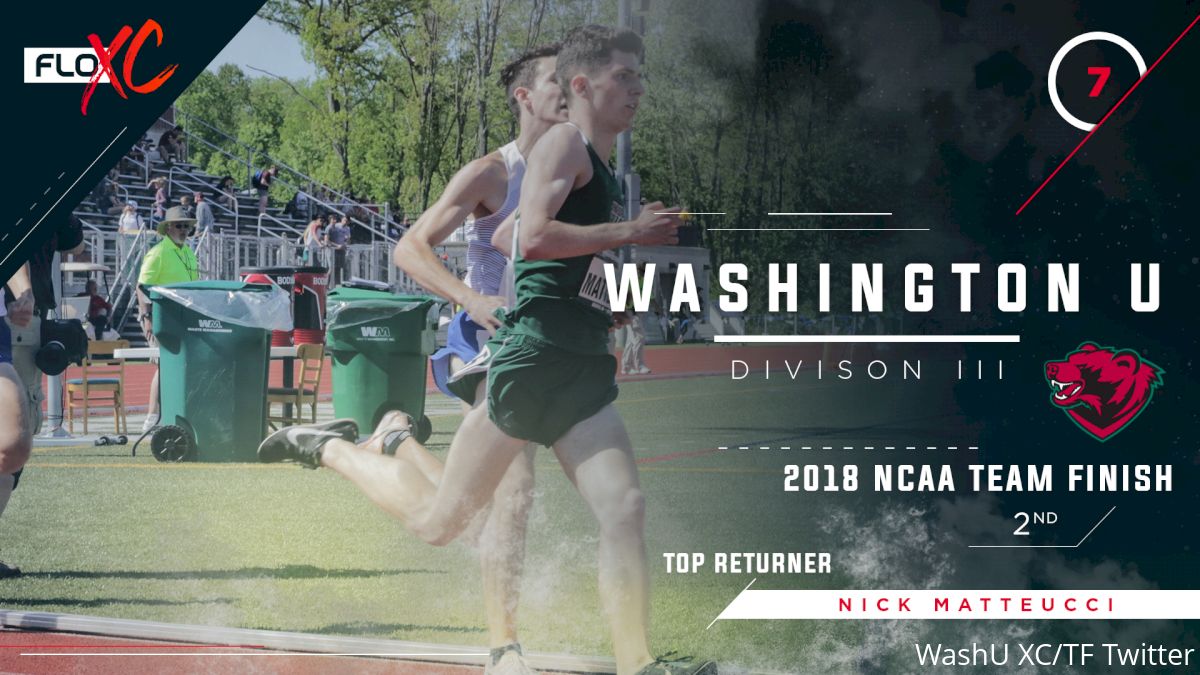 Follow our 2019 FloXC Countdown, where FloTrack ranks the top 10 cross country teams in NCAA DII/DIII this season. The 2019 NCAA Cross Country Championships will be LIVE on FloTrack for all three divisions. And be sure to watch our LIVE FloXC Podium Reveal Show Monday, Aug. 26, at 10 AM CT. The No. 7 DIII men's spot goes to Washington U., and here's why:
Projected Top Five:
SR Nick Matteucci (3:45 1500; 14:28 5K; 10th at '18 NCAA XC)
JR Joe Stover (14:46 5K; 56th at '18 NCAA XC)
SR Marco Quaroni (9:07 3K SC; 121st at '17 NCAA XC)
SO Patrick Norrick (14:51 5K)
SR Noah Trimark (15:02 5K)
Impact Freshmen/Transfers:
N/A
Analysis:
The WashU men, last year's NCAA XC runner-up, are rebuilding a bit this season after graduating three of their top five. But with an ace up front and two other experienced runners remaining on the roster, the Bears will have an outside shot at a podium finish this November.
Senior-to-be Nick Matteucci broke out in a big way in 2018, going from 101st at nationals in 2017 all the way to 10th last fall. The talent was always there for the 3:45 1500 runner, but he figured it out over 8K last year to become one of the best all-around distance runners in DIII. His 14:27 5K PB in March reinforced his improved strength.
Upperclassmen Joe Stover and Marco Quaroni are poised for their best cross seasons yet after excelling on the outdoor track. Stover was only 15 seconds behind Matteucci at regionals last year and he ran PBs over 5K and 10K in the spring. The senior Quaroni just qualified for NCAA outdoor for the first time.
Coach Jeff Stiles will rely on top seven newcomers to round out the scoring for WashU, but solid track times for Patrick Norrick and Noah Trimark indicate that they'll fill in admirably. Losing three All-Americans certainly hurts, but this group still has plenty in their arsenal.