This is the latest installment in the FloXC Countdown. For the full list of the top teams and individuals, click here. Today, the #5 men's team, the Iowa State Cyclones.
A year ago, Edwin Kurgat nearly pulled off a stunner. In an NCAA Cross Country Championships that was billed as a race between two seniors — Wisconsin's Morgan McDonald and Stanford's Grant Fisher — the junior Kurgat was conspicuously present as the leaders barreled down the homestretch in Madison.
Kurgat was 21st in 2017 while competing for Tennessee Martin, a sign that he was among the nation's best. But sticking with McDonald and Fisher was an entirely different level.
"He was innocent in the sense that he didn't know what he could do," said Iowa State assistant coach Jeremy Sudbury.
"He felt like they couldn't drop him."
It wasn't until the final strides when there finally was some separation. McDonald crossed first to the delight of the home crowd with Fisher a stride behind. Fractions of a second later, Kurgat finished in third.
Kurgat's run that day was the high point for a Cyclones team who finished seventh for the second year in a row at the national meet. Both Kurgat and the team have higher ambitions for 2019.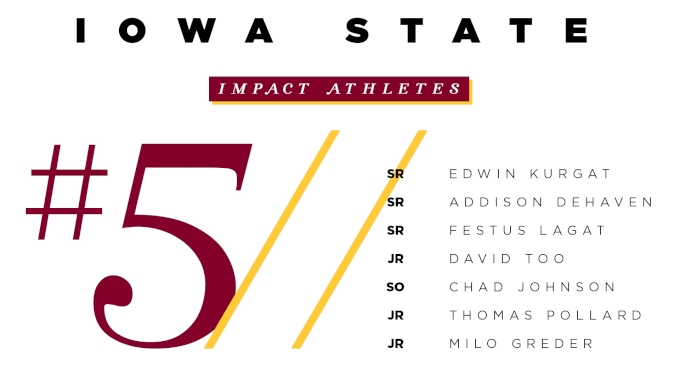 Those hopes are led by Kurgat. After his strong showing in cross country, the junior went on to take ninth indoors and fifth outdoors in the 5000m. This fall he will return to a more comfortable setting and without the presence of McDonald and Fisher, who both graduated last spring.
"He's a natural distance runner. The longer he goes the better. He's got a really good instinct for knowing how to read his body and his red line," Sudbury said.
Kurgat's decision to run the 5000m — and not the 10,000m — at the NCAA Outdoor Championships was born out of a desire for competition, namely taking another crack at McDonald and Fisher.
"His words, 'The real race is in the 5, coach, I want to be in that one,'" Sudbury said.
Sudbury called the decision a "short-term plan for longer-term development," the benefits of racing the tougher field outweighing an easier path to a high finish.
For this cross country season, Kurgat's consistency all but assures Iowa State a low scorer. After that, it's a bit harder to sort out.
The Cyclones' No. 2 runner last year, Andrew Jordan, transferred to Washington in the offseason. Jordan (46th in 2018 and 15th in 2017) had his share of injuries and illness issues during his time in Ames but was a key piece for the team.
"A string of bad luck affected his decision to want a fresh start," Sudbury said.
There are several candidates to fill the void. Senior Addison DeHaven will join the team after transferring from Boise State. He placed 28th at the national meet last year and was 31st the year before. The Cyclones have also added David Too, a mid-year transfer from Florida A&M. Too was second in the Big 12 Championship 5000m outdoors in May and fourth in the 3000m steeplechase and 10,000m. He wasn't able to make the national meet, but he did lower his personal best to 13:51 in the 5000m.
The team will also have Thomas Pollard at full strength. After an auspicious start to his career that included a 45th-place finish at the NCAA Cross Country Championships as a freshman, Pollard was sidelined with pericarditis. The heart condition was the result of a fungus in his lungs known as histoplasmosis.
According to Sudbury, doctors at the Mayo Clinic drained 52 ounces of fluid from his heart after the 2017 cross country season. While his heart healed, Pollard took eight months off completely from running.
He ran only one race in all of 2018 before returning to the track this past January. His best result came at the Big 12 Championship when he took fifth in the 10,000m.
"He's finally feeling good," Sudbury said. "This past track season was a nice step."
The additions of Too, DeHaven, and Pollard add needed depth, and there are more reasons to believe Iowa State can get out of that seventh place position. Chad Johnson was Iowa State's third runner in Madison last fall, placing 61st as a freshman. Sophomore Milo Greeder was the Cyclones fifth runner across the line in 84th. If they can show even steady improvement, Iowa State will have a tight pack.
A key factor might be what Festus Lagat is able to produce. Lagat, now in his sixth year of eligibility, was third in the 800m at June's NCAA Outdoor Championships. His strength clearly lies in the middle distance, but he has shown some flashes of cross country potential. He was Iowa State's second runner at the Nuttycombe Invitational last year, placing 23rd in a stacked field.
All told, Sudbury and head coach Martin Smith are excited about the potential of this year's group.
"Our biggest goal is to improve upon what we did last year and the year before," Sudbury said.
"We want to try and take that next step."