Create a free account to unlock this article!
Get Started
Already a subscriber? Log In
This is the latest installment in the FloXC Countdown. For the full list of the top teams and individuals, click here. Today, the #5 women's team, the Michigan Wolverines.
Last year, the contributions came from everywhere: Freshmen, sixth-year seniors, transfers, triathletes, and milers.
The aerobic mosaic that was the Michigan women's cross country team in 2018 gelled at the right time, placing fourth at the NCAA Championships with a 28-second spread between their first and fifth runners. The finish bettered pre-race expectations, their second podium finish at the national meet in the last three seasons.
This year's group might be a bit more homogeneous, but the potential exists for another top-four finish. Sixth-year seniors Avery Evenson and Hannah Meier have graduated, as has Claire Borchers. Those three were the second, fourth, and fifth runners at the NCAA Championships. Evenson, who is also an elite triathlete, was the top runner for the Wolverines in three meets last year.
But in a display of Michigan's tight pack and interchangeable parts, three other women also filled in that No. 1 spot during the season.
Head coach Mike McGuire says he's still "taking inventory" of this year's team. There's plenty to be optimistic about. Camille Davre, who led the Wolverines in 29th place in Madison last year, is back for her redshirt sophomore season. She was the top freshman in that race. Ann Forsyth didn't race in a Michigan jersey until the Big Ten Championships, but she took 46th as a true freshman (the third-fastest freshman in the race).
That duo will have another young member alongside them in Ericka Vanderlende. The freshman from Rockford, Michigan, ran 9:53 to win the Brooks PR two-mile in June. In cross country, she was 10th at Foot Locker Nationals and eighth at Nike Cross Nationals. In her first season, McGuire is seeking a "balance between expectations and not feeling like she's got the weight of the world on her shoulders."
Her prep success brings to mind another Michigan star, Erin Finn. Finn took 30th at the NCAA Championships in her freshman year, before going on to win 10 Big Ten titles and finishing as NCAA runner-up on four occasions. McGuire thinks Vanderlende is capable of running with Michigan's top group right away, but thinks it will be hard to draw too many parallels to Finn.
"The quality of the league and nation is a lot better than when Erin was as a freshman. The comparisons are different," McGuire said.
McGuire has been impressed with Vanderlende's work ethic and sees "all the ingredients to want to build on what she did at the high school level."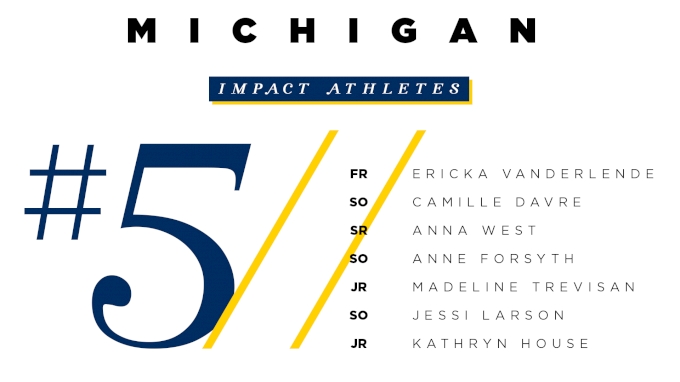 If history is any indicator, there will be plenty of chances to see how this young core progresses throughout the season. McGuire doesn't shy away from putting his athletes on the start line. With few exceptions, the top seven will run a full six-meet schedule.
"We aren't racing an inordinate amount," McGuire said. "I think kids want to race. It's how I'm wired."
Michigan could also see a boost from senior Anna West. The Baylor transfer was 40th in 2017, before placing 92nd last year for Michigan. The transition to a new school fully behind her, McGuire saw signs in the spring of the West from Baylor. Her best result came when she ran 16:16 for the 5000m at the Stanford Invitational.
Another Baylor transfer is on the roster this year in Kayla Windemuller. The Michigan native redshirted last cross country season and went on to take eighth at the Big 12 Indoor Championship in the mile. Two years ago as a high schooler, she was fourth at New Balance Indoor Nationals in the two-mile.
Sophomore Jessi Larson was the seventh woman for the Wolverines last season and is coming off a strong track season. Larson just missed qualifying for the NCAA Championships outdoors in the 5000m, placing 13th at the East Preliminary round.
There's experience in the projected top seven as well with Maddy Trevisan and Kathryn House. Trevisan, a junior, redshirted last year but was 46th in 2016. House, also a redshirt junior, will be looking to run in the national meet for this first time in her career.
"You have some established parts and you have some moving parts. I think it has the potential to be a continuation of what we did [in 2018]," McGuire said.
"But potential unfulfilled is potential."