This is the latest installment in the FloXC Countdown. For the full list of the top teams and individuals, click here. Today, the #3 men's team, the BYU Cougars.
As the laps wound down in the 10,000m at last year's NCAA Outdoor Championships, Isaac Wood was having an out-of-body experience.
Wood, BYU's director of operations, was standing in the bleachers at the southwest corner of Mike A. Myers Stadium in Austin, Texas, watching three of his athletes — Clayton Young, Connor McMillan, and Conner Mantz — move into contention in the final 400m.
It was a busy race for the Cougars. They qualified six men into the final and Wood's cheers were audible for all six throughout. But in the last lap, he reached an octave typically reserved for death metal singers. His screams of "For Ed" (that's BYU head coach Ed Eyestone) began to morph together so it sounded like he was saying "FRED…..FRED…"
🗣 FINISH pic.twitter.com/r1pwKILlcX

— FloTrack (@FloTrack) June 6, 2019
In the final meters, with Wood's yells of "finish" audible to everyone in attendance and perhaps some cars on the nearby I-35, Young kicked past Alabama's Gilbert Kigen to claim the title. McMillan and Mantz took third and fourth.
On the other side of the stadium, Eyestone was also losing his mind. The longtime Cougars coach and two-time Olympian was weaving through spectators while screaming "finish" in the last 100 meters.
Eyestone hugged his team at the finish. It would have been difficult for a coach to look prouder of his athletes.
"I'm still waiting for my alarm clock to go off right now because it couldn't have turned out any better," Eyestone said after the race.
Only two other programs in history had put three men in the top four of a 10,000m final in the NCAA Championships. It was a statement for a program that was in need of one.
"Last year the BYU boys got rocked," Young said of the 2018 10,000m where BYU took the last three spots. "That was a bad day for BYU."
They were better in cross country last fall, but still not able to catch an NAU team that put five runners in the top 29 to win their third straight national title. BYU had their scoring five all in the top 50, but it wasn't enough.
Even with the validation from the race in Austin, the task is tough heading into 2019. Wood's vocal cords have recovered presumably, but the Cougars lost Young, McMillan, and Rory Linkletter to graduation.
"Rather than a rebuilding, kind of a restocking," Eyestone said. "There's plenty of talent. What you really hope is that some of the guys will assume that mantle of leadership that is being vacated by our graduated seniors."
Leading the way will be Mantz. The redshirt freshman was 10th last year at the NCAA Cross Country Championships, the first man across the line for BYU. In his first year in collegiate cross country, Mantz stood out for some fearless frontrunning throughout the season. He was a bit more conservative during the track seasons and qualified for two events indoors and outdoors.
"There's gonna be some fireworks whenever he's in the race," Eyestone said. "We are gonna have some fun with it. We are going to try some different models on him and I think he's going to continue to be that guy up there, banging it hard up front, but a guy that will experiment a little bit more with patience.
"You can still be a guy who cranks the pace but maybe rather than cranking it from the gun, cranking it from 5K out or 3K out or 1K out and have some real success."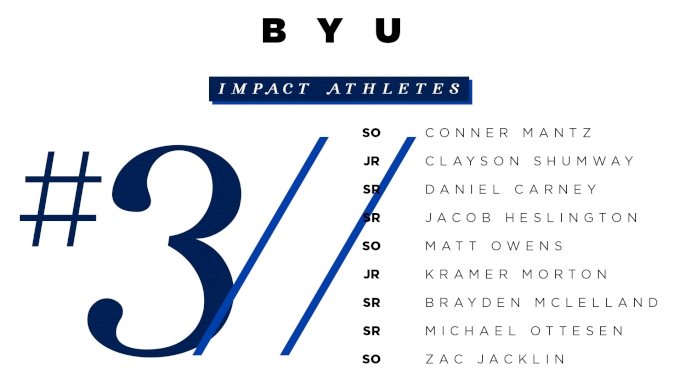 BYU also brings back three men who made the 3000m steeplechase final in Clayson Shumway, Jacob Heslington, and Matt Owens (BYU had four of the 12 finalists in that event). Owens and Carney didn't race during cross country last year, while Shumway was an All-American in 32nd.
Seniors Heslington (50th in 2018) and Brayden McLelland (62nd) add more experience and depth. The team may not be as loaded up front as last year, but this is a typical BYU squad with a long list of runners capable of placing in the top 40 and a bevy of options for Eyestone throughout the season.
"The other day I was counting up how many top-10 guys we got and I think I came up to 14," Eyestone said.
The formula is pretty clear for success. A big run from Mantz — he's ranked as the #3 individual on the FloXC rankings — and then next four in All-American position.
Michael Ottesen, Kramer Morton, Zac Jacklin, and NCAA 1500m finalist Talem Franco could also play a role at the back half of BYU's lineup.
All that depth still may not be enough to get past NAU or Stanford, but that's a tough standard to use. NAU returns three All-Americans and has two promising redshirt freshmen.
Stanford is chock-full of sub-14 5000m runners and is bringing in a ridiculous recruiting class. But it's hard to come up with four team betters than BYU. They look to be in a good spot to get on the podium for the third consecutive season.
"NAU is, of course, our constant . . . I'm not even going to say 'nemesis,' but that's a fun word I guess to use. But they are someone that we respect greatly," Eyestone said. "We know that they are the guys with the bullseye. They are the hunted and we are the hunters, and there's going to be a lot of hunters and I hope we're just able to be within range of seeing them this year."