This is the latest installment in the FloXC Countdown. For the full list of the top teams and individuals, click here. Today, the #2 men's team, the Stanford Cardinal.
Even despite the graduation of perennial All-American and 2018 NCAA XC runner-up Grant Fisher, the Stanford men entered the summer in a prime position to make a run at the 2019 cross country national title.
The Cardinal produced a stellar display of depth in the spring with seven men breaking 14:00 for 5,000m, six of whom would be returning to Palo Alto for the 2019 fall. The building blocks of a great cross country season were firmly in place as Steven Fahy won the 2019 NCAA steeple title while oft-injured Thomas Ratcliffe placed third in the highly-competitive 5k in Austin.
But just as Stanford seemed to have figured out their contingency plan for the post-Fisher era, the program was thrown for a surprising loop in late June as director of track and field and cross country Chris Miltenberg left for the job at the University of North Carolina.
The priciness of the Bay Area aside, Miltenberg's departure of Palo Alto for Chapel Hill was shocking, and it left vacant one of the most high-profile jobs in the sport. That Miltenberg served as the director of the program and as men's head cross country coach meant that his role would either need be filled by a similar candidate or two separate coaches.
Stanford chose the latter option, as J.J. Clark, the former UConn women's head coach and Tennessee director of track and field and cross country, was hired for the director role on July 25 while Ricardo Santos, formerly of B.A.A. and Iona, was named the head cross country coach just this week.
It's anyone's guess how well the Cardinal will navigate such an untimely switch, especially as the athletes and Santos race to familiarize themselves with each other in the weeks to come. Both Clark and Santos are accomplished coaches, but there are certain to be growing pains with all the infrastructure of the program suddenly changing. Whether this talented men's group embraces change, and whether that change leads to immediate results, will be one of the top stories this fall.
Even though the timing of all this foundation upheaval is less than ideal, the fact remains that Miltenberg was never able to summit the cross country mountaintop in his seven seasons. That's not to put the blame on him alone, but the Cardinal enter every season with the pressure to live up to their talent and for the past 15 seasons the men have gone home without a title in November. Perhaps Clark and Santos will be the pair to bring the coveted trophy back to The Farm.
On paper, they'll have a great shot to do it in 2019.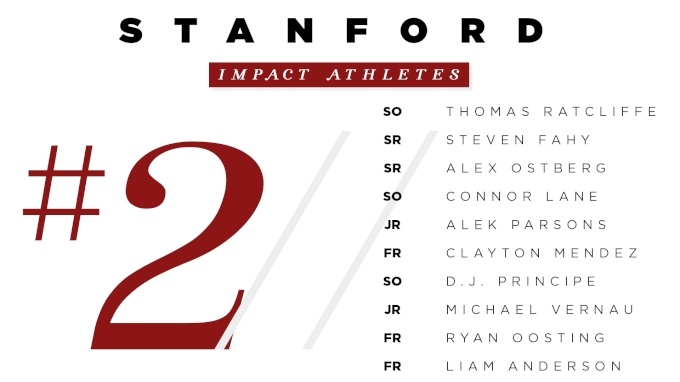 Stanford, fifth in 2018, brings back three men who have finished top 30 at NCAA cross. Senior Alex Ostberg placed 13th last fall after taking 16th the year before, and he'll be expected to improve on that after his best track season to date by far. Ostberg finished fifth in the indoor 3k and ran 13:42 for 5k outdoors.
Joining Ostberg as experienced and accomplished national runners are junior Alek Parsons and redshirt senior Steven Fahy. Parsons was 30th in Madison despite placing 145th in 2017. Fahy, meanwhile, missed the 2018 season with an injury but showed immense promise by winning the NCAA steeple in June. Fahy took 17th at cross nationals in 2017.
It's a very real possibility that none of those three guys end up as the No. 1, as a healthy Thomas Ratcliffe has the most potential on the team. The 21-year-old redshirt sophomore has had two knee surgeries while at Stanford to repair a worn down patellar tendon, and he barely raced between the 2016 cross country season and 2019 outdoor track. That he was able to overcome all that and run 13:32 in April and then place third in the NCAA 5k tells you all you need to know about his tenacity and skills. Ratcliffe is a top five NCAA guy if at 100-percent.
The Cardinal have plenty of options to fill their fifth and final scoring spot. A bounty of options might be a better way to put it. Connor Lane and Clayton Mendez were two other Cardinal men to break 14:00 in the spring, and they should each have a say in the fifth man battle. 4:00 high school miler D.J. Principe will be right there as well after being Stanford's No. 4 in 77th last fall.
I could discuss Stanford's depth all day, as Michael Vernau (14:02/29:06) and true freshmen Liam Anderson ('18 NXN champion) and Ryan Oosting (4:03 mile/8:53 2-mile) will also be at Santos' disposal. No one is questioning whether or not the Cardinal have the pieces to win it all. They do. But the trickiness of undergoing a coaching change this late in the game has made their path more difficult, a path that was already tough after 15 years of coming up short of the top prize in November.