2019 FloXC Show
Can The NAU Men Pull Off The Four-Peat?
Can The NAU Men Pull Off The Four-Peat?
NAU loses three key members of their 2017 and 2018 cross country title teams, but they still enter the season as the favorite to win the men's crown.
Aug 30, 2019
by Kevin Sully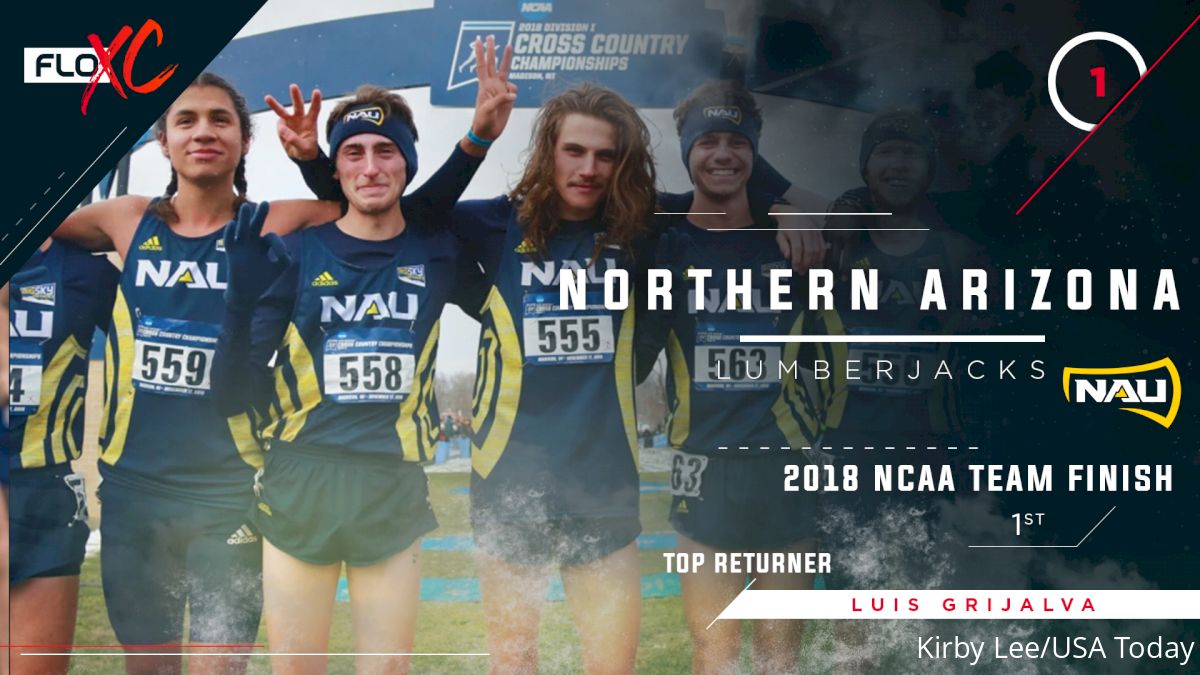 This is the latest installment in the FloXC Countdown. For the full list of the top teams and individuals, click here. Today, the #1 men's team, the NAU Lumberjacks.
Every time there's been a challenge to NAU's dominance over the past three NCAA cross country seasons, the Lumberjacks have responded with overwhelming force. Every time there was the slightest notion they'd be vulnerable, they didn't blink. On the rare occasion an individual had an off-day, their performance was swallowed up by the totality of the Lumberjacks team greatness.
Their three championships have never been particularly close (33 points in 2016 and 2018, and 53 in 2017). Outside of the championship setting, they've been just as good. NAU hasn't lost a varsity meet of any kind since 2015. Since 2016, they've been perfect.
Yes, they get good runners. And yes, they train at altitude. But getting those runners to never waver in the highest-stakes races is what has set them apart.
"Their minds are so tuned in to what this takes, they don't get distracted on the wrong things," NAU head coach Mike Smith said. "You can train legs, the brain is a whole other thing though, that's the secret to all of this."
That secret could help propel NAU to a four-peat this fall, a feat accomplished only twice (by UTEP and Arkansas) in Division I men's cross country history.
Any discussion of NAU in 2019 has to start with what they lost and what they bring back from 2018. Tyler Day, Matt Baxter, and Peter Lomong are all gone. Day and Baxter were the foundational pieces of the past three titles, while Lomong played a critical role in 2017 and 2018.
But NAU was deep in 2018. So deep that they lose three All-Americans and still bring back three other All-Americans.
Their top returner, junior Luis Grijalva, was 23rd last year and finished as the Lumberjacks No. 3 man. During the track season, he made the NCAA finals in the 5000m both indoors and outdoors.
Fellow junior Blaise Ferro was three spots behind Grijalva in 26th. Last year was his first team title, after spending much of his NAU career injured.
Senior Geordie Beamish ran in the insurance policy slot for the team last year as their sixth man (he finished 39th) but was NAU's fifth scorer in 2017 and their seventh man in 2016. He had the best track season of the group, winning a national title in the mile indoors and then running times of 3:39 for 1500m and 13:31 in the 5000m outdoors.
It was a great past two seasons for Beamish. He's the only one who had a breakout year on the track from this group. But that's standard for NAU. They don't blow you away with personal bests on the track. They churn out great performances in the fall, especially in November. Bad cross country races are rare. Underperforming hasn't been an option.
"The only way we see this is a team race," Smith said after last year's title.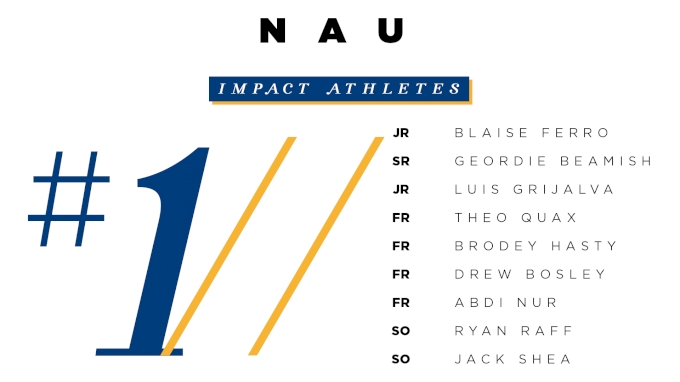 If history is a guide, someone from that top three will need to step forward. Since 1998 (when the current 31-team field size was adopted) every championship team has had its first runner score 10 or fewer points. All three — Grijalva, Ferro, and Beamish — are capable of getting that done on race day, but none have done it yet.
Their best competition comes from familiar places.
A retooled Stanford squad is dangerous, bringing back NCAA steeplechase champion Steven Fahy and Thomas Ratcliffe, third in the NCAA 5000m outdoors.
BYU has been a consistent presence during NAU's rise. They were third in 2017 and second in 2018.
"We owe them a lot," Smith says of BYU. "They keep us accountable every day."
For the title run is to continue, they will also need help from some new faces.
Redshirt freshmen Theo Quax and Brodey Hasty are projected as the Lumberjacks' fourth and fifth runners after strong outdoor track seasons. Quax, of New Zealand, ran 3:39 for 1500m and 13:49 for the 5000m in the spring. Hasty ran 13:55 in the same race as Quax's 13:49, but had his breakout during the championship portion of the spring.
Hasty used an explosive kick to finish second at the West Prelim meet in the 5000m behind Beamish. At the NCAA Championships, he finished 18th in Austin. It was a solid end to a highly anticipated campaign for the freshman who ran 4:00.25 indoors in the mile as a high schooler.
Both have the credentials to turn in All-American runs in Terre Haute, but they have yet to step foot on that national championship start line and all the pressure and expectation that it emits.
Last year's seventh man, Ryan Raff, is back. He ran well for NAU in his freshman year, placing 21st at the Pre-Nationals meet and 151st at nationals. Abdi Nur will compete for the first time this year after coming from Coconino Community College in Flagstaff. The former Arizona state high school champion has run 14:06 for 5000m.
As for incoming freshmen, NAU brought in one of the top classes in the nation. Wisconsin high schoolers Drew Bosley and Caleb Easten could have an impact this season, though it's likely Smith chooses to redshirt Easten and perhaps Bosley as well. Bosley was fifth at the Foot Locker Championships and ran 8:49 for 3200m, while Easten put up an 8:57 this spring.
The depth is there, but it's young. That fact bodes well for the future. There's only one senior in the projected top nine. This year's team will be hard to beat, but the task is more formidable for the rest of the NCAA in the years ahead. Beat NAU in 2019, or you might need to wait a while.