2019 FloXC Show
2019 DII FloXC Countdown: #1 Western Colorado Men
2019 DII FloXC Countdown: #1 Western Colorado Men
The No. 1 spot in men's DII goes to Western Colorado.
Aug 30, 2019
by Lincoln Shryack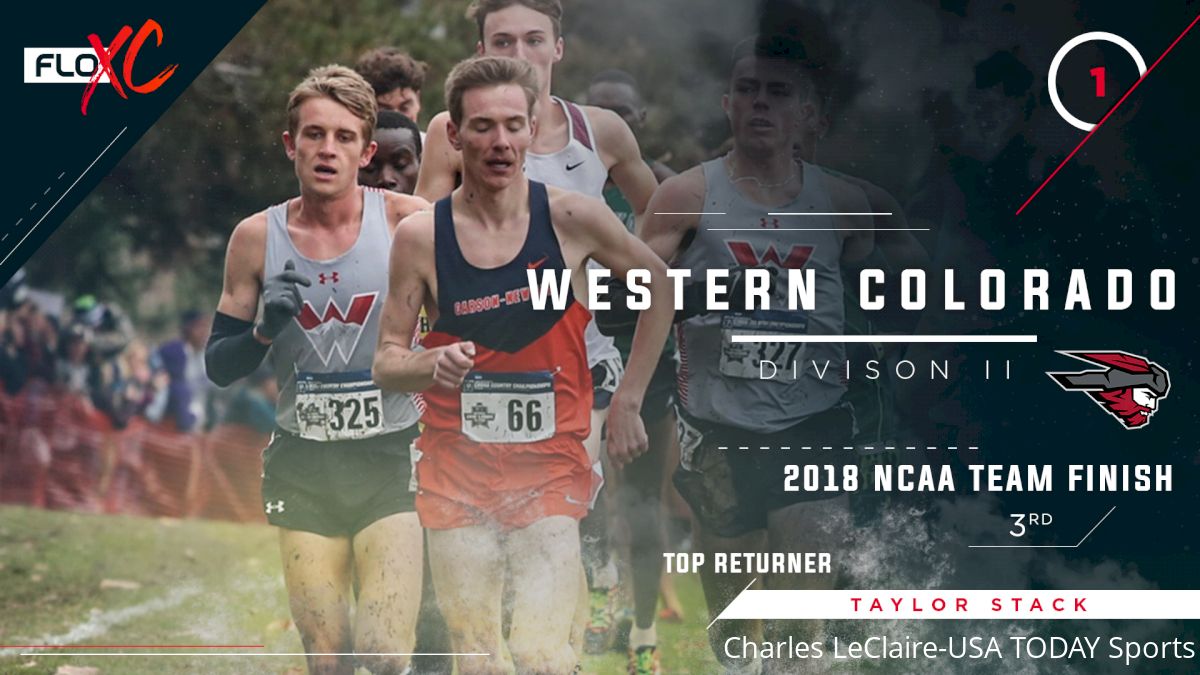 Follow our 2019 FloXC Countdown, where FloTrack ranks the top 10 cross country teams in NCAA DII/DIII this season. The 2019 NCAA Cross Country Championships will be LIVE on FloTrack for all three divisions. The No. 1 DII men's spot goes to Western Colorado, and here's why:
Projected Top Five:
JR Taylor Stack (13:58 5K; 5th at '18 NCAA XC)
SO Charlie Sweeney (14:00 5K; 13th at '18 NCAA XC)
SR Ahmed Jama (29:33 10K; 24th at '17 NCAA XC)
SR Ross Husch (14:12 5K; 34th at '18 NCAA XC)
SO Albert Hesse (46th at '18 NCAA XC)
Impact Freshmen/Transfers:
N/A
Analysis:
With their 2018 All-American top three, plus the return of another from 2017, the Western Colorado men enter the 2019 fall favored to win their first DII cross country title since 2011. That the Mountaineers took third last fall without Ahmed Jama, who was the team's No. 1 the year before, shows just how formidable this group can be at full strength.
Taylor Stack and Charlie Sweeney each had breakout races at nationals last year in placing fifth and thirteenth, respectively. Stack is the second-best returner in Division II, and after notching four All-American honors between indoor and outdoor in 2019, he could win it all in November. Sweeney was also spectacular in the spring. He finished just a breath behind Stack in the outdoor 5k in fifth.
Seniors Jama and Ross Husch have the ability to be top 15 as well. Jama redshirted all of the 2018-2019 campaign and he doesn't have any recent races to gain insight from. But he's a 29:33 10k guy at his best who should help this team immensely. Husch has been an All-American for two straight years in cross country.
The Mountaineers will surely face a stiff challenge come nationals from their in-state rivals Colorado Mines and Adams State, but the momentum Western gained from a surprising 2018 performance has propelled to the top in the preseason.