2019 FloXC Show
2019 DIII FloXC Countdown: #1 North Central (Ill.) Men
2019 DIII FloXC Countdown: #1 North Central (Ill.) Men
The No. 1 spot in men's DIII goes to North Central (Ill.).
Aug 30, 2019
by Lincoln Shryack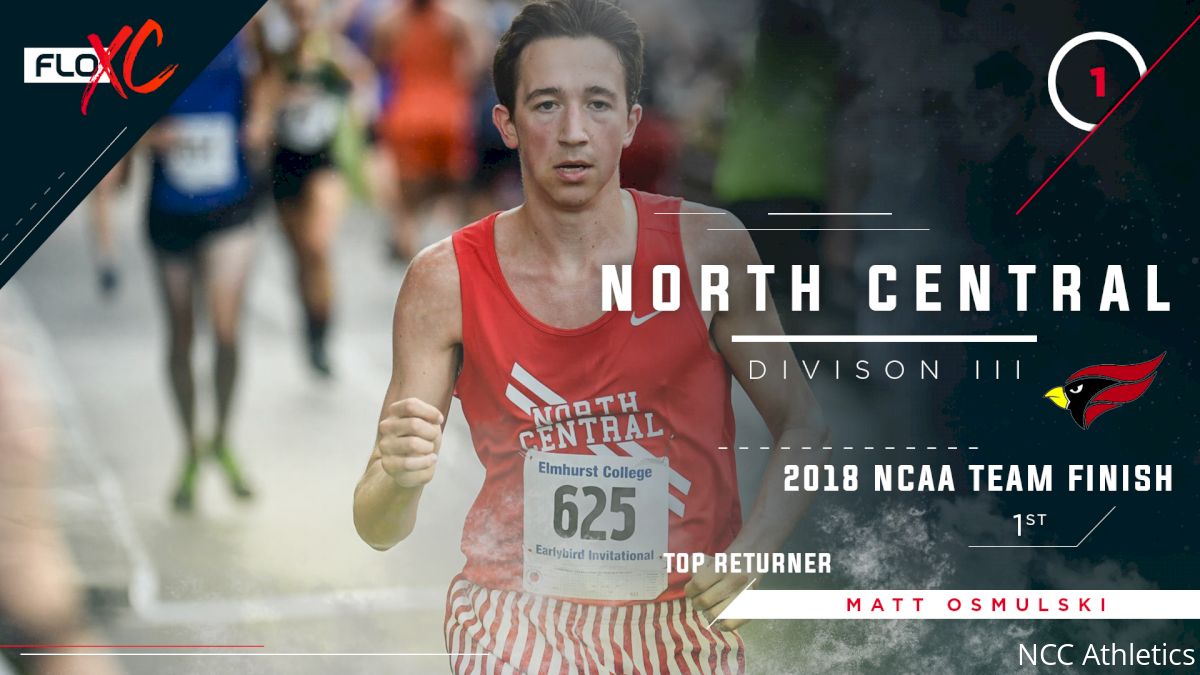 Follow our 2019 FloXC Countdown, where FloTrack ranks the top 10 cross country teams in NCAA DII/DIII this season. The 2019 NCAA Cross Country Championships will be LIVE on FloTrack for all three divisions. The No. 1 DIII men's spot goes to North Central (Ill.), and here's why:
Projected Top Four:
SR Matt Osmulski (14:37 5K; 30:05 10K; 11th at '18 NCAA XC)
JR Gabe Pommier (4:12 Mile; 7th at '18 CCIW XC)
SR Alec Beutel (9th at '18 CCIW XC)
SO Thomas Rohr (11th at '18 CCIW XC)
Impact Freshmen/Transfers:
N/A
Analysis:
For the first time since 2015, the last time they didn't win the DIII cross country title, the men from North Central are vulnerable.
That's to be expected after a season in which they graduated three top 10 finishers and two other All-Americans. You can't easily replace a guy like six-time national champion Dhruvil Patel. But the Cardinals, who have 19 NCAA XC crowns, are the winningest program in Division III for a reason: the program is better than the sum of its parts. You can bet that head coach Al Carius' men will still be tough to beat in 2019.
While NCC loses the first, second and eighth place guys from nationals, the Cardinals have an obvious candidate to be their low stick as 2018 11th place finisher Matt Osmulski is back. The senior-to-be finished runner-up to Patel at the conference meet last fall and has run 30:05 for 10k. Don't sleep on him as an individual contender in November.
That's the good news. The less good news for North Central is that the remaining top five spots will go to men without NCAA experience. Gabe Pommier looks like the clear No. 2 after placing seventh at the conference cross country meet and then running a 4:12 mile indoors. In that conference race last October, Pommier placed a spot behind eventual eighth place NCAA finisher Chris Buechner. The Cardinals will fill out their three and four spots with two other guys, Alec Beutel and Thomas Rohr, who were top 15 at the CCIW Championships.
The reigning champs don't appear to have a solid fifth just yet, but a deep roster should yield a fine final scorer. The rest of Division III will be gunning hard for NCC knowing that the top spot is finally there for the taking, but the Cardinals should embrace their position as the hunted. After all, it's been a winning formula many times before.