2019 IAAF World Championships
Nike Oregon Project's Alberto Salazar Banned From Coaching For Four Years
Nike Oregon Project's Alberto Salazar Banned From Coaching For Four Years
Four years after the USADA began its investigation, Alberto Salazar's verdict and sentence have been delivered.
Oct 1, 2019
by Jennifer Zahn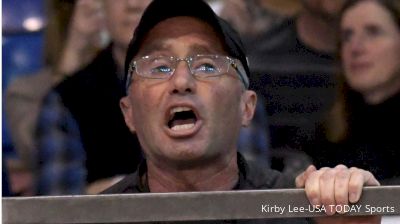 Four years after the United States Anti-Doping Agency (USADA) began its investigation, two years after the agency's report was leaked online, and two days after Nike Oregon Project athlete Sifan Hassan won 10,000m gold at the 2019 IAAF World Championships, Alberto Salazar's verdict and sentence were delivered.
Starting Sept. 30, 2019, the embattled coach will be banned from his profession for four years.
Dr. Jeffrey Brown, the Houston-based endocrinologist who worked with Salazar and his athletes, will also serve a four-year sanction.
In a release posted today by USADA, Salazar and Brown were indicted for "orchestrating and facilitating prohibited doping conduct while acting, respectively, as head coach of the Nike Oregon Project (NOP) and as a paid consultant for the NOP on performance enhancement and as physician for numerous athletes in the NOP."
According to the report, two independent panels found that Salazar and Brown possessed and trafficked a banned performance-enhancing substance and administered or attempted to administer a prohibited method to multiple athletes. The panel also found that both committed tampering and complicity violations.
Specifically, the panel determined Salazar committed the following violations:
Administration of a Prohibited Method (with respect to an infusion in excess of the applicable limit),
Tampering and/or attempted tampering with NOP athletes' doping control process, and
Trafficking and/or Attempted Trafficking of testosterone.
"The athletes in these cases found the courage to speak out and ultimately exposed the truth," Travis T. Tygart, USADA chief executive officer, said. "While acting in connection with the Nike Oregon Project, Mr. Salazar and Dr. Brown demonstrated that winning was more important than the health and wellbeing of the athletes they were sworn to protect."
In response, Salazar released the following statement:
"I am shocked by the outcome today. Throughout this six-year investigation my athletes and I have endured unjust, unethical and highly damaging treatment from USADA. This is demonstrated by the misleading statement released by Travis Tygart stating that we put winning ahead of athlete safety. This is completely false and contrary to the findings of the arbitrators, who even wrote about the care I took in complying with the World Anti-Doping code:
'The Panel notes that the Respondent does not appear to have been motivated by any bad intention to commit the violations the Panel found. In fact, the Panel was struck by the amount of care generally taken by Respondent to ensure that whatever new technique or method or substance he was going to try was lawful under the World Anti-Doping Code, with USADA's witness characterizing him as the coach they heard from the most with respect to trying to ensure that he was complying with his obligations.'
I have always ensured the WADA code is strictly followed. The Oregon Project has never and will never permit doping. I will appeal and look forward to this unfair and protracted process reaching the conclusion I know to be true. I will not be commenting further at this time."
Salazar has the option to appeal the panel's findings to the Court of Arbitration for Sport.
News of Salazar's questionable pharmaceutical practices first emerged in 2015, when David Epstein published an article on ProPublica containing statements from Steve Magness and Kara Goucher that implicated Salazar "experimented with testosterone and pressured athletes to use prescription medications they didn't need to gain a performance benefit."
Then, the leaked USADA report emerged. In February of 2017, the Times of London wrote it had seen documents that showed Salazar "abused prescription medicines and used prohibited drug infusions to boost testosterone levels."
Two months later, The New York Times published an explosive exposé that further detailed the contents of the documents, including the testimony of athletes involved in Salazar's studies, Dathan Ritzenhein and Tara Welling.
Also in May of 2017, FloTrack reporter Dennis Young obtained what appeared to be the interim version of the leaked USADA report cited by the Times of London and The New York Times. You can read that document here.
In addition to previously reported information about L-Carnitine infusions, the document contains:
Speculation that Salazar rubbed testosterone into Galen Rupp during athletic massages
Reports from two separate interviews with Salazar, one in which he appears to admit to testosterone use in his running career and another in which he denies it
Emails showing the team used a supplement later believed to increase cancer risk
Why USADA believes infusions received by Rupp, Ritzenhein, Magness, and more violated anti-doping rules
Over the past decade, Salazar has helped produce some of the most successful distance athletes in the world, including current Nike Oregon Project members Hassan, Rupp, Shannon Rowbury, Jordan Hasay, Yomif Kejelcha, and Konstanze Klosterhalfen.
Former members include Matthew Centrowitz, Mo Farah, Mary Cain, Cameron Levins, Luke Puskedra, and others—many of whom left the training group after the 2015 and 2017 reports emerged.
After news of Salazar's coaching ban broke on Sept. 30, the IAAF also pulled Salazar's world championships accreditation—he is currently in Doha along with seven Nike Oregon Project athletes, including 10,000m gold-winner Hassan, who will contest the first round of the 1500m on Oct. 2. She issued this statement after reports of Salazar's ban emerged:
"I am shocked to receive the news of today's ruling, especially during this time in which I am fully preparing for my next race in the world championships in Doha. I like to state that this investigation is focused on the period before I joined the Oregon Project and therefore has no relation to me. I was aware of the ongoing investigations when I joined the team and have always had a clean conscience, knowing we are being monitored to the absolute fullest by USADA and WADA. I am saddened by the timing of USADA as it brings my championship out of balance but I will focus all my energy on my next race and my performance in the 1500m. A race that I have worked hard to prepare for and am very excited to race in hopes of winning my second world title."
Editor's Note: This report is still ongoing; details will be added as we receive them.