Last month, the NAU men's team began their season as expected. The winners of the last three NCAA titles went to Terre Haute for the John McNichols Invitational, held out two of their best runners and still beat second-ranked Stanford by a comfortable margin.
The Lumberjacks were led by Luis Grijalva, who took third. But the impressive part was just how good NAU's redshirt freshman ran. Theo Quax, Abdihamid Nur and Brodey Hasty finished 4-5-6, putting four NAU runners in front of Stanford's second man, sealing the victory and living up to their status as title favorites.
WATCH THE 2019 NUTTYCOMBE WISCONSIN XC INVITATIONAL LIVE ON FLOTRACK
This Friday, at the Nuttycombe Invitational the field is much deeper. But the best challenge to NAU's win streak that dates back to the 2016 season is expected to come from Stanford. Not only will they need to make up that gap from last month, but they will also need to do it against an NAU team that could be stronger than their first meeting.
Geordie Beamish (#11 on FloXC rankings) and Blaise Ferro (26th at last year's NCAA Championships) didn't race in Terre Haute and could be available for Friday. Other runners from NAU's top five could cycle out and rest this week, but on balance, the team will be better with Beamish and Ferro in the line-up. If there's anything we've learned over the past three years--the parts are interchangeable for NAU.
Stanford has some reasons to be optimistic. Thomas Ratcliffe ran with Iowa State's Edwin Kurgat for most of the race in September before ultimately finishing second. The evolution of Ratcliffe into an individual title candidate is a boon for Stanford. The rest of their pack ran solid, but they couldn't work their way into the redshirt freshman trio of NAU. Steven Fahy was with the front pack until faltering in the final mile (he fell across the finish line) and coming in as Stanford's seventh man. Don't expect that to happen again. If he can run with Stanford's second or third man, they can start to cut into the margin to NAU.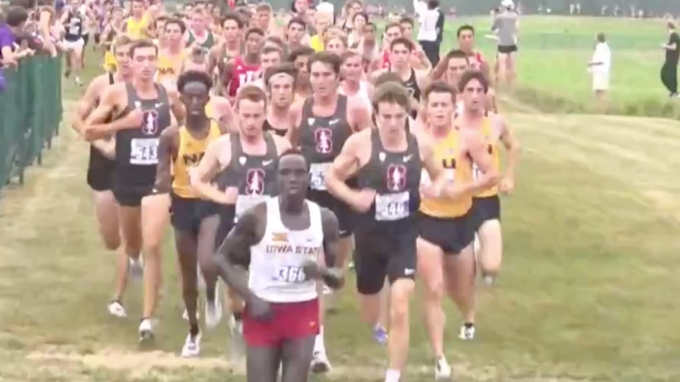 Unlock this video, live events, and more with a subscription!
Get Started
Already a subscriber? Log In
There's a third team to look out for. Oregon will look to build on their great showing at the Bill Dellinger Invitational in Oregon. There, the Ducks put two runners in the top four and upset BYU, 54-60. The result moved them up to third in the team rankings, behind NAU and Stanford. James West, a 1500m specialist, was third and Cooper Teare placed fourth. Freshman Cole Hocker took ninth and transfer Noah Affolder was 14th.
Seventh-ranked UCLA ran well at Dellinger, finishing just behind BYU with 62 points. They have a powerful top three led by Robert Brandt, who was less than two seconds behind BYU's Conner Mantz in the individual race. Two other seniors Garrett Reynolds and Colin Burke finished fifth and seventh for the Bruins. Their gap from three to four (and four to five) looks too big to make a run at the podium, but they can still put together a low score with those three.
Individually, there looks to be another Edwin Kurgat/Thomas Ratcliffe battle on tap.
Kurgat pulled away in the homestretch in Terre Haute and looked comfortable in a four-second victory. Friday is a different course and a deeper field, but Kurgat remains the favorite. Ratcliffe should take some confidence from the fact that he ran so well after a long time away from the cross country course. Beamish of NAU should be near the front of the pack if he runs, and will more than likely be accompanied by at least a couple of teammates. Brandt has front-run some big races before and could get the pace going in the early miles.
Former 1500m champion Oliver Hoare is racing at home for the 21st ranked Badgers. Hoare, currently ranked 21st in the FloXC rankings and 17th at the 2018 NCAA Cross Country Championships, will lead a Wisconsin team that needs a good race. After their run at Notre Dame two weeks ago, they are the first team out of team qualification according to the latest Kolas projections.