The women's race at Friday's Nuttycombe Invitational in Madison functions as a preview for November's NCAA Championships. Yes, some top teams and individuals will compete the next day at the Pre Nationals meet in Terre Haute, but the fields in Wisconsin will be stacked. Three of the top four teams in the nation are set to race (and six of the 10, and eight of the top 12).
WATCH THE 2019 NUTTYCOMBE WISCONSIN XC INVITATIONAL LIVE ON FLOTRACK
Individually, the six of the top seven ranked women in the country are entered, including favorite Weini Kelati of New Mexico and defending Nuttycombe champion Alicia Monson of Wisconsin.
But let's start with the team race.
#1 Arkansas has lived up to its pre-season ranking thus far. They won their season opener at the John McNichols Invitational and then dominated as expected on their home course at the Chile Pepper Festival. Taylor Werner (#2 on FloXC Rankings) is among the best in the nation.
She's two-for-two this fall and is in sync with her track performances last spring that saw her finish runner-up twice for national titles. The team has been without Katrina Robinson thus far, but that gap was quickly filled by transfer Katie Izzo.
Izzo has been Arkansas' second runner at both meets this year, coming in ahead of Devin Clark and Carina Viljoen. Lauren Gregory didn't race until Chile Pepper, where she competed unattached and was 40 seconds back of Viljoen. She's a key piece for Arkansas this year. If she can close that gap, then Arkansas has a top-five that is hard to beat.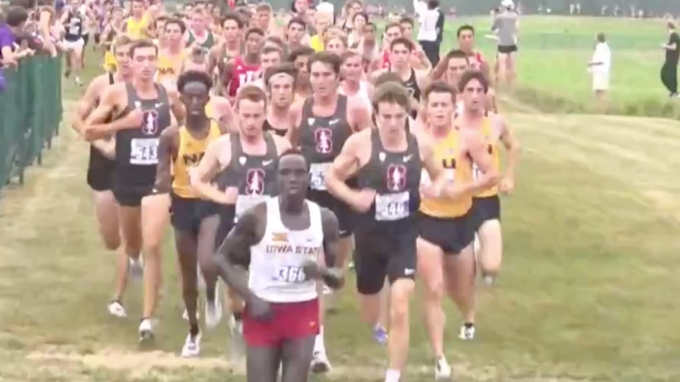 Unlock this video, live events, and more with a subscription!
Get Started
Already a subscriber? Log In
Stanford (#4) finished a few points behind Arkansas in Terre Haute and will have another chance at them on Friday. Fiona O'Keeffe was second in between Werner and Izzo the last time they raced and the rest of the Stanford top three finished in the top ten. New Mexico has two very low scorers in Kelati and Ednah Kurgat, but there's a gap after that.
Two weeks ago at Notre Dame, they finished fifth in the Joe Piane Invitational. They were without Adva Cohen who was competing at the IAAF World Championships--exacerbating the gap between the second and third runners. If Cohen isn't ready to race this week, there will still be a healthy spread to the rest of New Mexico's scorers.
Utah was the surprise winner of the race at Notre Dame and the performance moved them from unranked to number eight in the nation. They don't have a superstar (their top runner is ranked 40th), but they have a tight pack. Bella Williams, Poppy Tank, Sarah Feeny, Cara Woolnough and Scarlet Dale all crossed the line within 26 seconds of each other to give them a 110-116 victory over defending NCAA champion Colorado. As the field gets deeper this week, that tight grouping will become even more valuable. NC State (#9), Syracuse (#10), Wisconsin (#11) and Notre Dame (#12) all have a chance of cracking the top four on Friday.
Individually, this will be the best women's race before the NCAA Championships. Kelati (#1) ran from the front and beat Monson (#3) by 12 seconds at Notre Dame. I'd expect a similar strategy on Friday. Last year at Nuttycombe, Monson hung around long enough to use her closing speed and won the race at home.
That was the beginning of two great seasons for Monson. Later that fall, she finished fourth at the NCAA Championships in Madison. During the indoor season, she won the 5000m over Kelati. Outdoors, she got hurt and didn't make the national meet. But the result from Notre Dame shows she's right where she left off.
Kelati's status as top returner from the NCAA Championships and her 10,000m title outdoors made her the favorite entering the year. Her race at Notre Dame did nothing to alter that.
Werner (#2) thrived during both track seasons and, like Monson, has good finishing speed. Notre Dame's Anna Rohrer (#7) consistently pushes the pace and will help keep Kelati company on Friday in the early miles. O'Keeffe (#5) and Kurgat (#6) would be surprise winners, but nobody will be shocked if they work their way to a top-three finish.